Overview: CollegeAdvisor.com Client Success Stories
At CollegeAdvisor, we love helping students from all backgrounds at any stage in their college application process. Our advisors form close relationships with our students, getting to know them on a deeper level. Together as a team they work together to create the best possible college applications. In this series, we interview students who have found success through our program. We'll discuss how they created their college list, crafted strong personal essays, and used the CollegeAdvisor resources available to them.
We hope that these Client Success Stories will show you that it is possible to accomplish your college goals. This process can be stressful, which is why we're here to support you! In this interview, you may find valuable tips and recommendations from someone who has just been through the process. Their insights may help you on your own journey. Whether you're creating your college list, writing your essays, or choosing which college to attend, we're here to help.
Our featured student in this piece is Siham Ibrahim Theodore. A recently graduated senior, Siham will be starting her first year of college at Washington University in Saint Louis. Siham sat down with one of our interviewers to share her thoughts about the college application process. She shared her advice for future applicants and how she chose to attend Wash U. Siham shared what she did in high school to prepare, and what her plans are when she gets to campus.
Siham's experience with CollegeAdvisor
Siham began her journey with CollegeAdvisor without much knowledge about the college application process. "I really didn't have a big idea what the college application process was," she said. "My dad went to college overseas and my mom didn't go to college." Siham knew she lacked knowledge and experience. So, once she was ready to begin planning her college journey, she sought help from CollegeAdvisor.com
Siham also did not attend a large, established high school with robust counseling resources. She said that at her school, "We were limited on resources, we really didn't have an idea of how the process works." However, by working with CollegeAdvisor, Siham's advisor could provide both education and encouragement throughout the process. She mentioned how her advisor helped her identify what to focus on. "It's important to make sure you show yourself throughout the application process and how to take it step by step," Siham said.
Siham's academic and extracurricular interests
Siham boasted a considerable résumé of extracurricular activities during her high school years. This helped bolster her applications to elite universities. "I have been doing model UN since eighth grade," she said. "I think the fact that you're able to meet with other students and come up with solutions to world issues that are happening today and those that are ongoing issues, that's something that really intrigued me." This participation in model UN inspired Siham to be passionate about global issues and international relations.
She also talked about her interest in data science and math. They both helped her in her goal of becoming a successful entrepreneur. "In terms of data science, I love math," she said. "I think it kind of just fit with the path, especially if I'm doing polling and things like that." She's looking forward to using these skills even more in the future. "I really want to pursue that further and just learn more about the process so that it can help me grow as a business owner myself," Siham stated.  
Starting a business in high school
Siham has accomplished something that not many other high school students have: she owns her own small business. "I started a beauty brand and it's called Retrograde Beauty," she said. The company's focus is on celebrating everyone's unique beauty. Siham sought to fill a gap in the beauty industry by creating products made for girls with her skin tone. "Since it's very hard to find beauty in my skin tone that fits my shade range, I kind of took the initiative to start a beauty brand, which is inclusive for all," she said.
This business did not simply happen out of thin air. In fact, Siham's had an interest in finding solutions to a wide variety of problems since she can remember. Talking about her creative process, she said "I guess over time, it's something that I kept retrying and redoing, over and over again, over the years." She got the idea for her current business during the pandemic. She used the time in lockdown to get it off the ground. "I did a lot of research throughout the pandemic," she said, "I made business connections, and then I started working with labs. I started coming up, looking for the ingredients, everything, and I did what was possible. And then I finally launched my business."  
How Siham highlighted her passions in her college applications
As a student and a business owner, Siham knew she had a range of passions and skills. She just needed to show college admissions officers that. "I actually started by mentioning my passions and then throughout my application, I would mention my passions in my supplements," said Siham. She used the essays as a way to talk about her accomplishments. She also stressed the importance of making real change in her community. "You want to frame your application in a way where you're still human and you're still doing things you're passionate about, but you're making a change while you're doing that," she said.
In her common app essay, Siham emphasized how her business made a positive impact on the lives of her community. She connected her business to her mission: "Through my business, I used something I was passionate about to leave a positive impact." This helped her establish a theme throughout her application. Plus, she could present herself as an entrepreneur with a passion for social justice.
Applying to honors colleges
Siham applied to several different schools around the country, and not only that, she applied for several honors colleges. She explained her decision to apply to honors colleges: "I like to go above and beyond and make sure that whatever I experience…I'm getting the best of it." These honors colleges presented an extra challenge for Siham because they required several extra essays in order to apply. However, she and her advisor were ready for the challenge. "My advisor helped me," she said, "He helped me with all of my essays… helped me frame my whole application in a way where it would showcase me as a person. I think that's what helped a lot."
Siham's admission decisions and the road ahead
Several top schools accepted Siham, including some of the honors colleges she applied to. "I applied to the three campuses and the honors colleges for all of them. And I got into all of them." Siham shares that Case Western, Seton Hall, Fordham, and Washington University in Saint Louis all accepted her. She eventually enrolled at Washington University.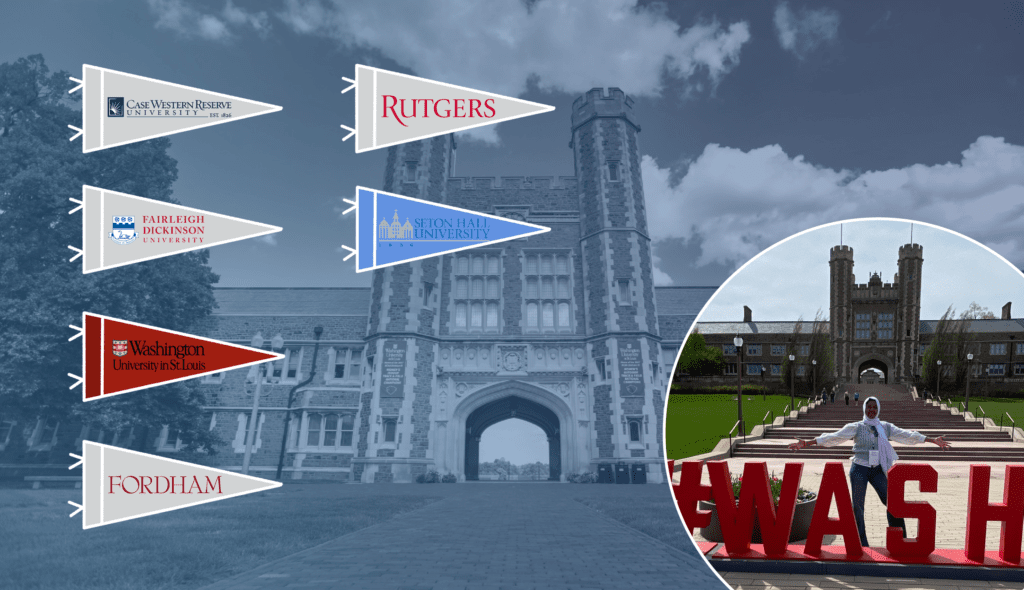 Siham did experience a few rejections along the way. "I applied to Yale – I didn't get in. I applied to Wellesley and I got waitlisted and I applied to Georgetown – I didn't get it," she said. However, she is focused on making the most of her time at Wash U and cannot wait to get started. "I'm excited to really discover myself because I'm going to be alone since I'm moving out. And I'm really excited to see what I become as I'm at Wash U," she said.
How Siham decided which college was right for her
Because so many different schools accepted her, Siham needed to figure out which offer she would accept. She identified several different criteria that she used when making this decision. "It mostly came down to financial choices," said Siham. "Which ones were best fit for my major and which ones were best fit for me and my goals since my goals were really to be in an area where I can grow as a person."
Siham also used college visits to help her make her final decision. College visits are a great way to get a feel for the campus and see what being there is like. "I visited a few schools that I got into and that… helped me really pick the one that I wanted to go to," she said. In the end, Washington University in Saint Louis had both the environment and academic resources that Siham was looking for!
What will Siham major in at WashU?
Although Siham has not yet started her classes at Wash U, she's already seen a few majors that interest her. "I'm most interested in doing global affairs on the international relations track," she said, thinking about building on her experiences with Model UN in high school. She went on to name another area of potential interest: "I'm kind of also interested in data science and entrepreneurship. So I might possibly double major or I might minor."
How Siham's academic interests led her to choose potential majors
Siham's high school involvement in Model UN and her time as a business owner influenced her choice of majors. She praised Model UN in particular, "The fact that you're able to meet with other students and come up with solutions to world issues that are happening today and those that are ongoing issues, that's something that really intrigued me," said Siham. This experience inspired her to do her own research in the field. She explored majors related to global issues, like international relations. "I started doing research on other topics that had nothing to do with Model UN, just global issues in general," she said. "I guess it kind of clicked since that was one of my main passions."
Siham's love of math has also inspired her to look at data science as a possible major. "I love math," she said. This integration of classroom learning with her real-world experience as a business owner has further inspired Siham. She wants to pursue opportunities that would allow her to enact real change in the world. "I really sat down and I was thinking, what is something that would be beneficial to the world that I can do?," Siham said.
Preparing for life at WashU
Although she hasn't yet moved to campus, Siham is getting ready to hit the ground running when she gets there. She mentioned a few ways she's prepared: "I was chatting with other first years that also had a bit of an idea, and I'm also friends with someone who's currently going to Wash U. So they were giving me a little bit of a rundown of things to expect in terms of clubs and things like that."
Siham plans to join several organizations when she arrives, including the Muslim Student Association and the International Relations Council. "I'm going to join the MSA and I'm interested in joining College United Nations," she said. She has also explored the Wash U Career Center and other resources for doing business-related internships. "They have a program for entrepreneurship if you wanna start a business on campus and things like that," she said.
What Siham is looking forward to the most at WashU
Now that she has graduated from high school, Siham is excited to take this next step forward in her life. "I'm looking forward to a lot of things, but I'm really excited for the people I get to meet," Siham said. "'Cause, I was in a really small class in high school." Breaking out of her comfort zone was one of the main reasons that she chose Wash U. She also wanted to surround herself with people who were just as driven and passionate as she is. "I'm excited because a lot of people that are currently attending really have a passion for learning," she said, "and they were at the top of their high schools as well."
Advice for future college applicants
Siham's just been through the college application process. And she had some advice for fellow students who are in the middle of their college application journey. "My number one thing is to be yourself," she said, "cause I've seen a lot of people lose themselves throughout the process." While her grades, essays, and extracurriculars were all important parts of Siham's application, her passions set her apart from others. "What really distinguishes you through grades and similar activities is who you are as a person, what you're passionate about, and what you want to do and how you want to leave a mark," she concluded.
Siham also advises that applicants start finding extracurricular activities that line up with their passions as soon as possible. "Start early on discovering what you like to do and start pursuing those [activities]," Siham said. "And you don't have to just pursue them at school." The extracurriculars not only give you valuable experience but also help you determine your academic or career path. As far as academics are concerned, Siham recommends taking classes that line up with your passions. "Take things that you're truly passionate about," she recommended, "because that really, that sets you apart. And that's what makes you go above and beyond everyone else."
Why CollegeAdvisor?
Siham entered the CollegeAdvisor program without much knowledge about what applying to college was like. However, her advisor helped her stay calm and focused throughout the process. "It's really overwhelming, but you need to take a deep breath," she said. Working with her advisor helped Siham concentrate on showing her passions. She recalled, "My advisor was like, 'No, this, this is it. You need to just do things you actually like to do.'"
Working with CollegeAdvisor helped Siham overcome the stresses of the college application process. But also, it helped her see how best to showcase her passions to admissions officers. She recalled an important lesson she learned during the application process: "Your achievements are on paper, but who you are is what the admissions officers are looking for because they're looking for people that would make the community on campus, not who has the highest achievements." Siham has achieved so much and we are excited to see what she will accomplish at Wash U and beyond!
Need support?
So, if you are a student looking for support with your college applications, CollegeAdvisor.com has you covered! Our trained advisors are here to help you with every step of the process from starting your list to making your final decision. We can assist you as you craft essays, apply for scholarships, and navigate the financial aid system. In addition, our library of webinars, essay guides, and other resources is there any time you need extra assistance.
Siham is just one of the thousands of students that CollegeAdvisor.com has helped. Many of them were accepted at top-50 schools like Siham. To read more stories like Siham's, check out the rest of our Client Success Stories series. For more glowing reviews from students and parents who our advisors and former admissions officers have supported, click here.
---

This Client Success Story was based on an interview with Siham Ibrahim Theodore and written by Alex Baggott-Rowe, Davidson '16. Siham connected to us for help with her college applications. If you are also looking for assistance with your college applications and are interested in working with a CollegeAdvisor.com Admissions Expert, register with CollegeAdvisor.com today.