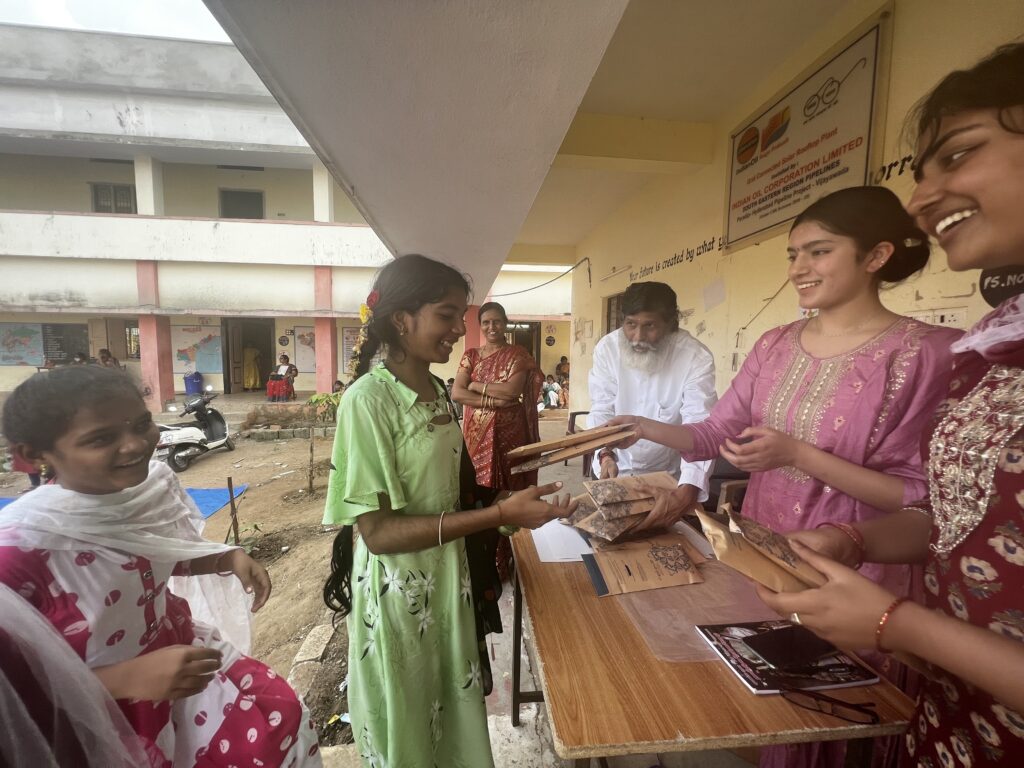 Overview: CollegeAdvisor.com Client Success Stories
In our Client Success Stories, we feature CollegeAdvisor.com students who achieved their college goals. We discuss how they built their extracurricular resumes, wrote standout essays, and more—all with dedicated guidance from our advising team.
At CollegeAdvisor.com, we're proud to support students from all backgrounds, giving them the tools to succeed in the college admissions process. We recently sat down with Srushti Talluri, a current high school senior ('23) from San Ramon, California, to learn about her college admissions journey.
Getting to know Srushti
Srushti was born in San Jose, California, and moved to San Ramon in elementary school. She currently attends Dougherty High School, a public high school in the San Ramon area.
"Both of my parents were born and brought up in India and are first-generation immigrants that came to the United States. My mom came here to study, and my father came here to work," she told us.
From an early age, Srushti knew she was interested in the medical field. "In terms of extracurriculars and aspirations, somewhere around middle school, I was pretty sure I wanted to go into medicine. So, that shaped my entire high school experience and what classes I took, what extracurriculars I did, and how I spent that time outside of school," Srushti told us.
Outside of the classroom
As a pre-med applicant, many of Srushti's extracurricular activities center around medicine. "During my sophomore year of high school, I started volunteering at the Ashland Free Medical Clinic–a local free medical clinic," she said. "I started there during Covid, so I volunteered online for about a year. Then, I eventually transitioned to an in-person volunteer." Srushti also volunteers at several other clinics, working directly with patients and medical professionals.
Beyond her clinical experience, Srushti works as an intern in a lab at Cal State East Bay, where she facilitates research related to intensive cognitive rehabilitation therapy. Additionally, she is part of the sports medicine program at her school, where she treats student-athletes with injuries.
However, Srushti's extracurricular interests also extend beyond medicine. "My mom is a dance teacher. She learned dance growing up in India, and once she came here, she decided she wanted to start teaching dance," Srushti said.
"She teaches Bharatnatyam and Kuchipudi–two Indian Classical dance forms," she told us. "I started learning from her when I was six or seven. And then, a couple of years later, she put me in Kathak as well–another Indian Classical dance form. As a Classically trained dancer, I've had unique opportunities to travel around the world and perform."
"I've performed in Texas, Atlanta, London, India, and Cambodia. So I've gotten to go to many places, bring that culture out, and meet many extremely talented artists," Srushti said. Srushti's star-studded extracurricular resume doesn't end there—she also plays the flute, tutors middle school students, and bakes.
As a high-achieving student, Srushti knew she wanted to apply to top schools. So, to ensure she had the support she needed, her family sought guidance from our team.
Why Srushti wanted college admissions support
Srushti is the second student in her family to work with CollegeAdvisor.com. "My brother joined CollegeAdvisor as a senior," she told us. "He joined pretty late, but my parents really liked the process and enjoyed the counselor they worked with."
When it was Srushti's turn, her family decided that starting early would be the best way to ensure she was prepared—especially given Srushti's interest in competitive BS/MD programs. "We knew that I would be applying to many more schools given that I was doing BS/MDs programs [as well as] regular undergrads," Srushti said.
Building your resume as a pre-med student
As a pre-med applicant, Srushti made a point to find extracurricular activities that gave her hands-on experience in the medical field. By volunteering at clinics, Srushti built relationships with doctors and patients while learning more about her chosen career path.
Srushti's volunteer work takes many forms. "[While volunteering], I do a lot of random tasks," Srushti told us. "So, that's ranging from being a receptionist, helping schedule appointments and lab appointments, keeping track of inventory, helping schedule volunteers, and helping with the new volunteer orientation. But it's really fun because I get to experience a lot of different sides of medicine."
Srushti's research experience has also provided her with incredible opportunities—and helped her bolster her pre-med resume. Beyond her clinical volunteer work, she also works as an intern at Cal State East Bay on their ICRT project. During this internship, she has worked with professors, graduate students, and undergraduates as they prepare research for publication. 
"[I do] a lot of backend paperwork, just because I'm 17 years old, [and] due to University policies, I wasn't able to do much hands-on work," Srushti said. "So, I have created a patient log to employ during the clinical trials. And now, we successfully ran our first clinical trial last year. So, now [I mostly work] on consolidating all the data we've collected because it was through so many different forms, on papers, documents, and spreadsheets. So, just compiling and consolidating all that data into an organized method so we can start the analysis and eventually write our research paper."
Finding meaningful volunteer opportunities
Volunteer work is a great way to give back to your community—and strengthen your college applications.
Through her clinical volunteer work, Srushti helps provide medical care to uninsured patients. "There's [a clinic] here in the Livermore area where they rent a room at the local temple. And then they, again, see uninsured patients," she said. "Like many immigrant families here, if their parents visit, they don't have insurance. So, they'll bring their parents to the temple clinic, and then we have providers that come in and help out in whatever way necessary." 
In this clinic, Srushti has even more responsibilities. "The cool thing that I've been able to do there is I'm allowed to track blood pressure and blood sugar," she said, "and help the doctor with that portion."
Applying to BS/MD programs and other undergraduate institutions
The BS/MD application process isn't easy. Each program has its own application platform, deadlines, and requirements.
Srushti found this part of the college application process to be the most difficult. When asked what she struggled with most, Srushti said, "I hated the platforms. There were so many of them. Because I applied to a lot more colleges than most, everything didn't fit on the Common App. So, that meant I had to figure out the Common App, the Coalition, and some individual school portals."
She continued, "And given that I was applying to BS/MD programs, that added a whole other level of complications because there is not much information about them online." 
With her advisor's support, Srushti began the long process of navigating different application requirements, deadlines, and platforms.
"I think I was one of [my advisor's] first BS/MD students," Srushti said. "[So] she wanted to learn about the process for me and so that she could help me to the best of her ability. So she took that extra effort to research the programs. Like, what is a BS/MD? What are the applications? What is different about it?"
"And then just anytime I had a question… I texted her, and then whenever she was free, she would text me back. She was very responsive, very communicative, and just the most helpful." 
How Srushti's advisors helped her brainstorm essays
Essays are another critical part of the college process—and, for many students, one of the most challenging application requirements to complete. Srushti wrote over one hundred essays during the college admissions process—an exceptionally high number compared to most students. She was particularly grateful for her advising team's support as she drafted her essays.
"They were so helpful to talk through everything and [help me] hone in on my ideas," Srushti said. "Obviously, [my essays are] coming from my experiences, but they were able to bring out [new perspectives] like, 'This would be an excellent portion for you to highlight, or maybe this idea is better than that idea.' Or even just prompting the ideas out of me."
Staying organized through the college application process
Staying organized throughout the college application process is extremely important. With so many applications to juggle, Srushti knew she needed a plan to ensure she met all requirements and met all deadlines. Srushti found this piece of the application puzzle to be a bit difficult—especially given the lack of accessible information for most BS/MD programs.
"It was not the most straightforward process," Srushti shared. "There's not a lot of information about [BS/MD programs] online. It's very, very, very limited, and they don't update them till late August or some till September. So I had to play the waiting game of, like, are they going to use last year's prompts? Are they going to use new ones? Is the date going to be the same? Is the date going to change? So just the information is there somewhere on the internet, but the lack of organization of all the information [makes it difficult]."
To help her manage her applications, Srushti made a variety of spreadsheets and used different tools to ensure she understood the details of each school where she applied. "I am very organized," Srushti said, "so I like having all my information right in front of me. So, that meant so much more work on my part because I made spreadsheets with information on who wants what, who needs what, how many prompts are there, et cetera." 
Researching and organizing all that information can be difficult for a high school student already busy with schoolwork and extracurriculars. However, Srushti's advisor was there to help with her research.
"We ended up [organizing all of my essay prompts] even before the application cycle started. [My advisor] was very supportive and even offered to help, saying, 'I'll [organize] the BSMD ones, and you do the regular undergrad ones.'" Together, Srushti and her advisor made a plan that helped her confidently tackle her essays.
How did Srushti's advisors help her manage her supplemental essays?
With her advisors' guidance, Srushti completed an impressive number of essays. "It was a great experience, and I loved the two counselors I worked with," Srushti said.
"They've gone above and beyond," Srushti said of her advisors. "They don't need to read every single essay I write, but they do, even given that my package was like twelve applications. They were like, 'We're here to help you, so we're going to help you.' Anything that I wanted to have read and reviewed, they did."
Making the most of CollegeAdvisor's resources
Beyond her advisor's support, Srushti used several of CollegeAdvisor's online resources. Srushti watched several of our webinars early in the process. This gave her a good framework and an idea of what she needed to do in the future.
Srushti also used some of our essay guides to help her draft and brainstorm. "I used the essay guides for a couple [essays] just to generate ideas," she shared.
How CollegeAdvisor's network helped Srushti succeed
However, the most important resource from CollegeAdvisor for Srushti was the size of our advisor network. "More than the online resources, outside of my counselors, the resources I used the most were other counselors," she shared.
"Specifically, one [advisor] was a part of another BS/MD program. We got on a call, and she just gave me a lot of good advice about applying to BSMDs." Since Srushti's advisor was not in the medical field, Srushti gained a lot of insight from speaking to other members of the CollegeAdvisor network.
Srushti also utilized CollegeAdvisor's essay review team for several of her essays. Additionally, she worked with our interview prep team, which allowed her to do a mock interview before interviewing for colleges.
Srushti's admission results and the road ahead
Srushti received plenty of acceptance letters from great schools nationwide. "I applied to 19 BS/MD programs. I applied to maybe six to eight more regular undergrads, and then I also applied to three of the UCs," she shared.
So far, Srushi has gotten into every single BS/MD program she has heard back from and is still awaiting responses from the other schools.
She has also had several interviews and has future interviews scheduled with different programs and universities.
We're so proud of Srushti for everything she's accomplished, and we're excited to see where the rest of the admissions process leads her!
Why CollegeAdvisor?
"[CollegeAdvisor] definitely went above and beyond, and they were here to help me," Srushti told us. "They were great, easy to work with, and awesomely helpful."
At CollegeAdvisor, we're proud to support students like Srushti through every aspect of the college admissions process. Check out our other Client Success Stories to learn more about us, or click here to schedule a meeting with a member of our team.
---

This Client Success Story, written by Nora Eckler, was based on an interview with Srushti Talluri. Srushti connected with us for help with her college applications. If you are also looking for assistance with your college applications and are interested in working with a CollegeAdvisor.com Admissions Expert, register with CollegeAdvisor.com today.