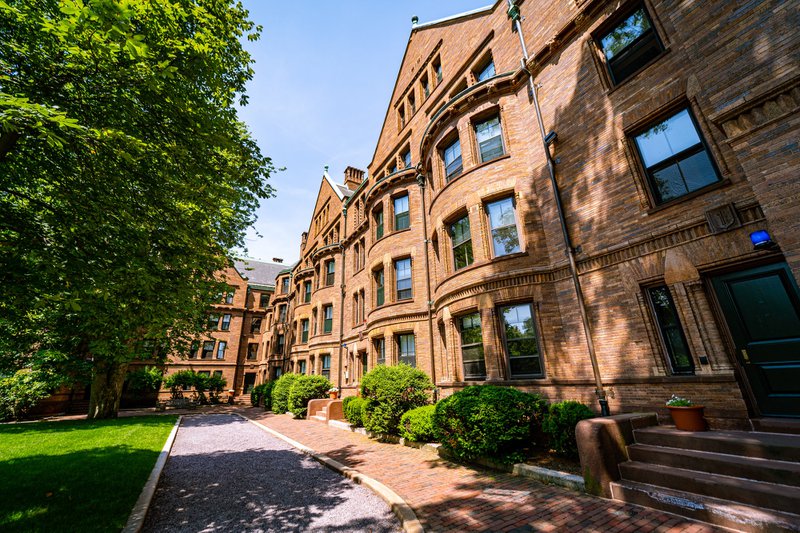 The following essay examples were written by several different authors who were admitted to Harvard University and are intended to provide examples of successful Harvard University application essays. All names have been redacted for anonymity. Please note that Bullseye Admissions has shared these essays with admissions officers at Harvard University in order to deter potential plagiarism.
For more help with your Harvard supplemental essays, check out our 2020-2021 Harvard University Essay Guide! For more guidance on personal essays and the college application process in general, sign up for a monthly plan to work with an admissions coach 1-on-1.
---
Please briefly elaborate on one of your extracurricular activities or work experiences. (50-150 words)
AUTHOR 1
Feet moving, eyes up, every shot back, chants the silent mantra in my head. The ball becomes a beacon of neon green as I dart forward and backward, shuffling from corner to far corner of the court, determined not to let a single point escape me. With bated breath, I swing my racquet upwards and outwards and it catches the ball just in time to propel it, spinning, over the net. My heart soars as my grinning teammates cheer from the sidelines.
While I greatly value the endurance, tenacity, and persistence that I have developed while playing tennis throughout the last four years, I will always most cherish the bonds that I have created and maintained each year with my team.
Why this Harvard essay worked: From an ex-admissions officer
When responding to short essays or supplements, it can be difficult to know which info to include or omit. In this essay, the writer wastes no time and immediately captivates the reader. Not only are the descriptions vivid and compelling, but the second portion highlights what the writer gained from this activity. As an admissions officer, I learned about the student's level of commitment, leadership abilities, resiliency, ability to cooperate with others, and writing abilities in 150 words.
AUTHOR 2
I founded Teen Court at [High School Name Redacted] with my older brother in 2016. Teen Court is a unique collaboration with the Los Angeles Superior Court and Probation Department, trying real first-time juvenile offenders from all over Los Angeles in a courtroom setting with teen jurors. Teen Court's foundational principle is restorative justice: we seek to rehabilitate at-risk minors rather than simply punish them. My work provides my peers the opportunity to learn about the justice system. I put in over fifty hours just as Secretary logging court attendance, and now as President, I mentor Teen Court attendees. My goal is to improve their empathy and courage in public speaking, and to expand their world view. People routinely tell me their experience with Teen Court has inspired them to explore law, and I know the effort I devoted bringing this club to [High School Name Redacted] was well worth it.
Why this Harvard essay worked: From an ex-admissions officer
This writer discussed a passion project with a long-lasting impact. As admissions officers, we realize that post-secondary education will likely change the trajectory of your life. We hope that your education will also inspire you to change the trajectory of someone else's life as well. This writer developed an organization that will have far-reaching impacts for both the juvenile offenders and the attendees. They saw the need for this service and initiated a program to improve their community.
Harvard University Supplemental Essay Option: Books Read During the Last Twelve Months
AUTHOR 1
Reading Frankenstein in ninth grade changed my relationship to classic literature. In Frankenstein, I found characters and issues that resonate in a modern context, and I began to explore the literary canon outside of the classroom. During tenth grade, I picked up Jane Eyre and fell in love with the novel's non-traditional heroine whose agency and cleverness far surpassed anything that I would have imagined coming from the 19th century. I have read the books listed below in the past year.
Chimamanda Ngozi Adichie, Purple Hibiscus*
Aravind Adiga, The White Tiger*
Jane Austen, Sense and Sensibility
Aphra Behn, The Fair Jilt ♰
Mongo Beti, Mission Terminée* (in French)
Kate Chopin, The Awakening
Arthur Conan-Doyle, A Study in Scarlet
Kamel Daoud, Meursault, contre-enquête* (in French)
Roddy Doyle, A Star Called Henry*
Mircea Eliade, The Sacred and the Profane*
Ralph Ellison, Invisible Man
William Faulkner, As I Lay Dying*
Gustave Flaubert, Madame Bovary
E. M. Forster, Maurice
E. M. Forster, A Passage to India
E. M. Forster, Where Angels Fear to Tread
Eliza Haywood, The City Jilt ♰
Homer, The Iliad
Christopher Isherwood, All The Conspirators
Christopher Isherwood, A Meeting by the River
Christopher Isherwood, Sally Bowles
Christopher Isherwood, A Single Man
Shirley Jackson, We Have Always Lived in the Castle
James Joyce, Portrait of the Artist as a Young Man
Franz Kafka, The Metamorphosis
Franz Kafka, The Trial
Jhumpa Lahiri, Interpreter of Maladies*
Morrissey, Autobiography
Rudolph Otto, The Idea of the Holy*
Boris Pasternak, Doctor Zhivago
Charlotte Perkins-Gilman, Herland
Marcel Proust, Swann's Way
Marcel Proust, Within a Budding Grove
Mary Renault, Fire From Heaven
Mary Renault, The Friendly Young Ladies
Mary Renault, The King Must Die
Mary Renault, The Persian Boy
J. K. Rowling, Harry Potter and the Cursed Child
Antoine de Saint-Exupéry, Terre des hommes* (in French)
Shakespeare, Hamlet*
Mary Shelley, The Last Man
Tom Stoppard, Rosencrantz and Guildenstern Are Dead*
Kurt Vonnegut, Breakfast of Champions
Kurt Vonnegut, The Sirens of Titan
Evelyn Waugh, Brideshead Revisited
Evelyn Waugh, Scoop
Evelyn Waugh, Vile Bodies
Jeanette Winterson, The Passion
Mary Wollstonecraft, Mary: A Fiction ♰
Mary Wollstonecraft, Vindication of the Rights of Woman ♰
Virginia Woolf, A Haunted House and Other Stories
* indicates assigned reading
♰ indicates independent study reading
Harvard University Supplemental Essay Option: What would you want your future college roommate to know about you? (No word limit)
Author 2
Hi Roomie!!!!
You probably have noticed that I put four exclamation points. Yes, I am that excited to meet you, roomie!
Also, I don't believe in the Rule of Three. It's completely unfair that three is always the most commonly used number. Am I biased in my feelings because four is my favorite number? Perhaps. However, you have to admit that our reason for the Rule of Three is kinda arbitrary. The Rule of Three states that a trio of events is more effective and satisfying than any other numbers. Still, the human psyche is easily manipulated through socially constructed perceptions such as beauty standards and gender roles. Is having three of everything actually influential or is it only influential because society says so? Hmm, it's interesting to think about it, isn't it?
But if you're an avid follower of the Rule of three, don't worry, I won't judge. In fact, if there's one thing I can promise you I will never do, it's being judgmental. Life is too short to go around judging people. Besides, judgments are always based on socially constructed beliefs. With so many backgrounds present on campus, it really would be unfair if we start going around judging people based on our own limited beliefs. My personal philosophy is "Mind your own business and let people be," So, if you have a quirk that you're worrying is too "weird" and are afraid your roommate might be too judgy, rest assured, I won't be.
In fact, thanks to my non-judginess, I am an excellent listener. If you ever need to rant with someone about stressful classes, harsh gradings, or the new ridiculous plot twists of your favorite TV show (*cough* Riverdale), I am always available.
Now, I know what you are thinking. A non-judgmental and open-minded roommate? This sounds too good to be true. This girl's probably a secret villain waiting to hear all my deepest and darkest secrets and blackmail me with them!
Well, I promise you. I am not a secret villain. I am just someone who knows how important it is to be listened to and understood.
I grew up under the communist regime of Vietnam, where freedom of speech and thought was heavily suppressed. Since childhood, I was taught to keep my opinion to myself, especially if it is contradictory to the government's. No matter how strongly I felt about an issue, I could never voice my true opinion nor do anything about it. Or else, my family and I would face oppression from the Vietnamese government.
After immigrating to America, I have made it my mission to fight for human rights and justice. Back in Vietnam, I have let fear keep me from doing the right thing. Now, in the land of freedom, I won't use that excuse anymore. I can finally be myself and fight for what I believe in. However, I can still remember how suffocating it was to keep my beliefs bottled up and to be silenced. Trust me, a conversation may not seem much, but it can do wonders. So, if you ever need a listener, know that I am right here.
See, I just shared with you a deep secret of mine. What secret villain would do that?
See ya soon!!!!!
[Name redacted] : )
P/S: I really love writing postscripts. So, I hope you won't find it weird when I always end my emails, letters, and even texts with a P/S. Bye for real this time!!!!!
Harvard University Supplemental Essay Option: Unusual circumstances in your life
Author 3
I would like the Harvard Admissions Committee to know that my life circumstances are far from typical. I was born at twenty-four weeks gestation, which eighteen years ago was on the cusp of viability. Even if I was born today, under those same circumstances, my prospects for leading a normal life would be grim. Eighteen years ago, those odds were worse, and I was given a less than 5% chance of survival without suffering major cognitive and physical deficits.
The first six months of my life were spent in a large neonatal ICU in Canada. I spent most of that time in an incubator, kept breathing by a ventilator. When I was finally discharged home, it was with a feeding tube and oxygen, and it would be several more months before I was able to survive without the extra tubes connected to me. At the age of two, I was still unable to walk. I engaged in every conventional and non-conventional therapy available to me, including physical and speech therapy, massage therapy, gymnastics, and several nutritional plans, to try to remedy this. Slowly, I began to make progress in what would be a long and arduous journey towards recovery.
Some of my earliest childhood memories are of repeated, often unsuccessful attempts to grip a large-diameter crayon since I was unable to hold a regular pencil. I would attempt to scrawl out letters on a page to form words, fueled by either determination or outright stubbornness, persevering until I improved. I spent countless hours trying to control my gait, eventually learning to walk normally and proving the doctors wrong about their diagnoses. I also had to learn how to swallow without aspirating because the frequent intubations I had experienced as an infant left me with a uncoordinated swallow reflex. Perhaps most prominently, I remember becoming very winded as I tried to keep up with my elementary school peers on the playground and the frustration I experienced when I failed.
Little by little, my body's tolerance for physical exertion grew, and my coordination improved. I enrolled in martial arts to learn how to keep my balance and to develop muscle coordination and an awareness of where my limbs were at any given time. I also became immersed in competition among my elementary school peers to determine which one of us could become the most accomplished on the recorder. For each piece of music played correctly, a "belt" was awarded in the form of a brightly colored piece of yarn tied around the bottom of our recorders- meant as symbols of our achievement. Despite the challenges I had in generating and controlling enough air, I practiced relentlessly, often going in before school or during my lunch hour to obtain the next increasingly difficult musical piece. By the time the competition concluded, I had broken the school record of how far an elementary school child could advance; in doing so, my love of instrumental music and my appreciation for the value of hard work and determination was born.
Throughout my middle and high school years, I have succeeded at the very highest level both academically and musically. I was even able to find a sport that I excelled at and would later be able to use as an avenue for helping others, volunteering as an assistant coach once I entered high school. I have mentored dozens of my high school peers in developing trumpet skills, teaching them how to control one's breathing during musical phrases and how to develop effective fingering techniques in order to perform challenging passages. I believe that my positive attitude and hard work has allowed for not only my own success, but for the growth and success of my peers as well.
My scholastic and musical achievements, as well as my leadership abilities and potential to succeed at the highest level will hopefully be readily apparent to the committee when you review my application. Perhaps more importantly, however, is the behind-the-scenes character traits that have made these possible. I believe that I can conquer any challenge put in front of me. My past achievements provide testimony to my work ethic, aptitudes and grit, and are predictive of my future potential.
Thank you for your consideration.
Why this Harvard essay worked: From an ex-admissions officer
In this essay, the writer highlighted their resilience. At some point, we will all endure challenges and struggles, but it is how we redeem ourselves that matters. This writer highlighted their initial struggles, their dedication and commitment, and the ways in which they've used those challenges as inspiration and motivation to persevere and also to encourage others to do the same.
Harvard University Supplemental Essay Option: An intellectual experience (course, project, book, discussion, paper, poetry, or research topic in engineering, mathematics, science or other modes of inquiry) that has meant the most to you.
Author 4
I want to be a part of something amazing, and I believe I can. The first line of the chorus springs into my mind instantaneously as my fingers experiment with chords on the piano. In this moment, as I compose the protagonist's solo number, I speak from my heart. I envision the stage and set, the actors, the orchestra, even the audience. Growing increasingly excited, I promptly begin to create recordings so I can release the music from the confines of my imagination and share it with any willing ears.
My brother [name redacted] and I are in the process of writing a full-length, two-act musical comprised of original scenes, songs, characters. I began creating the show not only because I love to write music and entertain my friends and family, but also with the hope that I might change the way my peers view society. Through Joan, the protagonist of my musical, I want to communicate how I feel about the world.
The story centers around Joan, a high schooler, and her connection to the pilot Amelia Earhart. Ever since I saw a theatrical rendition of Amelia Earhart's life in fifth grade, she has fascinated me as an extraordinary feminist and a challenger of society's beliefs and standards. As I began researching and writing for the show, I perused through biographies and clicked through countless youtube documentaries about the first woman to fly across the Atlantic, astounded by her bravery and ability to overcome a troubled childhood and achieve her dream. In my musical, as Amelia transcends 20th century norms, changing the way that people regard women and flight, Joan strives to convince her peers and superiors that the worth of one's life spans not from material success and grades, but from self-love and passion.
As I compose, the essence of each character and the mood of each scene steer the flow of each song. To me, it seems as though everything falls into place at once – as I pluck a melody out of the air, the lyrics come to me naturally as if the two have been paired all along. As I listen to the newly born principal line, I hear the tremolo of strings underscoring and the blaring of a brass section that may someday audibly punctuate each musical phrase.
The project is certainly one of the most daunting tasks I've ever undertaken – we've been working on it for almost a year, and hope to be done by January – but, fueled by my passion for creating music and writing, it is also one of the most enjoyable. I dream that it may be performed one day and that it may influence society to appreciate the success that enthusiasm for one's relationships and work can bring.
---
These essay examples were compiled by the advising team at Bullseye Admissions. If you want to get help writing your Harvard University application essays from Bullseye Admissions advisors, register with Bullseye today.