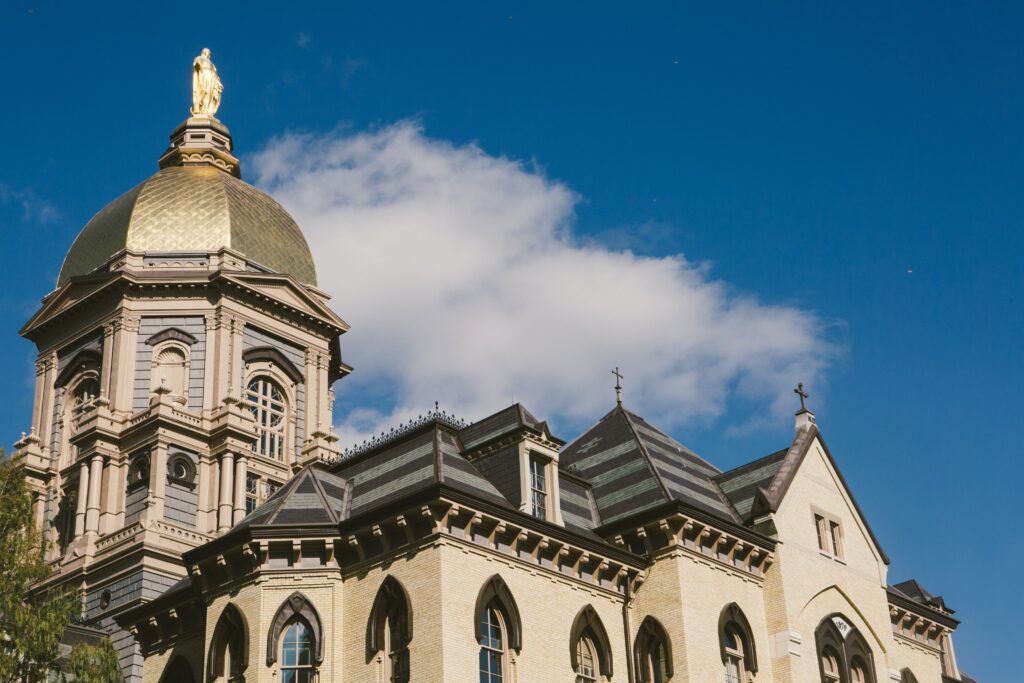 In our University of Notre Dame essay guide, we'll be diving into some tips to help future applicants best represent themselves with the supplemental essays. For more guidance on personal essays and the college application process in general, sign up for a monthly plan to work with an admissions coach 1-on-1.
The University of Notre Dame in South Bend, Indiana is a private institution with storied athletic programs and a robust Catholic values system. The University has maintained its status as a top 25 school according to the U.S. News & World Report, and is ranked #15 in the 2020 report. Approximately 8,600 undergraduate students call Notre Dame their "home under the dome." The campus community is enriched by approximately 4,000 graduate students who engage with undergraduates through extracurriculars, research, athletics, and mentorship programs, among the countless other interactions on campus. With eight undergraduate colleges and several esteemed graduate schools such as the School of Law, School of Architecture, and the Mendoza College of Business, there is no shortage of opportunities to build community across academic disciplines and classes.
Life at Notre Dame
The residential life at Notre Dame truly embodies the University's call to community. One of the first questions anyone you meet on campus or any alumni you speak with will ask is not, "What did you study?" but, "Where did you live?" Each of the 32 single-sex dorms on campus has its own traditions, history, chapel, and layout. Whether you're a Flaherty Bear or a Siegfried Rambler, you will undoubtedly have a strong opinion about whether North or South Dining Hall is superior and engage in healthy competition through inter-hall sports and campus-wide competitions.
The six undergraduate colleges are the College of Arts and Letters, the College of Engineering, Mendoza College of Business, the College of Science, the School of Architecture, and the Keough School of Global Affairs. It is important to note that students in the School of Architecture complete a five-year curriculum and spend the entirety of their third academic year abroad in Rome, Italy. There are ample opportunities to pursue supplementary majors and minors in colleges other than the one you are in for your major, although it is not currently possible to double major in the Mendoza College of Business.
One of the most helpful tools to use prior to brainstorming your Notre Dame essays is the University mission statement. Notre Dame has an unparalleled dedication to service, community, and justice rooted in the University's affiliation with the Congregation of the Holy Cross. One of the most pivotal sections of the mission states "…the University seeks to cultivate in its students not only an appreciation for the great achievements of human beings, but also a disciplined sensibility to the poverty, injustice, and oppression that burden the lives of so many. The aim is to create a sense of human solidarity and concern for the common good that will bear fruit as learning becomes service to justice."
When reviewing applicants, admissions officers are seeking students who not only aspire to academic accolades and a successful future career, but also who will strive to use their education as a force for good once they graduate.
Prompt 1 [required]: What excites you about the University of Notre Dame that makes it stand out from other institutions? (200 words)
This question is essentially asking "Why Notre Dame?" The application readers want to gain insight into how you see the offerings and opportunities at Notre Dame fitting with your personal, academic, and professional goals.
Due to the 200 word limit, you must strike a careful balance of breadth and depth; the best way to accomplish this feat is to be specific. Notre Dame (or any other university) is not expecting seniors in high school to have their entire lives planned out, but they do want to see that you have thoughtfully considered how Notre Dame fits into your future and researched the University prior to applying.
Rather than writing, "I would make the most of the opportunity to join business clubs while pursuing a degree in Mendoza," it would be more effective to write, "While pursuing a degree in accountancy, I will explore my interest in entrepreneurship by immersing myself in the workshops and venture competitions hosted by the IDEA Center." Paint a cohesive picture so your application reader can imagine you engaging in the campus community instead of reading about your general interest in getting involved.
In a similar vein, another pitfall is focusing too much on what makes Notre Dame great, instead of building the connection between what you admire about Notre Dame and your own desire to attend the University. For example, many applicants may comment on their desire to conduct research, but fewer will name a specific professor who studies a topic they are eager to explore. When outlining and writing your response to this question, ask yourself "Could any applicant say this?" If the answer is yes, you will likely be able to make the statement more specific by perusing the University website, course catalogs, and emails you have received but avoid regurgitating marketing materials.
Another element to consider is Notre Dame's unapologetically Catholic identity. In no way should you be discouraged from applying if you are not Catholic, and you should strive for the utmost authenticity in your response. If your religious identity is not part of the reason you are applying, don't force it. However, it is necessary to think about the values of a Catholic university when answering this prompt and the other Notre Dame prompts. Human dignity, justice, community, and service to others are key tenets of the school and should not be overlooked or contradicted in your writing.
Ask yourself "What actually excites me about attending Notre Dame?" Instead of trying to get in the heads of the admissions officers, take a moment to genuinely reflect on why you are applying and your voice will shine through your writing.
Prompt 2 [choose 2, required]: Please choose two of the following prompts and respond in about 200 words:
Option A: The founder of the University of Notre Dame, Father Edward Sorin, C.S.C., was only 28 when he established the University with the vision that it would become a "powerful means of doing good." We have always known that young people can be catalysts for change. What is one way that you have made an impact in your community?
As I mentioned previously with regard to the mission statement, Notre Dame seeks students who are community-oriented. This prompt is seeking evidence of your active community membership and wants to know both how you will benefit from the community, and how you will contribute to it. Communities come in all shapes and sizes, so this essay is broader than it appears at first glance. Potential communities include but are not limited to your family, your friends, a sports team, a bible study, and a high school class.
Though the definition of "community" is broad, your discussion of your impact should be specific. Due to the 200 word limit, it is most effective to select one community to focus on for your response. Think about specific interactions you've had with others, moments where you realized the impact you were having on others, or communities that challenged you. Perhaps you have engaged across differences in community or been a role model for others. If possible, focus your response around an example of leadership. You don't have to have an official title or be selected to be a leader; something as simple as a one-on-one interaction with someone could bear witness to your track record of impacting the communities to which you belong.
Many high schools require service hours to graduate and initiate school-wide service projects. If possible, avoid using these in your essays to maintain originality in your essay; use this as an opportunity to discuss community as it pertains uniquely to you. As commendable as Relay for Life or raising money for a 5k is, these are overused.
Option B: If you were to bring a new friend to your hometown and give them a personal tour, what is a meaningful place you would show them?
This prompt demonstrates the importance of planning and brainstorming your essays prior to selecting the ones you will actually write. A place in your hometown may be highly relevant to the community you considered writing about for Option A, but that essay may fit more closely with Option B. Both Option A and Option B are broad enough that many essays could work for both prompts, so be intentional with your planning.
The two key words in this prompt are "personal" and "meaningful." Think about the places that have sentimental value for you – the places where important moments in your life occurred, or the places where you return frequently. Being specific is key to successfully answering this prompt. A "place" could be a museum or restaurant, but it could also be a specific park bench or an aisle in the grocery.
Effective writers will carry the perspective of the new friend throughout the essay instead of focusing on the details of the place itself. Many people could have pivotal conversations on that same park bench that you discuss, but why does it matter to you? Put yourself in the position of actually explaining your selected place; you likely wouldn't describe the place itself to your friend – you would describe its significance in your life.
Option C: Defend an unpopular opinion you hold.
This essay can be very impactful when well executed, but could harm your application if executed poorly. Think of an "unpopular" opinion as more or a less common twist on a perspective or idea, or as an opinion that has lesser known intricacies. Many truly unpopular opinions are unpopular because they reveal intolerance and other undesirable traits. In general, avoid discussing politics or attacking a specific person.
Most importantly, keep the Catholic values of Notre Dame, as revealed through their mission statement, in mind when articulating your opinion. This is particularly relevant for political and social issues, as Notre Dame is even more conservative than most religiously affiliated universities. Writing about an unpopular opinion that contradicts Notre Dame's core Catholic values could be detrimental to your chance of admission. However, don't simply pick a popular opinion or pick an overused unpopular opinion just to be safe. Be creative and original while being aware. As with most essays, the success of this essay hinges on how you frame your ideas.
Option D: Many high schools have books that are required reading. Thinking beyond the common examples, what book do you believe should be on your school's reading list and why?
This essay prompt appears to be distinctly different from the other supplemental essays for Notre Dame; in reality, your proposed addition to your school's reading list can say just as much about you as an explanation of a meaningful place in your hometown.
The "why" in the question is the most important element of this two-part prompt. When selecting your book, think beyond the title, the author, and the storyline. Evaluate what you learned from the book. Did you identify with the main character? Change your perspective on an important issue or life decision after reading it? Be creative in the type of book you select. Though most books read in class are typically fiction, don't hesitate to select nonfiction, poetry, or even a book of speeches/essays. Select something that reveals your curiosities. What do you wish you had learned about in school? Be careful not to devote too many words to summarizing; one or two sentences should suffice. Instead, elaborate on what your choice of book reveals about you.
I highly recommend brainstorming for each of the four options for Prompt 2 prior to selecting the two that you will write. You may surprise yourself by having more to say about a prompt than you anticipated. Also, you should evaluate your application to Notre Dame as a whole and select the two prompts that allow you to say the most about yourself without being redundant with other essays.
If you are interested in spending your college career at Notre Dame, consider applying early action – 44% of the class of 2024 was admitted during the early cycle. The waitlist at Notre Dame is unpredictable and the number admitted off the waitlist varies greatly from year to year.
---
This essay guide was written by Caroline Marapese, Notre Dame '20. If you want to get help writing your Notre Dame application essays from Caroline or other CollegeAdvisor.com Admissions Experts, register with CollegeAdvisor.com today.