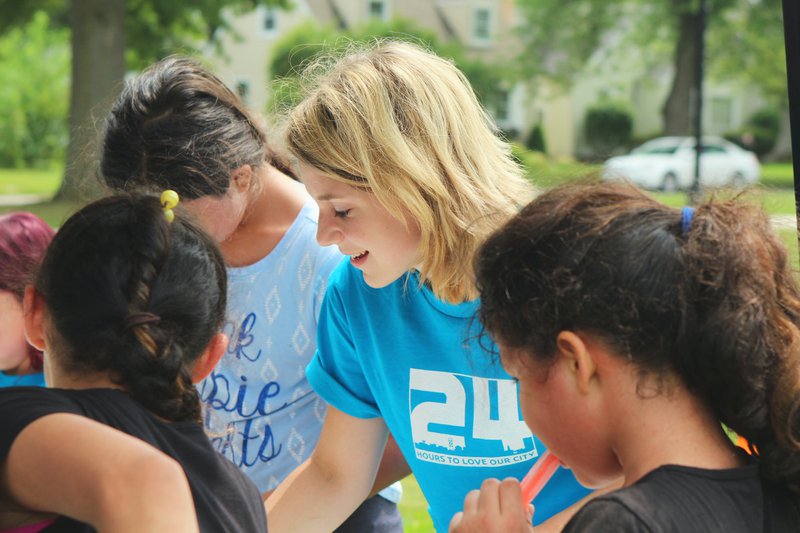 Looking for ways to volunteer as a high schooler? Hoping to get more involved in your community? Searching for a meaningful experience?
If you're planning on applying to college, you probably know that many university admissions officers look favorably upon students with volunteering experience. You're likely searching for high school volunteering opportunities that will help you stand out on your college applications.
However, it's important to invest your time in volunteer activities that you genuinely care about. Colleges can tell when students are passionate about their work as opposed to when they're just taking part in an activity "for college applications."
Check out the article below to find out how some of CollegeAdvisor.com's Admissions Experts spent their time volunteering in high school. For more inspiration, guidance, and support, sign up for to work with an admissions coach 1-on-1.
---
"I did community service club, which included quite a few different service opportunities. I also volunteered as a counselor at a local band camp. The most impactful work I did was probably volunteering at my local library, which ended up turning into a job. My work at the library allowed me to connect with my community and share my love of reading– I even got to help teach little kids to read."
– Elinor M., Brown University
"I started the first community service club at my high school and managed a team of 25 students in giving back to those in need. Because of the high rates of poverty in my area, I found it meaningful to use my relative privilege for good. It was also fantastic to instill a desire for community service in my peers."
– Lara V.R., Harvard University
"I volunteered with Habitat for Humanity and at a Catholic outreach ministry. I also played piano in nursing homes and worked at a therapeutic riding horse farm."
– Caroline M., Notre Dame University
"I helped teach tennis, cello, and chess, as well as participated in fundraisers."
– Grant R., Harvard University
"I started an after school program for low-income students. I also volunteered with Boys and Girls Club, Special Olympics, and Make a Wish Foundation. Additionally, I planned events and fundraisers as the Philanthropy Chair of the Student Community Action Council. I also volunteered in a school and hospital in Nicaragua. Helping others has always been a core aspect of my beliefs. Volunteering in high school gave me a chance to give back to my community while also getting leadership experience."
– Kaitlin L., University of California – Berkeley
"I did some work producing public television which technically counted as volunteer work, but it's not your typical volunteer experience. I liked producing content and learning about video editing and writing, though."
– Finn B., Harvard University
"Throughout high school, I was very involved in NHS, and I became president my senior year. I revamped our membership requirements so that all active members had to participate in at least 1 major service activity, 2 fundraisers, and 3 smaller service activities per semester (compared to having only to participate in one small service activity per semester). Additionally, I spearheaded a scholarship to be awarded to 2 seniors every year. I was also involved in my catholic church's youth group all of middle school and high school and became a youth leader my sophomore year of high school. This involved attending and leading biweekly activity nights for other teens who were in the confirmation program (confirmation is a Catholic sacrament). I thoroughly enjoyed being a youth leader because I became almost like an 'older sibling' and mentor for many younger teens while strengthening my religious faith."
– Carolyn H., Stanford University
"I volunteered with an NGO called 'Dream a Dream' and tutored young girls with physical disabilities."
– Richa G., Stanford University
"I served as Director of Programming at the Teen Board of Children's Hospital Foundation, Youth Infusion Board Member at the Kentucky Science Center, and Educational Activist at Educational Justice. My volunteer work has truly shaped my career path and how I hope to serve my community in the future."
– Rashmi B., Vanderbilt University
"I volunteered at a library. It was impactful because I learned the behind-the-scenes work needed to maintain a place that I love, leading my school's environmental club (doing trash pickups and planting trees). I also gained leadership skills and was able to better the environment around me and think sustainably."
– Lily X., Washington University in St. Louis
"I created and helped maintain a community garden at my temple. It was a really exciting project to be able to help design and witness its literal growth over time."
– Lillian E., Bowdoin College
"In high school, I volunteered with AlaskaYouthVote and at the elementary school where my mom was a teacher. AlaskaYouthVote allowed me to help spread youth awareness of politics and local issues in a state whose insular geography makes it easy to feel disconnected from the whole world. Helping out my mom and her colleagues after school allowed me to give back to the teachers that impacted my life and contribute to a community where the majority of students are on free and reduced lunch."
– Alli H., Stanford University
"I volunteered at the library, helping organize books. I liked giving back to a space that I enjoyed visiting!"
– Leonor W., Georgetown University
"I co-founded a STEM education equity organization that taught hands-on STEM lessons at underfunded schools. I also pursued mental health advocacy. These experiences allowed me to learn so much while serving the community in two areas I'm passionate about."
– Allison T., Harvard University
"I did GED tutoring with workforce development nonprofit. This helped me build direct, rich human relationships with people. I started asking questions about poverty and incarceration that college classes expanded on."
– Daphne M., University of Chicago
"I did various volunteer opportunities in the Japanese American community, which allowed me to connect with my history, identity, and community."
– Mariko R., Yale University
"I tutored and volunteered at a center helping disabled folks in my community. Both helped me realize I like helping people."
– Marisa P., Yale University
"I was a member of Danville Youth Council, a representative to the School Board in my District, and a Student Ambassador to the World Affairs Council."
– Arham H., University of Pennsylvania
"I worked as an assistant teacher for music and math, tutored younger students, and worked as an assistant coach at my middle school. It was impactful because it gave me a chance to work with others and mentor them, which helped me expand my own life perspective."
– Lucas W., Harvard University
"I volunteered as part of school's Interact Club, part of the national Rotary Club organization. This included community organizing for fundraising runs and marathons to helping out in assisted living centers. This was super impactful for me as I was able to feel part of the community and feel like I was helping in any way possible!"
– Bryan A., Stanford University
"I worked with Teen Line Political outreach."
– Katie C., Brown University
"I volunteered at a hospital, founded a non profit, taught tennis, and participated in food drives and missions trips."
– Maria A.R., Harvard University
"I worked as a Peer Tutor for 4 years, which helped me solidify my own math knowledge as well as realize how much I like teaching!"
– Austin B., Stanford University
"I volunteered at toy drives, the local Kiwanis, Relay for Life events. It showed me the importance of communities coming together to support each other."
– Bailee P., Brown University
"I did a lot of volunteering and mentorship through Boy Scouts. I also volunteered at a hospital."
– Arman R., University of Pennsylvania
"I did a considerable amount of volunteer work throughout high school, both through my school and independently. Service was extremely impactful to me because it provided me a deep, fundamental, and impactful education beyond the walls of the classroom. Service in my community taught me some of the most crucial lessons I learned in all of high school. Much of my current passion for human rights, justice, and public policy can be traced to those crucial experiences in high school."
– Kaveh B., Princeton University
"I was president of our school's National Art Honor Society. We hosted a workshop, teaching kids from the local elementary and middle school art."
– Phillip H., Massachusetts Institute of Technology
"I volunteered at a local hospital (300+ hours a year) and was on the local youth volunteer abroad. Both opportunities gave me a chance to have an impact on my community."
– Gagan V., Duke University
"I volunteered for BJC Hospice, Camp Stepping Stones, Challenger Baseball, and Festival of National. These experiences allowed me to meet people across my city and really gain an appreciation for these relationships formed through volunteering and helping your community."
– Emma K., Cambridge University
"I volunteered at the Mother Teresa Missionaries of Charity. It was impactful as I had the chance to give back to my community that had given me so much growing up."
– Rouhin G., University of California – Berkeley
"I volunteered at nearby assisted living facility."
– Ishaani K., Brown University
"I did community service at my public library. We had a lot of children come in whose parents were always working and we taught them how to read, use the library and make creative projects. It was the first time anyone ever looked up to me and it opened my eyes up to the impact I can make no matter how small. It felt like my work and me as a unique person mattered."
– Sumona H., Harvard University
"I volunteered as a student ambassador for an early college program. I believe this improved my high school experience because the responsibilities I fulfilled – giving tours, completing paperwork, welcoming incoming students – required initiative and maturity. Growing in these aspects helped me to grow as a student and person."
– Ruqaiyah D., Yale University
"I primarily volunteered through music. I played in my church's orchestra, but the more meaningful experiences for me were the benefit concerts I played in with my music organization. We would go to nursing homes and hospitals around the holidays to play festive music for the patients who were unable to return home. Seeing the joy on their faces as they sang along to familiar melodies warmed my heart every time and made me fall more in love with the healing powers of music and community."
– Genevieve L., Harvard University
"I volunteered as a school ambassador, for a nonprofit, at many charity musical performances, and for various other one-off events primarily through my church and school."
– Tara B., Dartmouth College
---
This article was based on interviews with CollegeAdvisor.com's Admissions Experts. If you want to get 1-on-1 help with your college applications from a CollegeAdvisor.com Admissions Expert, register with CollegeAdvisor.com today.