Amherst College Supplemental Essays 2023-24
Wondering how to get into Amherst? The key is the Amherst essays. Your Amherst supplemental essays are a critical part of making your application stand out from other competitive applicants.
Amherst is a highly competitive liberal arts college located in western Massachusetts. The college is located in Amherst, a small city about a two-hour drive from Boston. Though Amherst is not part of the Ivy League, that doesn't mean it isn't as prestigious or competitive. The school is consistently ranked among the best liberal arts colleges in the U.S. (currently #2 on the list). As such, the admissions team is always looking for strong writing and critical thinking in Amherst essays.
In this guide, we'll break down how to be successful when writing your Amherst essay. Primarily, we'll be reviewing all of your Amherst essay options and how to pick which essay prompts to respond to. Our guide is also full of writing tips to help make your application stand out. Keep reading for everything you need to know to ace your Amherst application.
Amherst Supplemental Essays: Quick Facts
Amherst College Supplemental Essays: Quick Facts
Amherst College Acceptance Rate: 9% – U.S. News ranks Amherst College as a most selective school.
Amherst College Supplemental Essays Requirements:

1 (~ 350 word) essay response to a prompt OR
a graded analytical paper from junior or senior year OR
a previously submitted Access to Amherst essay (for students who attended A2A only)

Amherst College Application: Students must submit their application to Amherst through the Common Application, the Coalition Application, or the Questbridge application. Make sure to have all your Amherst supplemental essays and other required application materials ready when applying.
Amherst College Application Deadlines:

Early Decision: November 1st
Regular Decision: January 3rd

Amherst College Supplemental Essays Tip: Choose the Amherst essay option that best suits your overall application narrative and be sure to answer the prompt thoroughly.
Please note that essay requirements are subject to change each admissions cycle, and portions of this article may have been written before the final publication of the most recent guidelines. For the most up-to-date information on essay requirements, check the university's admissions website.
Does Amherst require supplemental essays?
Yes—a completed Amherst application includes one required Amherst supplemental essay. However, students can pick between three options to satisfy the Amherst essay requirements. Below, we will go more in-depth on each of the Amherst essays options and the benefits of each one.
In addition to the required Amherst supplemental essays, there are a few optional Amherst essays you may choose to complete. We will share more about those later. Even though they are optional, you'll see why we recommend completing these Amherst essays.
Keep in mind that Amherst is a very selective school. You'll want to provide as much meaningful and relevant information as possible throughout your application. Furthermore, Amherst admissions officers are looking to build a thoughtful and diverse student body. Therefore, you'll want to carefully consider your Amherst essays, as this is where Admissions will learn the most about you.
To be sure you'll have a strong application, start your Amherst supplemental essays early. Work backward from your application deadline to ensure you have several weeks, if not a few months, for your essays. You'll need plenty of time to brainstorm, write, get feedback, and edit your Amherst essays ahead of finalizing your application.
How many essays does Amherst require?
In total, there are two required Amherst essays. The first is the personal statement, which is a 650-word essay that introduces you to the admissions team. However, this personal statement is not specific to Amherst. Instead, you can submit the same personal statement to all of the schools you are applying to. As a longer essay, you'll have ample space to explore who you are and what matters to you.
The second required Amherst essay is your Amherst supplemental essay. Amherst offers three options for meeting their supplemental essay requirement. If you choose Option A, you are required to submit a 350-word essay responding to one of three prompts. Option B is to submit a previously graded analytical paper. Option C is only available to applicants who have attended Amherst's Access to Amherst (A2A) program. Students must write an essay to apply for the program, which takes place during the fall of their Senior year. As such, students who end up applying to Amherst can use their A2A essay as their required Amherst supplemental essay.
Choosing which of the Amherst supplemental essays options to respond to depends on your personal strengths and interests. In future sections, we'll go further into the details of each of the Amherst supplemental essays options. Then, you'll have all the information you need to make the decision that works best for you.
Amherst Writing Supplement – Option A
The first option applicants can use to fulfill the Amherst supplemental essays requirements offers a choice of prompts. Your response should be no longer than 350 words. Each prompt starts with a quote, followed by a related question. Whichever prompt you choose, you should carefully read the quote and then respond with a personal essay. In your response, you should use examples from your life experience to relate to the ideas in the quote.
Below are the three Amherst supplemental essay prompts for Option A:
Prompt 1
Amherst College is committed to learning through close colloquy and to expanding the realm of knowledge through scholarly research and artistic creation at the highest level. Its graduates link learning with leadership—in service to the College, to their communities, and to the world beyond.

– the Mission of Amherst College
Prompt 1 Question
What do you see as the benefits of linking learning with leadership and/or service? In your response, please share with us a time where you have seen that benefit through your own experience.
Prompt 2
We seek an Amherst made stronger because it includes those whose experiences can enhance our understanding of our nation and our world. We do so in the faith that our humanity is an identity forged from diversity, and that our different perspectives enrich our inquiry, deepen our knowledge, strengthen our community, and prepare students to engage with an ever-changing world.

– the Trustee Statement on Diversity and Community
Prompt 2 Question
In what ways could your unique experiences enhance our understanding of our nation and our world?
Prompt 3
Strong commitment to the freedom of inquiry lies at the heart of Amherst College's mission to create a home in which the liberal arts may flourish. As a small residential liberal arts college that prides itself on the ability, curiosity, and diversity of its students, Amherst seeks to create a respectful environment in which members of its community feel emboldened to pursue their intellectual and creative passions.

– the Amherst College Statement of Academic and Expressive Freedom
Prompt 3 Question
Tell us about an intellectual or creative passion you have pursued; what did you learn about yourself through that pursuit?
Each of these Amherst supplemental essay prompts represents a specific type of essay question:
Prompt 1 is a leadership/service question
Prompt 2 is a diversity question
Prompt 3 is an intellectual pursuit question
So, how do you choose between the Amherst essay prompts? Your choice will ultimately depend on the picture you are trying to paint for admissions officers in your application. In the next section, we'll discuss how to select the Amherst essay prompt that works best for you.
How to choose the right prompt for you
There are multiple prompts available for Option A. So, you may be curious if responding to a specific prompt may increase your odds of admission. The answer is no; no single prompt leads to greater admissions.
The first step to choosing the right Amherst essay prompt is to review each prompt fully. Start by annotating to identify keywords. That way, you can ensure you understand the quote and what the prompt question is asking. For example, for prompt 1, you might want to highlight "benefits of linking", "learning", "leadership", and "your own experience". If your response doesn't touch on all these elements, it's not going to sufficiently answer the prompt.
Focus on your application narrative
Once you understand the prompts behind your Amherst supplemental essays, refocus on your overall application narrative. What is the personal branding you hope to convey in your Amherst College supplemental essays? What did you write about already in your personal statement or other optional Amherst supplemental essays? Is there anything you haven't yet been able to express in your application? For example, perhaps your personal statement speaks to the diversity you would bring to Amherst. But, you haven't yet been able to share your experience starting a club that volunteers with animals. Essay prompt #1, which is about linking leadership and service, might be the best fit for you, rather than #2, which focuses on diversity.
While there is no one right Amherst essay prompt, there are prompts that you will relate to more strongly. Trust your instincts and respond to the question that allows you to tell your story most clearly. If your choice isn't clear, try brainstorming ideas for all three options. Once you have a few solid ideas for your Amherst essays, pick the one you're most excited to explore further.
Now that you've chosen which Amherst essay prompt best suits your story, it's time to start writing. Next, we will provide tips for how to write your Amherst College supplemental essays.
How to write an Amherst supplemental essay
Writing your Amherst essays may feel daunting at first. Here, we'll provide some tips for approaching your Amherst essays:
Freewrite first
Once you've chosen a prompt, avoid pressuring yourself into choosing the right words to say immediately. Set a timer for 10 minutes and simply write whatever comes to mind. From there, you can mine your writing for ideas and examples that you want to highlight in your Amherst essays.
Tell a story
Include specific and personal details that show, rather than tell, what you experienced. The directions for responding to Option A specifically note that this Amherst essay is not an argumentative essay. As such, Amherst Admissions is more interested in your personal experiences than in arguing the meaning of a quote. The quote is simply an inspiration to show you that the questions of the prompts are directly related to Amherst's values.
Make meaning from your story
An important piece of your Amherst supplemental essays is your ability to reflect upon your experiences. As a liberal arts college, Amherst is seeking students who show critical thinking skills. Make sure there is space in your Amherst essay for identifying the "moral" or main takeaway of your story.
Demonstrate passion for Amherst
While none of these prompts are explicitly a "Why College" question, they are Amherst-specific. As such, make sure your response demonstrates an understanding of Amherst's values and approach to learning.
Proofread well
Lastly, always submit Amherst essays that are grammatically correct and easy to read. Strong writing is one sign that a student is prepared to take on an Amherst education.
The above tips are useful when responding to one of the Amherst essay prompts from Option A. However, if you're interested in submitting a previous writing sample for your Amherst requirements, take a look at Option B.
Amherst Supplemental Essays – Option B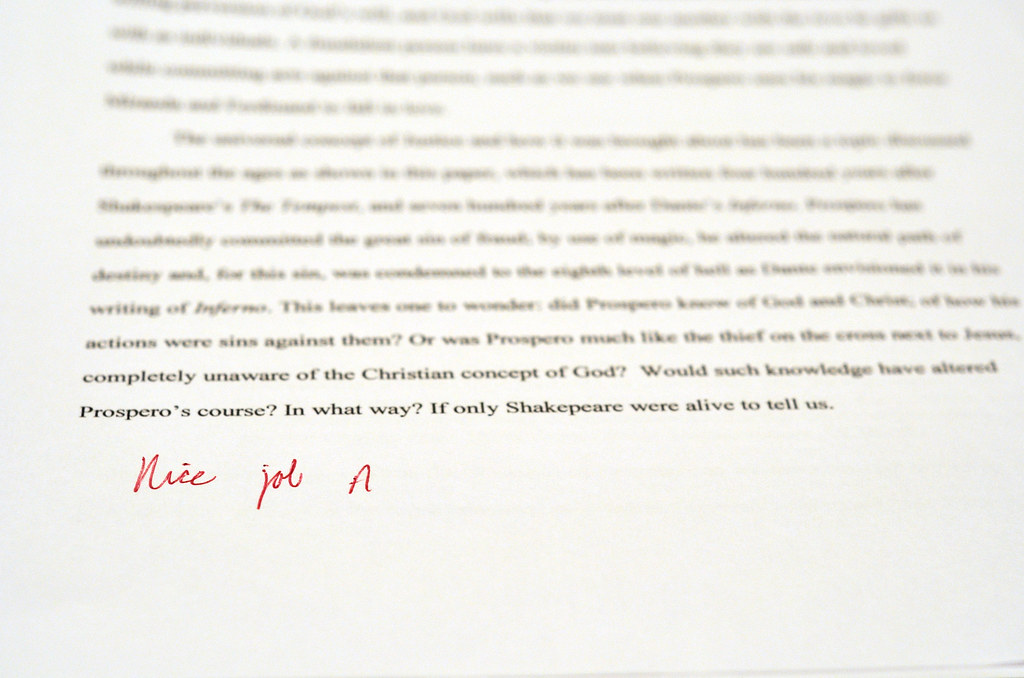 Option B asks you to submit a graded paper as part of your Amherst application. This option provides the benefit of saving you time, as you won't have to write a new essay.
However, there are distinct disadvantages to taking this option. For one, Option B removes space for you to express something personal with admissions officers in your Amherst essays. This option only makes sense if you feel you have an essay that truly expresses important ideas and aspects of your personal brand.
For example, perhaps you have a passion for reading Shakespeare. And, you feel you've already shared a significant amount about yourself in your personal statement or optional supplemental questions. In that case, you may wish to submit an English paper that demonstrates your deep analysis of and love for Shakespeare.
Or, maybe you don't have stand-out grades because you're not a great test taker. In that case, you may want to submit a graded paper that showcases your strengths as a student. If you do choose to submit a graded essay, make sure you've captured your personal experiences and perspective elsewhere!
Take note, Amherst only accepts specific essays. Here is a summary of the guidelines they provide for the submitted essay:
Must be written in Junior or Senior year
Must be an analytical paper that uses literary, sociological, or historical evidence
Cannot be a lab report, journal entry, creative essay, or an essay written in class
Must be previously graded by a teacher, showing the teacher's comments and grades. As such, do not submit a clean version of the paper.
You can read additional frequently asked questions about Option B here. If you are unsure whether a paper could work as one of your Amherst essays, contact the Amherst admissions office.
Amherst Essays – Option C
The final option for your Amherst supplemental essays is only available to students who attended Access to Amherst (A2A). Access to Amherst is a program designed to increase access for students from underrepresented backgrounds, including:
Students of color
Students from rural areas
Students with limited financial means
The program provides high school seniors with free travel to campus. Once there, they'll have the opportunity to stay with a student host and learn all about Amherst. To apply to the program, students must write an essay about their unique experiences. About 75% of students who attend A2A decide to apply to Amherst. These students have the option to use the same essay they supplied to Amherst for A2A in their college application.
While reusing the same essay is a great option, students should be sure to reread their A2A essay. That way, they can be sure it still represents the brand they wish to promote in their application. Students who choose to use their A2A essay can simply indicate this on the Common App. Once Amherst receives their application, the school will internally transfer the essay.
Aside from the required Amherst supplemental essay, there are a few optional Amherst supplemental essays students can submit. We'll describe these Amherst College supplemental essays in greater detail in the next section.
Amherst Supplemental Essays – Optional Essays
In addition to the two required essays – your personal statement and one Amherst supplemental essays response – there are a few optional Amherst College supplemental essays. While these Amherst College supplemental essays are labeled optional, we recommend completing them. Remember, Amherst is a selective college. So, you should provide as much relevant information as possible to demonstrate why you are a standout candidate. In short, students wondering how to get into Amherst should start by filling out every part of the application.
There are two optional Amherst supplemental essays:
Optional Amherst College Supplemental Essays
1. If you would like to share more about yourself that is not captured elsewhere in your application, please tell us more here. (Maximum: 175 words)
2. If you have engaged in significant research in the natural sciences, mathematics, computer science, social sciences or humanities that was undertaken independently of your high school curriculum, please provide a brief description of the research project. (Maximum: 75 words)
Optional Amherst Supplemental Essay #1
This question is referred to as the "Additional identity question." To start, consider whether there is a part of your identity you haven't yet expressed in your application. Then, explain how that experience shaped you.
Identity is a broad term and can relate to many aspects of your experience. Perhaps you were a child of a military family who moved around a lot. You might want to talk about how switching schools impacted your academic and social experiences. Or, maybe you attended schools that did not offer advanced coursework. Whatever you highlight in your Amherst supplemental essays, make sure it's not repetitive. Only use this prompt to share something meaningful that you haven't talked about elsewhere in your application.
Optional Amherst Supplemental Essay #2
In the "Optional research questions" section, students can describe a project that was particularly meaningful for them. This can be especially valuable for students interested in doing research while at Amherst. It can also help reinforce your passion for the primary academic interest you noted in your application.
Optional Arts Supplement
Lastly, students with dance, theater, music, or visual arts passions may wish to submit an Arts supplement. Outside of your Amherst essays, an Arts supplement offers another way to convey your application narrative. If you have a unique talent to display, make sure to take advantage of this aspect of your application.
Is Amherst college prestigious?
Students writing their Amherst supplemental essays might wonder if Amherst is a prestigious college. The answer is yes! Sometimes, smaller liberal arts colleges may not have the same name recognition as schools like those in the Ivy League. However, Amherst is undoubtedly a very prestigious school. Amherst is consistently given high rankings by reliable sources such as U.S. News and Forbes.
However, more important than rankings is school fit. Are you seeking an intimate learning environment? A college town with a small-town feel? A broad education that prepares you for a variety of careers? If the answer is yes to all three, then Amherst might be the best school for you.
Before judging the school by its name recognition, do your research. Talk to students who attended to ask about their experience or what they wrote about in their Amherst essays. Visiting the school will also give you inspiration and ideas for what to highlight in your Amherst College supplemental essays. If you aren't able to visit in person, don't worry! You can do plenty of research online before jumping into your Amherst essays.
Does Amherst care about essays?
Yes, admissions officers care deeply about your Amherst essays! Amherst uses a holistic admissions review process. As such, this means that no one factor, like your grades or test scores, solely determines your admissions.
Your Amherst supplemental essays are an important way to show how you think and what you value. These are characteristics that may not be evident in other parts of your application. As a competitive liberal arts college, Amherst cares deeply about these characteristics.
Lastly, the Amherst essays are the only part of the application over which you have full control. You can't go back in time to change a grade or invest more time in an extracurricular. However, you can write Amherst supplemental essays that are clear, compelling, and unique. Be sure to show them the full picture of who you are through your Amherst supplemental essays!
Getting into Amherst College is no easy feat. In fact, each year more students are applying to the school – and only 9% of applicants are admitted. Without a doubt, admitted students all wrote Amherst supplemental essays that demonstrated what made them a great fit for the school.
Amherst Supplemental Essays: Final Takeaways
With this guide, we honed in on the Amherst College supplemental essays. We looked at the three Amherst essays you can choose from to complete your Amherst requirements. Then, we broke down why you might choose one option over another. (And how to write a great essay in response to the prompts in Option A). Finally, we highlighted optional Amherst supplemental essays that can provide space for you to expand upon your experiences.
Here are some final takeaways to consider when writing your Amherst essays:
Be yourself
First, be yourself. Identify your application narrative and make sure all of your Amherst essays contribute to this narrative. Admissions officers can see through forced narratives or Amherst supplemental essays that don't sound like you.
Take your time
Secondly, spend ample time on your Amherst supplemental essays. Have trusted readers identify ways you can strengthen your narrative or refine your Amherst essays. Seek out the help you need to guide you through writing your Amherst supplemental essays.
Start early
Last but not least, start the process early. Give yourself plenty of time to write your Amherst College supplemental essays and complete all of the Amherst requirements. The more prepared you are, the greater the odds your application will be strong. Be sure to pay close attention to application deadlines so you can plan accordingly.
At CollegeAdvisor, our goal is to ensure students have the support they need to succeed in the college process. We offer a number of additional free resources for students, including this guide on how to get into Amherst. For additional support in writing your Amherst supplemental essays, schedule a consultation with a CollegeAdvisor admissions expert.
---

This essay guide was written by senior advisor, Courtney Ng. Looking for more admissions support? Click here to schedule a free meeting with one of our Admissions Specialists. During your meeting, our team will discuss your profile and help you find targeted ways to increase your admissions odds at top schools. We'll also answer any questions and discuss how CollegeAdvisor.com can support you in the college application process.