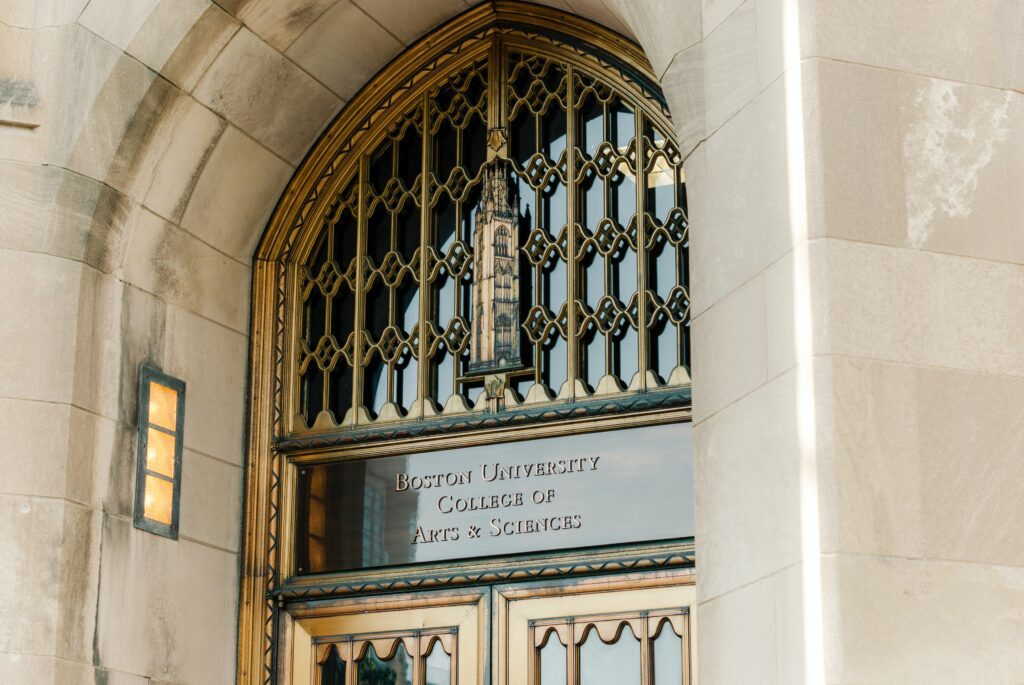 In this Boston University Essay Guide, CollegeAdvisor.com Admissions Expert and BU graduate Sally Kim will cover how to approach the 2020-2021 Boston University supplementary essays. For more guidance on personal essays and the college application process in general, sign up for a monthly plan to work with an admissions coach 1-on-1.
---
Supplemental Essay Prompt (Required)
You're sitting down, hands poised over the keyboard, eyes glued to the screen, looking at one important question:
"What about being a Boston University student excites you?" (250 words)
This is a question that all applicants, regardless of program interest, have to answer when applying to Boston University. It's a question that I had to answer as a senior in high school, too!
You've seen this question before, and you'll see it again. It may not be in the same format, but the question of "Why us?" will come up time and time again during the application process.
So, how do you answer this question in a way that completely wows the admissions officers poring over your application just a few months later?
My biggest advice: be as specific as possible to Boston University — in the Greater Boston Area alone, there are close to 60 colleges and universities, making Boston one of the most educationally dense cities in the country.
This question has a two-fold purpose: to learn what makes you excited (academically, socially, and otherwise), and to gage your interest in BU. This is the time to get as specific as possible — this essay is the only major supplement question Boston University provides, so it's time to buckle down and pore over information provided by the University.
In my supplement essay, I discussed specific classes, professors, extracurricular clubs, and University facilities I could imagine immersing myself in. The point of this essay is to show how the multitudes of opportunities at Boston University can enrich and impact your collegiate life, so give it all you got!
Now, the question above is the one supplement essay questions that all students have to answer, whether you want to be a mechanical engineer or a student in the Classics. But if you're interested in the Kilachand Honors College, there are two essay questions you will need to respond to (choose just ONE of the prompts to answer).
Kilachand Honors College
The Kilachand Honors College is an integrated four-year program at Boston University that encourages students to think in a critical, creative, and interdisciplinary manner to address important societal, political, and economic challenges.
Students enrolled in Kilachand attend various seminars and studio courses that allow them to take multifaceted looks at big societal questions, ranging from the political to the literary. Kilachand Honors students also attend exciting, stimulating co-curricular events that help solidify their foundation in the liberal arts. During senior year, students are required to complete the Keystone Project, which is a "substantial work of empirical or scholarly research, creativity, or invention by the close of their senior year."
As you apply, it'll be critical for you to think about what you would like your college education to look, feel, and be like. The Kilachand Honors College provides intensive, interdisciplinary education on top of your general education and your major degrees. As such, Kilachand is a great fit for students who 1) love learning and 2) enjoy interdisciplinary studies to better inform them of the world.
Should you be interested in applying to the Kilachand Honors College, you must choose to answer one out of the two following questions:
Option A: What about the Kilachand Honors College resonates with you, and how would Kilachand's curriculum fulfill your academic, creative, intellectual, and/or professional goals? (600 words)
For Option A, you'll want to take a look at the Kilachand curriculum carefully, and draw on specific examples for how the opportunities in the Honors College will satisfy your academic, creative, and intellectual ambitions and desires. Think about Kilachand will enrich your personal, academic, and professional goals — whether it's specific courses offered through Kilachand, the small college-within-a-college community you'll find, or the faculty you'll meet.
Also, keep in mind the benefits you'll reap from an intensive, interdisciplinary education, and what that will mean for you as you move forward after graduating from Boston University.
Option B: If you could create a new Kilachand course, what would it be? How would your imagined course align with the core values of Kilachand? (600 words)
For Option B specifically, take a look at what Kilachand already offers — especially the first-year seminar and studio courses. The goal of this prompt is for you to create an interdisciplinary course that addresses a societally relevant topic.
As you can guess, being as specific as possible here will only help — including things like required readings, in-class or out-of-class activities, and discussion topics will all help your imaginary course come to life on paper. It would be an added bonus for you to describe experiential and team learning experiences with this course.
And remember, this course should relate to your passions and interests — you should want to take this course, if it was offered at Boston University.
So, are you ready to knock some (red) socks off with your responses now?
---
This Boston University essay guide was written by Sally Kim, Boston University '18. If you want to get help writing your BU application essays from Nadiya or other CollegeAdvisor.com Admissions Experts, register with CollegeAdvisor.com today.