Dartmouth Essays that Worked – Introduction
Are you interested in learning more about how to get into Dartmouth? Dartmouth is a highly-ranked Ivy League institution with a competitive applicant pool. Located in Hanover, New Hampshire, Dartmouth is ranked #12 in the nation by U.S. News. However, this high ranking also means the Dartmouth acceptance rate is low—just 6%. So, you should understand all aspects of the Dartmouth application and review some Dartmouth essays that worked as you prepare to apply.
In this guide, we will focus on the Dartmouth supplemental essay requirement. Many Ivy League institutions have similar approaches to their application review. Reading college essay examples for Ivy League colleges and reviewing sample Ivy League essays can help you put your best foot forward.
Does Dartmouth have supplemental essays?
Yes—Dartmouth has supplemental essays.
The Dartmouth writing supplement is a required portion of the Dartmouth application. The Dartmouth admissions committee uses Dartmouth supplemental essays to gather additional information about each applicant.
In this article, we will cover Dartmouth essays that worked and offer tips on how to get into Dartmouth. You can also check out this guide for more college essay examples for other schools like Dartmouth.
How many essays does Dartmouth require?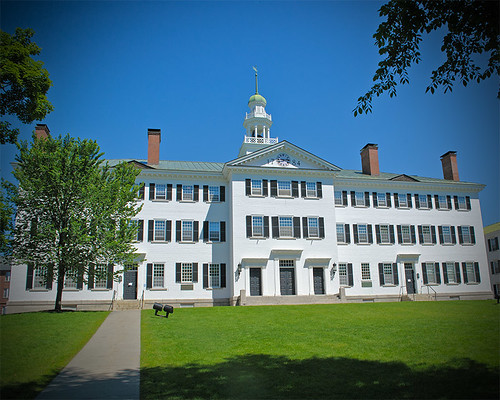 The Dartmouth admissions committee requires three Dartmouth essays in addition to the Personal Essay required on the Common Application. Three Dartmouth essays may seem like a lot. However, don't worry—it's not as overwhelming as you might think. Each Dartmouth essay varies in length and theme. Some Dartmouth essay questions are even as short as 100 words.
Keep reading for some Dartmouth supplemental essays examples.
Dartmouth Essay Requirements
Dartmouth essays can vary from year to year, so you should always double-check the prompts on the Dartmouth website. The Dartmouth essay prompts are typically announced on August 1st when the new application launches. However, it's never too early to begin reviewing sample Ivy League essays. Later in the article, we will review a series of Dartmouth essays that worked from previous application cycles.
Current Dartmouth essay prompts:
Prompt #1: Why Dartmouth? (100 words):
Dartmouth celebrates the ways in which its profound sense of place informs its profound sense of purpose. As you seek admission to Dartmouth's Class of 2027, what aspects of the College's academic program, community, or campus environment attract your interest? In short, Why Dartmouth? Please respond in 100 words or fewer.
Prompt #2: Introduce Yourself (200-250 words):
"Be yourself," Oscar Wilde advised. "Everyone else is taken." Introduce yourself in 200-250 words.
Prompt #3: Choose One (200-250 words):
A. Labor leader and civil rights activist Dolores Huerta recommended a life of purpose. "We must use our lives to make the world a better place to live, not just to acquire things," she said. "That is what we are put on the earth for." In what ways do you hope to make—or are you making—an impact?
B. What excites you?
C. In The Boy Who Harnessed the Wind, William Kamkwamba '14 reflects on constructing a windmill from recycled materials to power electrical appliances in his family's Malawian house: "If you want to make it, all you have to do is try." What drives you to create and what do you hope to make or have you made?
D. Dr. Seuss, aka Theodor Geisel of Dartmouth's Class of 1925, wrote, "Think and wonder. Wonder and think." What do you wonder and think about?
E. "Not everything that is faced can be changed; but nothing can be changed until it is faced," wrote James Baldwin. How does this quote apply to your life experiences?
The Dartmouth acceptance rate can be intimidating, but CollegeAdvisor is here to help. Keep reading to review some Dartmouth essays that worked. We will start by covering three real Why Dartmouth essay examples.
Why Dartmouth Essay Examples
Dartmouth admissions cares about why you are interested in their school. Essay prompts that ask applicants to articulate what interests them about a school are often referred to as "Why <Insert College>" essays. In this guide, we will discuss Why Dartmouth essays specifically.
It's important to note that Why School essay prompts can be worded differently from school to school. Prompts may also change from one year to the next.
In this guide, we will cover four Why Dartmouth essays that worked. The first three Dartmouth essays that worked answer a more creative prompt. The last Dartmouth essay answers a more straightforward prompt. However, in each of the prompts, the Dartmouth admissions committee is asking students to ponder some of the same questions:
Why Dartmouth Reflection Questions
What interests you in Dartmouth compared to any other college?
What academic and social features would make you a good fit at Dartmouth?
How would attending Dartmouth help you achieve your future career goals?
How would you contribute to the existing campus culture and environment at Dartmouth?
Now, let's review some Why Dartmouth essay examples.
Dartmouth Essays that Worked #1
Since LGBTQ+ homeless youth are often at the intersections of racism, ableism, and queerphobia, no one discipline, or class, could cover every facet of their experience.
However, at Dartmouth, I can use the Presidential Scholar Program to research with Dr. Zaneta Thayer. By examining ways poverty and trauma affect health, I will refine the research skills I'll use during a Senior Fellowship on Houston's LGBTQ+ homeless youth.
With help from a Rockefeller Center faculty member, I can spend my senior-year researching ways policymakers and practitioners can better assist LGBTQ+ homeless youth, preparing me for a lifetime of meaningful change.
Why this essay worked:
The first of our Why Dartmouth essays that worked focuses on an element of diversity and inclusion on Dartmouth's campus. The author has clearly done their research about what Dartmouth has to offer inside and outside of the classroom. The essay begins by explicitly stating a cause that the author finds valuable and that Dartmouth supports. The author then proceeds to mention a current Dartmouth professor whose research aligns with this work.
Successful Why Dartmouth essay examples mention campus and community impact. This author not only paints a picture of how they might expand awareness of LGBTQ+ issues on Dartmouth's campus, but also how they will use their Dartmouth education to engage with their broader community. Finally, the author mentions how their Dartmouth college experience will ultimately prepare them to make a lifelong impact after graduation.
A strong Why School essay should also touch on the missions and values of the institution. Dartmouth's mission statement states, "Dartmouth educates the most promising students and prepares them for a lifetime of learning and responsible leadership through a faculty dedicated to teaching and the creation of knowledge". This Why School essay perfectly embodies the mission by focusing on dedicated faculty and lifelong impact. Keep reading for more Dartmouth supplemental essays examples.
Why Dartmouth essay examples #2
Within a venn diagram of "small liberal arts college" versus "large research institution," I have discovered that I cannot simply choose between the two; I greatly value ideals from each distinct circle.
Dartmouth is the millimeter-wide overlap. With the robust undergraduate education characteristic of small liberal arts colleges and the vast resources offered by large research institutions, Dartmouth encapsulates my ideal college community. Tight-knit relationships, check. School spirit, check. Top-notch alumni network, check.
For a small college, Dartmouth furnishes big possibilities. Within a Venn diagram, it is inside this unique, all-encompassing space that I wish to make my home.
Why this essay worked:
The second of our Why Dartmouth essay examples addresses how, as a small college, Dartmouth is a perfect fit for the writer. The author places Dartmouth at the intersection between a small college and a large research institution. Not only does this Dartmouth essay example show that the applicant is knowledgeable about Dartmouth; it also shows that they have researched how Dartmouth stacks up to other schools.
Unlike the previous essay, this Dartmouth essay didn't feel the need to name-drop any top faculty members or signature academic programs. Instead, this author chose to highlight campus features such as school spirit and the alumni network. This Dartmouth essay example is straightforward, unpretentious, and relatively informal in its writing style. This author goes deeper than Dartmouth college rankings and paints a picture of the soul of the institution.
Why Dartmouth essay examples #3
I loved Dartmouth the moment I heard about the Sanborn Tea. There's something magical, romantic, about it—sitting under dark wood bookshelves, surrounded by the scent of books, sipping hot tea in front of a roaring fireplace.
When visiting Dartmouth, I asked about the tea, but my tour guide didn't mention the checkered floors or the buttery cookies I'd read about. Smiling gently, she spoke about loving the chance to chat one-on-one with her favorite professor every week at four o'clock—tea time.
Dartmouth offers not only academics, but absolutely unmatched intimacy, tradition, and community. Tea at Sanborn is just the start.
Why this essay worked:
So far, we've read two why Dartmouth essay examples. Each chose to take a different approach. Our third essay in the Why Dartmouth essay examples series is no different. This author chooses to focus on tradition. The author uses descriptive language to paint a vivid picture of the Sandborn tea tradition. They use vivid descriptions and evocative language to highlight their connection to this tradition and their desire to experience it at Dartmouth.
Some colleges use demonstrated interest as part of their admissions process. Demonstrated interest can be anything from attending a college fair or going on a campus tour to opening an email from the admissions office. While Dartmouth does not consider demonstrated interest in their application process, visiting campus is always a great way to better answer the Why School essay question. Not every author of Dartmouth essays that worked had the opportunity to visit campus. However, they all find some way to add an insider's touch to these Dartmouth supplemental essays examples.
Here is the last of our Why Dartmouth essay examples:
What attracts you to Dartmouth? (100)
I always had a keen interest in numbers, probability, and finance. Early on, I could quickly calculate sales tax, analyze probabilities, and visualize complex mathematical models. After taking AP classes in economics and statistics, I became intrigued with mathematical representations for economic markets and statistical models. This sparked my desire to pursue an actuarial career to utilize my talents in quantitative reasoning. The Major in Mathematical Data Science will provide me the skills to apply abstract mathematical and statistical theories to the concrete world. I will also have the opportunity to stimulate my academic intrigue through an intensive research project.
Why this essay worked:
The last of our Why Dartmouth essay examples is much more straightforward than the previous one. This author chooses to focus solely on the academic components of Dartmouth. However, this simple approach works quite well for this applicant.
The Dartmouth acceptance rate and the Dartmouth college ranking show just how important academics are at Dartmouth. This applicant speaks directly to their ability to succeed in an academically rigorous environment.
The author talks us through what has prepared them for the academic rigor at Dartmouth. They also mention how their passions and talents led them to choose a career in actuary science. Finally, they tell us what they plan to do once at Dartmouth.
This is one of the more simply structured Why Dartmouth essay examples. However, it still answers the prompt perfectly. Keep reading for more Dartmouth supplemental essays examples.
More Dartmouth Essays that Worked
The second Dartmouth essay prompt gives students several prompts to choose from. These prompts change frequently from year to year. In the following Dartmouth essays that worked, we will review a selection of these prompts.
While prompts may change frequently, a strong supplemental essay often contains the same essay components. So, don't worry about these prompts being from previous admissions cycles. You can use these Dartmouth Supplemental essays examples and other sample Ivy League essays to help craft your own essay.
After reading through the following Dartmouth supplemental essays examples, we encourage you to view one of our webinars on brainstorming for your college essay, editing your supplemental essays, and essay advice from admissions officers.
Now, let's review some more Dartmouth supplemental essays examples. With several different prompts these Dartmouth supplemental essays examples allow students to show their personality off!
Dartmouth Essays that Worked #1: Introduce Yourself Essay
The Hawaiian word mo'olelo is often translated as "story" but it can also refer to history, legend, genealogy, and tradition. Use one of these translations to introduce yourself. (250-300 words)
Since my earliest days, my favorite game has been Truth or Dare. In the 1001 ways my friends posed the question, I loudly called out "Dare!" each time and found myself devouring dead ants or climbing trees sky-high. As we grew older, we left behind our hushed whispers and daredevil operations. But something in me never quite stopped playing—never quite stopped choosing dare.
Fifteen years old, I circled the backstage of Spivey Hall, nervously evaluating a plethora of "what-if"s." What if my bow bounces on the artificial harmonic? Worse, what if— CRACK! The room jolted into pitch black, followed by the conductor barging through the stage doors. "[NAME REDACTED], I'm so sorry… seems like… you won't be able to perform your concerto…" he sighed.
I was only half listening, as an idea had crossed my mind. It was crazy, the sort of thing that might have come to me in a fever dream, where nothing made sense. For the first time in years, I felt that question flicker inside me again. Truth or Dare?
I began to tighten my bow. "Mr. Thibdeau, the show must go on."
My intense desire to discover, to brave the unknown, is what defines me. Because of Truth or Dare, I do not fear what lies at the end of the tunnel. To dare brings the possibility of glory and of undoing. I subsist on finding the beauty in both. The fall from a tree that illuminates physics principles, the slip of memory in a blind performance that invokes a hidden propensity for improvisation—even through undoing, I make new parts of myself.
Perhaps one day, ants and trees and Mozart will have all coalesced into nothing but ancient history. Until then, my world is born through Truth or Dare.
I will still choose dare every time.
Why this essay worked:
This author used the widely known game "Truth or Dare" to introduce themselves. Immediately, the Dartmouth admissions committee can see that the author has taken a unique approach to this essay prompt. This shows the applicant thinks out the box and takes intellectual risks. The author does a great job at describing how their daring nature transcends different areas of their life.
From a stylistic vantage point, the author uses prose, descriptive sentences, and dialogue flawlessly throughout the essay. This dynamic writing style keeps the reader engaged from the beginning to the end of the essay. While the author does not explicitly mention how they might "dare" on Dartmouth's campus, the final sentence leaves you wondering what's next for this risk-taking student.
Dartmouth Essays that Worked #2: Celebrate Curiosity
Curiosity is a guiding element of Toni Morrison's talent as a writer. "I feel totally curious and alive and in control. And almost…magnificent when I write," she says. Celebrate your curiosity.
Exhausted and bored, I stare at the hands of the clock in agony. With each tick I digest another spoonful: memorize the formula, rearrange it, plug in the knowns, and solve. I am left perpetually unstimulated. For years, this is what math was about for me — plug and chug. However, I have discovered that mathematics does not have to be so dry and uncreative. Probing and problem-solving captivate me. At once, I am the intrepid Olivia Benson of Law and Order: Special Victims Unit, and then I am the analytical Spencer Reid of Criminal Minds.
And thus, as I entered Calculus BC in September of junior year, I was begrudgingly prepared to embark on the usual plugging and chugging. However, I found myself staring at a proof: determine why sin(x)/x goes to one as x approaches zero. Why. I heard pencils nervously tapping on the desks then collapsing one by one. I raced through a mental check-list of techniques I had previously learned. And, I analyzed the function in my head, visualized it, and then transferred that picture onto paper. With no single, linear method to solving it, my scribbled attempts painted pages of graph paper. Frustrating. Agonizing.
Student's notebooks shuffled onto different subjects. I persisted, raising question after question, much like Captain Olivia Benson, in her attempts to identify the perpetrator. I eventually found success using the "sandwich theorem" — ironic, since I was often hungry in that class. After multiple endeavors, I demonstrated that the limit equals one. Frustrating. Agonizing. Beautiful. A wave of pleasure rolled over me as I softly set down my pencil. From then on, every few weeks, an interesting problem awaited us.
Though I was not alone in solving these proofs, it appeared that I was the only one relishing this process. Like Agent Spencer Reid, I was not concerned with the "usefulness" of this information in my future; I found pure pleasure delving into this abstract material that requires creativity.
My inquisitiveness is not learned from these TV personalities: I feel as if I were born with these analytical tendencies. Curiosity is the genesis of scientific, political, and social — practically all — advancement. To some, mathematical skills seem mundane, but synthesizing information to surmount my daily obstacles is enticing! I find myself employing the use of these skills in my exploration of literature, synthesizing history and language to better understand the characters of Crime and Punishment: empathizing with Sonia's suffering and Dounia's sacrifice.
Similarly, this mindset helped me find a unique way to stop my neighborhood-famous homemade guacamole from browning and helps me expeditiously calculate distances and speed limits, technology-free, in order to find the quickest way to a friend's house. While Emily Dickinson immersed herself in writing and Vincent Van Gogh was constantly painting, my characteristic is to never stop my questioning. Challenges are extremely enticing, and I cannot cease exploring them on my own.
Why this essay worked:
Curiosity is often thought of as the cornerstone of intellectual growth. With Dartmouth's low acceptance rate, it makes sense that the Dartmouth admissions team would be interested in how applicants display curiosity. The author takes time to illustrate exactly what curiosity means to them while also giving examples of curiosity displayed in multiple areas in their life.
The author describes their interest in learning for the sake of learning alone. They describe television shows, books, and courses in school as the playground that allowed them to discover their love of learning. This level of intellectual exploration is exactly the type of curious student that Dartmouth would like to see.
Dartmouth Essays that Worked: Passion to Action Essay
Labor leader Dolores Huerta is a civil rights activist who co-founded the organization now known as United Farm Workers. She said, "We criticize and separate ourselves from the process. We've got to jump right in there with both feet." Speak your truth: Talk about a time when your passion became action. (300 words)
I sat waiting for my nails to dry while a hoard of anxiety-ridden freshmen trudged onto the bus. I was returning to the place where it all started four years ago: when my classmates used 'faggot' instead of gay and left me terrified.
As a peer leader, I wanted to be the overzealous queer presence I wished I had seen as a freshman. Gay jokes and bigotry weren't fortifying closet locks under my watch.
The boys on my bus didn't disappoint. Within the hour, an intense game of 'find the homo' was on.
This was where I belonged. And after my topcoat was done, I was ready for war.
Upon arrival, I grabbed two other peer leaders–I'll call them Adam and Steve–and debriefed them. Although they had a religious objection to homosexuality, they agreed to support me.
That night, we sat the freshmen before the campfire. I watched my words carefully, referencing their comments and my own experiences from freshman year so they would understand my concerns rather than dismiss me.
I told them I was there to talk without judgment. None of them were bad people. Until that night, their behavior had gone uncorrected, and just scolding wouldn't motivate them to change. I wanted them to learn how their peers should be treated.
The next day, several jokesters apologized. I stressed to them that even if someone believes that homosexuality is wrong, common decency still matters. Later, several closeted students came out to me and asked for advice.
My queer identity has taught me how to create queer-affirming spaces while still having difficult conversations. I've learned that bringing people together has less to do with finding common ground than teaching others to respect differences.
Why this essay worked:
This Dartmouth essay example centers the author's identity while also answering the prompt. The author shows vulnerability by writing about a situation that invoked both sadness and anger. Through the author's own queer identity, they were able to illustrate how passionate they were about this cause.
While this is one of the Dartmouth essays that worked, this author took some risks. Using vulgar or offensive language in your college application must be done very thoughtfully. The language used in the first paragraph of this essay might be jarring at first glance. However, the author uses this language only to further underscore their passion. Being a member of the queer community also eases any negative impact of the language used.
Keep reading for more Dartmouth supplemental essays examples.
More Dartmouth Essays that Worked
Yes, books are dangerous," young people's novelist Pete Hautman proclaimed. "They should be dangerous—they contain ideas." What book or story captured your imagination through the ideas it revealed to you? Share how those ideas influenced you.
I think that this is best answered by sharing the letter I wrote to the author after reading A Place for Us:
Ms. Mirza,
Reading has always been my favorite escape, my favorite pastime. Only, your book was never an escape, but a mirror: the first time I saw my life truly reflected in literature, and not because you told an Indian-American story. I felt as though you'd written my story through the raw, honest meditation on family conveyed in your book.
As is true with many immigrant families, my family resorts to anger too quickly. We shy away from expressing love. I've cried out that I hate my father on more than one occasion, passionately believing it to be true each time — just like Amar did to Rafiq.
However, as I read Rafiq's dying words to Amar at the end of the story, expressing his regrets, his love for his son, I couldn't stop crying because I suddenly saw my family in a completely different light. Not that we will never disagree or fight again, but I began to consider all that goes unsaid between us.
Behind the anger is almost always love. Although I've known this subconsciously, there is something about seeing your struggles outside the context of your own life that compels you to confront the truth about them.
I'm endlessly indebted to you, in awe of you, and I needed to say thank you. I cannot begin to express how much this book truly means to me but have tried to explain a small portion of my love for it. Thank you, Ms. Mirza, for my new favorite book. I will carry it with me always.
Sincerely,
[Name redacted]
Why this essay worked:
This essay takes a creative approach to answering the prompt. Instead of just discussing their favorite book, they take a stylistic risk by sharing their essay in a letter format. The letter format works because it shows just how personally the book affected the author. And it still answers the prompt!
This author also shares a window into their culture. If you read other Dartmouth supplemental essays examples or sample Ivy League essays, you will notice many students sharing some part of their identity, background, or culture. This author does a good job of giving the Dartmouth admissions committee more insight into their upbringing.
Dartmouth Essays that Worked: Kermit the Frog Essay
"It's not easy being green" was a frequent lament of Kermit the Frog. Discuss. 300 words.
It's well intentioned, I get it. Flowers are an ephemeral beauty, conveying underlying meaning. Yellows for friendship, red roses for romance. Remembering a girlfriend's favorite flower is a common trope, the epitome of a loving partner.
But to me, flower shops are slaughterhouses, the vendors of a tragic foie gras. A snip severs the artery of a bud, a flower doomed to death by lack of foundation, losing the security of Maslow's hierarchy. A doomed career, wilting, never to see the light of sun again.
So here I am crusading for the mute, their silence a frequency more piercing than words. That flower bud had endless potential, surviving as a seedling, buried in peat as civilizations rose and fell at the hands of greedy men. That seed finally found her opportunity to thrive, to be worthy, to be a flower, then cruelly seized for a few dollars and fewer days of appreciation. It's difficult to be a plant among the egotistical human, a being which thinks himself to be the top of the chain. The flower counterclaims – flowers mean fruit, and fruit is beautiful sustenance.
Somehow, trying to choose a thank-you bouquet turned into this internal debate, a realization of how poorly we treat other life forms, as if they are to accommodate us in this universe in which we've only existed for a second. I thought of that village in China, lost without its bees, its remaining flowers pollinated by hand one-by-one.
It isn't easy being green. You have no voice, no way to fight back except at the very end to yell with a faint echo from the grave: a cry of "I told you that you needed me," before fading back to silence as Earth implodes around you, succumbing to exponentially rising extinctions and global warming.
Why this essay worked:
This author takes a creative and reflective approach to this prompt. The essay is full of prose and shows off the authors' strength as a writer. Instead of focusing on Kermit the Frog, the author chooses to personify flowers. In flowery language, the author describes the lifecycle of a flower, causing the reader to feel empathy.
The author ends the essay with a nod to all green things on earth. This shows their awareness of environmental issues, particularly in the closing sentence. Overall, this essay is the perfect match for this unconventional prompt. The author is confident in their approach and shows the reader they are deep, thoughtful, and aware of issues plaguing the globe.
Dartmouth Essay Examples: Dr. Seuss Essay
Oh, The Places You'll Go is one of the most popular books by "Dr. Seuss" (Theodore Seuss Geisel, Dartmouth Class of 1925). Where do you hope to go? What aspects of Dartmouth's curriculum or community might help you get there? 100 words
With my head full of brains and my shoes full of feet, my path through Dartmouth would include a D-Plan of semesters on campus and study-abroad. While on campus, I would pursue my interest in the philosophical and linguistics aspects of cognitive science, conducting research under renowned faculty such as Dr. Kraemer, working in education and specifically teaching STEM with his papers on anxiety towards mathematics. Yet Dartmouth would also specifically support my further interest in abroad programs for global health, such as the Dickey's Center Global Health Initiative's research site in Peru, a place I have longed to go.
Why this essay worked:
We've included this essay in our general Dartmouth supplemental essays examples. However, it could also be included in the Why Dartmouth essay examples. This is another example of a prompt that may be worded differently but in essence asks the same question: why Dartmouth?
This student has clearly done their research on Dartmouth. They mention faculty, research centers on campus, and other opportunities. They also display an inside knowledge of the curricular progression in their major of interest.
How do you write a Dartmouth essay?
Now, you've had a chance to read several Dartmouth essays that worked. As you likely noticed, the Dartmouth essays that worked in this guide have many of the same strengths. Next, let's discuss how you can apply the same techniques to your Dartmouth supplemental essay.
Check out these tips used in the Dartmouth essays that worked to assist you while writing your Dartmouth essay.
Dartmouth Essays that Worked Tips
Answer the prompt. This one may seem obvious, but it makes a major difference.
Narrow the scope of your essay. You may be tempted to discuss numerous ideas throughout your essay. However, the best essays are those that are focused and narrow in scope.
Watch out for grammar and formatting issues. It is important to have multiple proofreaders involved in your revisions.
Every supplemental essay is an opportunity to share "Why Dartmouth." Don't miss the opportunity to show that you are a good fit.
The Why Dartmouth essay examples in this guide can help you get a better sense of what admissions committees look for. Ivy League institutions are highly competitive, and there are no guarantees. However, reviewing sample Ivy League essays can give you insight on how to enhance your application.
Dartmouth Essays That Worked – Final Thoughts
When strategizing about how to get into Dartmouth, supplemental essays should be high on your priority list. After all, it's easy to be intimidated by the Dartmouth acceptance rate or the Dartmouth college rankings.
Still, as you can see, college essay examples for Ivy League colleges don't differ much from other essays. However, the more competitive the college, the more you need to stand out. Our Dartmouth supplemental essays examples highlight what makes each writer unique. By highlighting your strengths in your supplemental essays, you can leave a lasting impression on admissions officers. And with many colleges going test-optional, supplemental essays are more important than ever.
Dartmouth essays that worked are specific, thoughtful, and tailored to Dartmouth. No matter when you plan to apply, you can use our why Dartmouth essay examples and other Dartmouth essays that worked in this guide to help frame your writing. While prompts change each year, the academic standard for a school like Dartmouth rarely changes. Good luck!
---

This article on Dartmouth Essays that Worked was written by Chelsea Holley. Looking for more admissions support? Click here to schedule a free meeting with one of our Admissions Specialists. During your meeting, our team will discuss your profile and help you find targeted ways to increase your admissions odds at top schools. We'll also answer any questions and discuss how CollegeAdvisor.com can support you in the college application process.