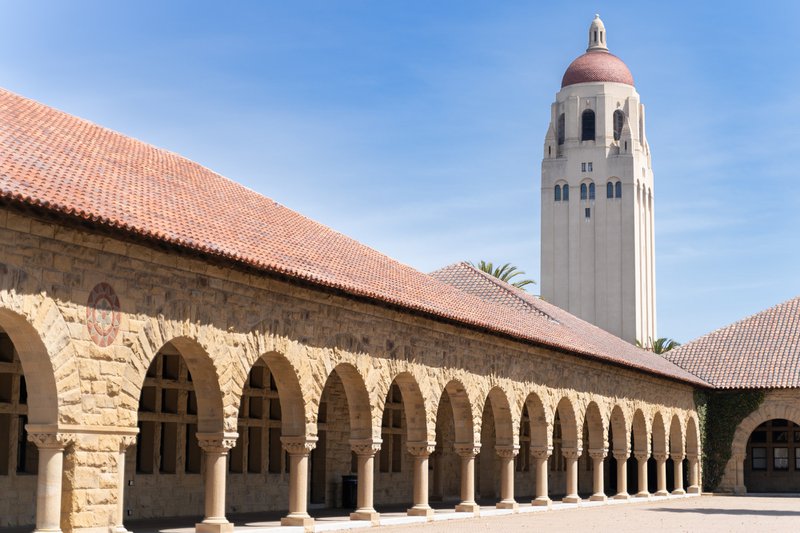 Not sure how to approach the Stanford essay prompts? With tips from an Ivy League graduate, CollegeAdvisor.com's guide to the Stanford essay prompts will show you exactly how to write engaging Stanford supplemental essays and maximize your chances of admission.
For more CollegeAdvisor.com resources on Stanford, click here. Want help crafting your Stanford supplemental essays? Create your free account or schedule a free consultation by calling (844) 505-4682
---
Stanford Essay Guide Quick Facts:
Stanford has an acceptance rate of 5%—U.S. News ranks Stanford as a highly competitive school.
We recommend answering all Stanford essay questions comprehensively and thoughtfully.
Does Stanford require supplemental essays?
Yes. In addition to the Common App personal statement, there are several specific Stanford essay questions. When building your school list, it may be helpful to keep a running tally of which schools require supplemental essays and how many each school requires. You'll need to create a timeline for each application with realistic deadlines for drafting and editing your essays.
Sometimes, students struggle to find the best topic for their Common App statement. CollegeAdvisor.com's article on reflection exercises is a great place to start. For additional tips on approaching the Common App, we have a step-by-step breakdown.
How many essays do you need to write for Stanford?
There are eight total Stanford essay questions. There are three short Stanford essays which are between 100 and 250 words, and five short Stanford essay questions, which are a maximum of 50 words each.
Though they vary in word count, it's important to take each of the Stanford supplemental essays seriously. A 50-word Stanford essay can mean just as much as a 250-word response!
Which essays are required for Stanford?
All of them! No optional Stanford essay prompts here. The Stanford supplemental essays are on the Common App site, but you can also visit the main Stanford website for a full list of application requirements, including the Stanford supplemental essays. Since you'll be answering eight Stanford supplemental essays of varying lengths, you'll want to plan accordingly and give yourself enough time to write and edit each response.
What is Stanford looking for in essays?
This guide will break down each of the Stanford essay examples. In general, Stanford wants to see students whose passion and personality shine through. Be authentic in your Stanford supplemental essays. Don't just say what you think Admissions Officers want to hear—instead, stay true to yourself, starting with the question below!
Stanford Supplemental Essays—Short Essay 1
The Stanford community is deeply curious and driven to learn in and out of the classroom. Reflect on an idea or experience that makes you genuinely excited about learning. (100-250 words)
To answer this Stanford essay, think back to a time when you really enjoyed yourself while you were doing something academic. This could be reading a textbook, taking an exam, writing an essay, or learning about a certain topic in class that really interested you.
Here, you should let your genuine passion shine; you'd do best to think of one specific example. Once you've got your example, describe why it was so exciting to you. Don't be afraid to get nerdy on this question and showcase a depth of knowledge about your chosen subject. Your Stanford essays are the place to demonstrate your intellectual drive both inside and outside the classroom.
Stanford Essay Draft Key Questions:
Does your draft clearly communicate the idea which excites you?
Do you articulate why your chosen activity matters to you and how it has influenced your growth and identity?
Does your supplement complement the information present in the rest of your application?
Stanford Supplemental Essays—Short Essay 2
Virtually all of Stanford's undergraduates live on campus. Write a note to your future roommate that reveals something about you or that will help your roommate—and us—get to know you better. (100-250 words)
Of all the Stanford supplemental essays, this may be the most well-known.
The second of the Stanford essay prompts might just be the most difficult question on the application—it is the most direct invitation to talk about yourself, but specifically, your inner self. This is the Stanford essay where you can get the most creative. You might try brainstorming a list of characteristics, hobbies, or habits that you've noticed in yourself. Once you have a long list, you can decide whether you want to incorporate all of those traits in your letter or just focus on a specific few.
It also might help you to ask close friends or family members about any unique quirks you might have. You should have fun with your writing. Be honest! What do you genuinely want your future roommate to know? Do you stay up all night after watching horror movies because they scare you so much? Are you a show tunes shower singer? Is your love of plants only equal to your ability to kill any of the ones you've purchased?
The second of the Stanford essay questions lets you demonstrate more dimension than any other part of your application. It should be one of the most memorable things the Admissions Officers read—and also the most fun!
Stanford Essay Draft Key Questions:
Does your response teach the reader something new about you?
Have you revealed aspects of your personality that both a roommate and an Admissions Officer should know?
Is your essay's tone clear and reflective of your identity and personality?
Stanford Supplemental Essays—Short Essay 3
Tell us about something that is meaningful to you and why. (100-250 words)
Like some of the other Stanford essay prompts, the most important part of this essay is not necessarily the what but the why. Stanford wants to understand your underlying passions and drive. In this Stanford essay, you want to demonstrate how you will contribute to the Stanford community. Like with other Stanford supplemental essays, your response should connect back to your overall candidate profile and emphasize the unique skills and interests you bring to the table.
For this Stanford essay, you could pick an activity, club, or academic subject, but be sure you have a compelling reason why your chosen subject is important. You could also talk about a meaningful event or memory. You do not necessarily have to limit yourself to one thing, as long as you can connect each interest or experience you choose to discuss in the same thread. If you choose to talk about an event like a job, internship, or volunteer experience, you should provide tangible evidence of why it was meaningful. Go deeper than generalized statements like "It was challenging," or "I learned a lot."
All of the Stanford essay questions aim to let applicants showcase their identities, and this is no exception. Be honest, be genuine, and showcase your values!
Stanford Essay Draft Key Questions:
Do you describe in detail something that is unique to you?
Do you focus on the why and not just the what?
Does your essay clearly display what "meaningful" means to you?
Do Stanford supplemental essays change?
From year to year, the Stanford essay questions can sometimes vary, although the notorious "Future roommate" question is almost always guaranteed to appear. You can find all the current Stanford essay prompts on the Common App website and all of the Stanford application requirements (including Stanford essay prompts) here.
While the Stanford essay questions do change, at their core, each of the Stanford essay prompts will always aim to teach the admissions committee more about prospective students on their own terms.
Stanford Supplemental Essays—Short Question 1
What is the most significant challenge that society faces today? (50 words maximum)
The short Stanford essay questions present a particular challenge. After all, a 50-word limit doesn't give you much space!
With this Stanford essay, you'll want to pick a topic that you feel passionately about and that you also have some actionable ideas about. Try not to write about something too niche; however, if you choose a broad topic such as climate change, gender inequality, or racism, you'll want to narrow it down to a more succinct description. You will then want to suggest what you feel could be done to address your chosen challenge.
Many of the short Stanford essay prompts are designed to see how you can think on your feet. Rather than just pointing to a challenge or problem, Stanford wants to see your capabilities for deeper analytical thought and problem-solving. Towards the end of this (very short) answer, you should demonstrate your critical thinking skills. End your Stanford essay on a positive note with changes that could be useful for reframing how our society approaches your challenge.
Stanford Supplemental Essays—Short Question 2
How did you spend your last two summers? (50 words maximum)
This question should be one of the most straightforward to answer. You could approach this Stanford essay in one of two ways. You could write out a list, covering a more expansive array of topics and showcasing your diversity of skills and interests, or you could hone in on one or two specific activities that mattered most to you.
Either way, you'll want the activities you discuss here to reflect other parts of your application. This helps show consistency in your overall candidate profile. You also do not want to waste the beginning with an intro sentence like "Over the past two summers, I have performed a variety of jobs and activities." Admissions Officers know the question you are responding to, so dive right in!
Stanford Supplemental Essays—Short Question 3
What historical moment or event do you wish you could have witnessed? (50 words maximum)
The third of the short Stanford supplemental essays are more creative in nature. For this Stanford essay, the historical moment you choose to write about will not be as important as why you've chosen it. If no historical event immediately jumps into your mind (and it's alright if not), you might want to flip through an old history textbook or even try some creative googling.
Other applicants may also use Google to help, which means that you'll want to work a little harder than just clicking on the first link that pops up when you search "important historical events." The most important thing to do with this Stanford essay is to be sure to describe why witnessing this event would be especially impactful to you.
One way to approach the third of the short Stanford essay questions is to think about what you want to study and how historical events may have impacted your chosen field. Or, perhaps you have older family members who have always told stories about their experience of an event, and you'd like to be there firsthand in order to connect more with these relatives. What will make this Stanford essay stand out for readers is the personal connection or interest you describe in the event. As with other Stanford essay questions, it's not the what that's important, but the why.
Stanford Supplemental Essays—Short Question 4
Briefly elaborate on one of your extracurricular activities, a job you hold, or responsibilities you have for your family. (50 words maximum)
As you've likely noticed, the Stanford essay prompts oscillate between the abstract and the straightforward. This Stanford essay is more streamlined, giving you the chance to expand on your interests and experiences.
This is an opportunity to elaborate about something in your activities section or to address something that you were not able to list but still is a large part of your identity (such as caring for family members). Whatever you pick, you will want to choose an activity or responsibility that taught you a lot, that pushed or challenged you, or that was particularly memorable.
You don't get a ton of room in the Stanford essays to expand on your chosen activity, so feel free to be straightforward and direct with your language. You don't have to waste words setting the scene; like all of these shorter Stanford essay questions, you'll want to get right into your answer.
Does Stanford have a "why us" question?
Yes. This is the classic supplemental essay question, and the Stanford essays are no exception—all colleges want to know what makes them special to you. This is your chance to showcase any research you have done about Stanford while you've been writing your Stanford essays or as you've been completing the rest of the application.
Stanford Supplemental Essays—Short Question 5
Name one thing you are looking forward to experiencing at Stanford. (50 words maximum)
This "Why Us" question is a bit different from the traditional college essay because it asks you to focus on one thing you're excited about. This Stanford essay is the space to show off your expert investigation skills and name drop a course, a club, a professor, or an undergraduate-specific event or tradition only available at Stanford. Colleges can tell when you swap out their name for another university and submit the same "Why here?" answer, and Stanford specifically phrases this essay prompt to further discourage that.
You will probably have to spend a bit of time investigating Stanford. You may even want to ask an alum or do some intensive research to find a unique answer. Also, you'll want to focus on why in particular you are looking forward to whatever you choose, rather than just saying "It's really cool" or "It seems so fun!"
Be authentic in your response in order to make it stand out from more generic answers. Admissions Officers will likely read a lot of similar answers to the Stanford essay prompts, and the "Why Us" question is no exception.
Stanford Supplemental Essays—Final Thoughts
Completing the Stanford essay prompts can seem daunting, but don't let that discourage you from applying. The Stanford essay questions are a great opportunity to demonstrate who you are for admissions officers reading your application. Your Stanford essays can boost your application if you have a lower-than-average GPA or SAT score. Use this guide as a step-by-step aid when approaching the Stanford essay questions and start earlier than you think you should.
This is especially true with the shortest Stanford essay prompts; you might think it will be easy to write five essays that are under 50 words, but the shortest Stanford essay questions can be the most challenging. Don't be afraid to ask for revisions from someone; it's helpful to have another set of eyes checking your Stanford essay prompts for grammatical errors, tone, and clarity. Good luck!
---

This 2021-2022 essay guide for Stanford University was written by Laura Frustaci. For more CollegeAdvisor.com resources on Stanford and the Stanford supplemental essays, click here. Want help crafting your Stanford supplemental essays? Create your free account or schedule a free consultation by calling (844) 505-4682.