UNC Supplemental Essay Examples
The University of North Carolina at Chapel Hill is one of the top public universities in the United States. Many students wonder how to get into UNC. Undoubtedly, the UNC application process is competitive, requiring—among other things—strong supplemental essays. In this article, we'll provide UNC supplemental essay examples like the ones you'll need to write.
By analyzing UNC Chapel Hill supplemental essay examples, we'll provide insight into strategies for UNC Chapel Hill essays that worked. Our UNC supplemental essay examples address various prompts to better prepare you to write your own essays. With some careful planning and thought, you can write UNC supplemental essays that are authentic and compelling.
Does UNC Chapel Hill have supplemental essays?
Located in the charming college town of Chapel Hill, UNC's rigorous academics, diversity, and relatively affordable tuition attract many of the nation's best students. Still, UNC's ranking of #29 in the nation means gaining admission is competitive. Indeed, the UNC acceptance rate is an average of 19%. For out-of-state applicants, the UNC acceptance rate is closer to 10%.
Admissions at UNC is competitive but holistic, meaning UNC admissions officers evaluate you as a whole person, not just by grades. To do this, they use essays. Though there are many parts to a successful UNC application, the essays are a place for your unique voice and experience to shine. We'll share UNC supplemental essay examples in this article. But first, we need to situate the UNC essay examples within the entire application.
In total, you'll have to write three essays and answer five fill-in-the-blank responses on your application. The first essay is the personal statement, also sometimes referred to as the Common App essay. The personal statement is a 350–650 word essay that introduces you to UNC admissions officers.
School-specific essays
In contrast, UNC supplemental essay examples are school-specific. This means that they are only sent to UNC; they encourage students to think about and express their connections to UNC values. Like supplemental essays for other colleges, these allow students to expand on their personal narrative and make their case.
Lastly, the five UNC fill-in-the-blank responses are intended to provide space to further showcase your personality and have some fun. You can briefly let the school know who you are in response to specific questions. Responses to these questions are limited to 25 words in length, so you must be concise.
In this article, we'll focus on the school-specific questions. Specifically, we'll provide UNC supplemental essay examples and describe what makes them strong.
What are the UNC supplemental essay prompts?
Before we look at UNC Chapel Hill essays that worked, let's break down the prompts for the short answer questions. First, good UNC supplemental essay examples get specific about how the writer would fit into the UNC Chapel Hill community. All the questions center around the values of identity, diversity, inclusion, and community. As such, you'll notice that all three of the UNC supplemental essay examples we provide touch on these themes.
There are four possible questions you may respond to for the UNC Chapel Hill supplemental essays. You must choose two of them and write 200–250 words.
Here are UNC's 2023 supplemental essay prompts:
UNC Supplemental Essay Prompts
Describe an aspect of your identity and how this has shaped your life experiences or impacted your daily interactions with others.
Describe a peer who is making a difference in your school or community. What actions has that peer taken? How has their work made a difference in your life?
If you could change one thing to better your community, what would it be? Please explain.
Former UNC-Chapel Hill employee, community service member, and civil rights activist Esphur Foster once said "We are nothing without our history." Her words are memorialized on the Northside Neighborhood Freedom Fighters monument. How does history shape who you are?
The prompts can change from year to year. In fact, the UNC Chapel Hill supplemental essay examples we provide do not reflect these exact prompts. However, strong UNC supplemental essay examples still have important lessons in essay writing. Their lessons can help you to write your own highly effective UNC Chapel Hill supplemental essays.
Now, you may be wondering which of the four prompts to choose for your UNC supplemental essays. Next, we'll discuss how to choose which questions are the best fit for you.
Choosing the right Essay Prompts for You
As we shared above, there are four UNC supplemental essay prompts to choose from. You must choose two of them and write no more than 250 words in response. This begs the question: which two are best to write about?
The short and simple response is that there are no two prompts that are better to respond to. The right choice will depend on your individual circumstances and the person you want to present in the admissions process. To begin making your choice, try the following approaches:
Notice which prompts jump out at you
Read through the UNC essay prompts a few times. Do you find yourself gravitating towards one? Does an idea or a memory pop into your head? Trust that impulse and don't overthink your choice. As long as you start early enough, you'll have time to choose a different prompt if necessary. In fact, ideas or even drafts for one prompt may become material for a different prompt later. Nevertheless, you must choose something to start with.
Choose the prompts that showcase your strengths
The college application process is challenging in part because every student has limited space to showcase who they are. A strong application showcases a student's strengths with clarity and precision. When you read the UNC essay prompts, do you see a space for your strengths to shine? For example, prompt #3 may be a great fit for a service-oriented and compassionate person. If you're struggling to think of strengths, look at your activities list, considering skills you've demonstrated in your extracurriculars.
Brainstorm and get feedback before you choose
Consider spending 15 minutes brainstorming for each of the prompts. Present those ideas to a trusted mentor, teacher, or friend who has knowledge of the college process. Ask them which ideas are most compelling, and which stories would represent you the best on the page. Getting feedback early in the process can help you write highly polished UNC Chapel Hill supplemental essays. These people may also be able to give feedback during the revision process once you have completed drafts.
Whichever essays you choose, make sure you write from a place of authenticity and embrace your unique voice. Later on in this article, we'll discuss how to respond to each of these prompts successfully.
UNC Essay Examples
In this section, we'll introduce some UNC Chapel Hill essays that worked. Keep in mind that the prompts for these UNC essay examples are slightly different from the current ones. Even so, there is a lot to be learned from these UNC Chapel Hill supplemental essay examples. Strong college essays all share a few core traits, many of which we'll explore and explain in this article.
The first of our UNC supplemental essay examples is responding to the following prompt:
UNC Essay Prompt:
Tell us a story that helps us better understand a person, place, or thing you find inspiring.
Example #1: A story about inspiration
When I was told that because of a fracture in my spine, I had been paralyzed, at first I experienced curiosity. Why is it that any other cell can be regenerated except for the cells in the spine?
Slowly, through hundreds of questions and hours of searching through the resources available at the hospital, I learned that the neurons in the spinal cord responsible for delivering messages to the brain are so complex, it is almost impossible for the cells to be recreated by the body. Essentially, the spinal cord is like an electrical cord, delivering electrical signals from the body to the brain and back. During a spinal cord injury, this cord is severed.
However, through further research and independent exploration, I discovered that what the world had once believed about the nervous system and its ability to regenerate was not completely true. Neuroplasticity, for example, may allow victims of neural injuries to regain function by "training" other sections of the brain.
The possibilities for discovery, especially in relation to human biology and the nervous system, inspire me. Whenever I get to a point where I think I may understand a topic, a new idea emerges that challenges me to ponder new aspects again. There is so much to learn, and I know I will never stop uncovering new topics. I hope to continue this exploration at Chapel Hill, embarking on an endless path of learning.
Why this UNC Essay Worked
One feature of all successful UNC Chapel Hill supplemental essays is clearly answering the entire prompt. This prompt asks for a story about something you find inspiring. The writer describes how they are inspired by learning about scientific discoveries because of a severe injury they have. They packed a lot of detail about themselves, their injury, their thoughts, and their future aspirations into a 250-word response.
Secondly, UNC Chapel Hill essays that worked are usually personal, and always individual. That is to say, they talk about the writer's unique experiences and background, sometimes in a vulnerable way. Strong UNC supplemental essay examples also avoid the trap of talking about someone else and forgetting to showcase the writer. Instead, this author uses their experience of being injured to reveal how they are curious and persistent. The reader can see this writer is resilient, curious, and hopeful for the future.
Effective UNC supplemental essay examples also successfully relate the writer's experience back to UNC Chapel Hill, even if subtly. All of our successful UNC essay examples demonstrate specific reasons the student is a good fit for UNC. This writer was able to demonstrate how they value UNC's values of research, diversity, and service. As such, they make a strong case for why they should be admitted.
The second of our UNC supplemental essay examples is responding to this prompt:
University of North Carolina- Chapel Hill Essay Prompt:
What do you hope will change about the place where you live?
Essay #2: A change in your community
"Really, surgeries are so much less painful than what I experience every day due to inaccessibility or people's stereotypes."
My friend was paralyzed before she was a year old. She has been through dozens of surgeries, surgeries with the possibility of leaving her blind, even dead. She is the strongest person I know. So, when she told me that the most significant cause of her pain was due to society and not her physical barriers, I was shocked.
Through my experiences after my spinal cord injury, I started to notice new aspects of the world. Stairs instantly became blockades when I had never even noticed them before. Sometimes, there were cars parked in front of the ramps, making it impossible for me to access the building. When I talk to my peers or school officials regarding issues such as these, I am often met with the same response, "Oh, I never noticed."
Repeatedly confronted with these answers, I realized that if I didn't share my experiences, really, no one will ever notice. In addition to this, if no one is confronted about the stereotypes that one holds against a certain group in society, these biases will continue to be held.
Today, much of society is inaccessible. It's just a fact. Also, stereotypes remain a significant obstacle to the development and success of minority communities. However, I hope that through my life, I am able to spread awareness about these issues, helping to bring in greater understanding and accessibility.
Why this UNC Essay Worked
Like all successful UNC Chapel Hill supplemental essay examples, this essay shows, rather than tells, the author's main idea. Rather than jumping straight into accessibility issues, the author tells us details about their friends' life and their own life. Through these details, the author gives context for their concern about this issue.
Despite the prompt asking writers to look outward, this author doesn't miss the opportunity to share about themself. After all, strong UNC supplemental essay examples really showcase the applicant's personality, character, values, and goals. In this essay, we get a clear sense that the author is persistent, caring, brave, justice-oriented, and hopeful. These traits make them an appealing candidate for UNC Chapel Hill.
Many impactful UNC Chapel Hill supplemental essay examples open with a strong hook, and this essay is no different. A hook is critical because it catches the reader's attention, inviting them to stay focused throughout your essay.
While this author uses dialogue, other hooks include setting a scene (i.e., "I stood at the edge of the diving board"). It could be something rare about yourself (i.e., "I'm the only teenager in my class who loves waking up early"). This essay's use of dialogue leaves the reader wondering who is speaking, what they meant, and how it relates to the author. Most great UNC supplemental essay examples contain a hook that draws the reader in.
The third and final of our UNC supplemental essay examples responds to the prompt:
UNC Application Essay Prompt:
Most of us have one or more personality quirks. Explain one of yours and what it says about you.
Essay #3: Personality Quirk
I am a person of more than one personality quirk, some of which can be beneficial and others "not so much." One of my main quirks, however, is the need for constant movement. Whether it is volunteering to demonstrate a mathematical problem in front of the class or bouncing my knee during a test, I believe that I perform best when I am active.
Delving further into understanding "my little quirk," I stumbled upon the label of kinesthetic learner. In other words, I want to experience what I am learning by being a part of the process as opposed to merely hearing about the process. During my high school career, I have found that the knee-bouncing, pencil-tapping, etc. subsides when the opportunity presents itself to participate actively in real life simulations. For instance, as a part of the Academy of Emergency Medical Sciences at Pine Forest High School, I participated in strapping fellow classmates to back boards and transporting them from place to place while maintaining proper alignment of the cervical vertebrae. Of course, when performing this task, my knee-bouncing ceased, and I was completely engrossed in the mission at hand.
My hands-on learning may stem from my more than fourteen years of gymnastics training and dance lessons that required continuous movement to learn. I do not consider this process of learning to be a disadvantage but rather a positive influence. It has allowed me a unique ability to focus, creating a sense of discipline as well as the drive and motivation to succeed. This drive is also evident in my active participation in clubs such as Trojan Mentors and National Honor Society, organizations such as The Dance Theatre of Fayetteville, and community involvement. The enjoyment which comes from working and learning hands-on and helping others is why I am drawn to the field of medicine.
As a kinesthetic learner, I learn what I practice and practice what I learn; therefore, I work well solo and as an active participant in group settings. In my preparation to attend a pre-medicine program, I sense that this type of learning will be a positive attribute to my studies. In a clinical setting, one cannot depend on theory alone but rather the practical application of skills. Although the theoretical understanding of material is of utmost importance, it is during those moments that the knee-bouncing will come in handy, proving "my little quirk" to be beneficial, allowing me to accomplish the task before me.
Why this UNC Essay Worked
Without a doubt, these UNC essay examples reveal how you can write about any topic in a compelling manner. Often, when students read essay prompts, they spotlight the most outlandish, rare, and dramatic aspect of their life. In this essay, the student talks about their quirk of needing constant movement. Almost all of us know someone like this, but the student writes about this quirk relative to personal accomplishments and goals.
Secondly, while successful UNC supplemental essay examples don't necessarily need to list accomplishments, this author folds theirs in seamlessly. Indeed, the Common App has a designated space to list extracurriculars and accomplishments. However, if your activities are thematically coherent and support your essay's point, by all means, include them. Just be careful to choose accomplishments that relate to your topic and strengthen your arguments, rather than relisting a resume.
A third and final compelling aspect of this essay is the author's deep understanding of their behaviors and motivations. The writer uses their tapping reflex to segue into an exploration of their passions and dreams. They also reveal that they can turn a challenge into an opportunity, a skill immensely helpful in a college setting. Strong UNC Chapel Hill supplemental essay examples paint the author in detail and in a positive light.
How to answer UNC supplemental essays?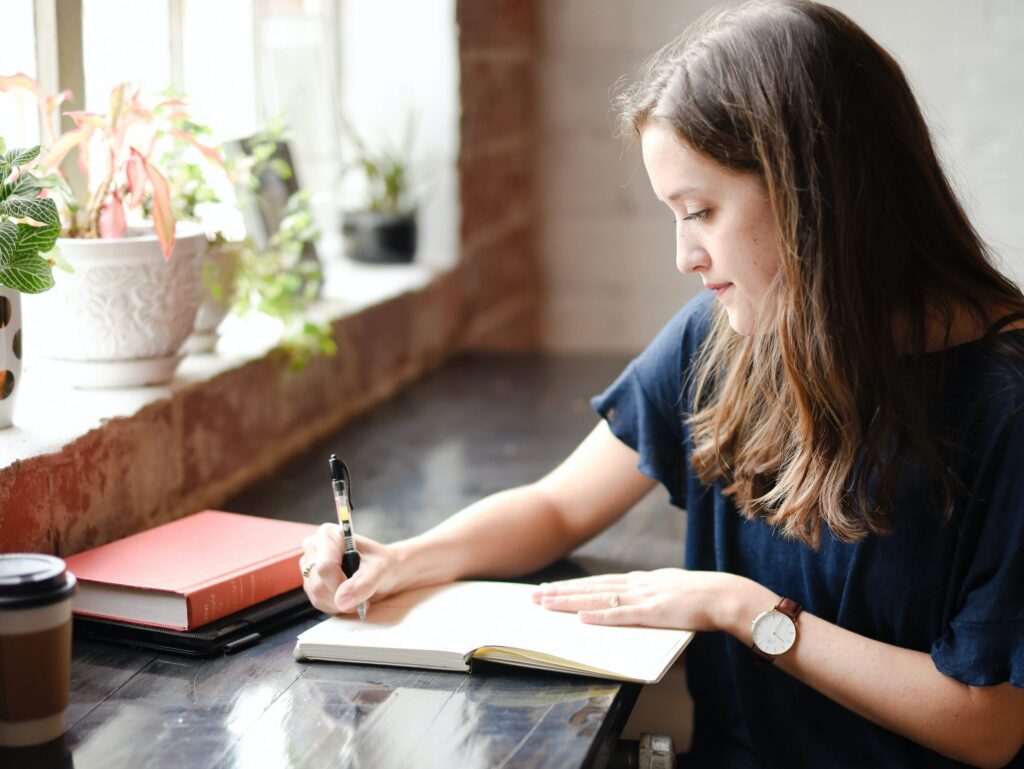 Although these UNC supplemental essay examples don't respond to the exact prompts used today, they demonstrate the core qualities of good essays. In fact, these students wrote clearly and specifically about how their experiences prepared them to be great UNC undergraduates. They also likely used some key tips to be able to write a strong essay.
Here are some tips for how to write a great essay just like the UNC Chapel Hill essays that worked:
Start Early
Since there are two supplemental essays and five fill-in-the-blank responses in addition to the personal statement, it's important to start early. The final products of essays usually represent multiple hours of brainstorming, writing, and revising. As such, you need time to process your thoughts and get feedback from many sources.
When planning your timeline for the application season, you should factor in plenty of time, especially if you're still researching schools. Not only do you need to write several essays, but you should revise several times before submitting. This can mean editing alone, but ideally, you'll ask trusted friends and mentors to provide feedback.
Answer Authentically and Specifically
As we noticed in the UNC supplemental essay examples above, students wrote about personal experiences that were important to them. To write a successful essay, you don't have to make up stories or exaggerate your life. You can simply be yourself, and tell stories with specificity.
For example, in our second example, the student showed how simple everyday tasks like climbing the stairs became impossible after getting injured. Rather than saying "My life got harder," they showed us how it changed. Narrative details can enliven your writing while still conveying key details. This combination of specificity and authenticity will make your essay shine and stand out amongst the crowd.
Relate Your Experiences to UNC
When students wonder how to get into UNC, they should first understand why they want to go to UNC. Since UNC doesn't have a "why school" essay, writers must base their essays on experiences, not UNC facilities or offerings. In each of these UNC supplemental essay examples, writers demonstrated how their life experiences and personality traits align with UNC's values. While they spoke about themselves, their examples ultimately made it clear that they are a good fit for the school. Since the UNC acceptance rate is relatively low, it's important to make sure your application is a clear fit for the school.
In the next session, we'll dive into other ways to make your UNC application stand out.
What does UNC Admissions look for?
As we've shared, the UNC admissions is holistic in nature. This means that admissions officers are looking at many aspects of your application, not just your UNC supplemental essays. It also means that they are hoping to see whether your whole application shows you're a good fit for UNC.
Indeed, the UNC Chapel Hills essays that worked above demonstrate core personality traits like self-awareness and commitment to building community. Other aspects of your application have the potential to do the same. For example, your extracurricular activities are one of the most important indicators of your interests and commitment to growth. A student with a track record of community service and taking on new roles demonstrates not only their compassion but their leadership.
UNC Core Values
Addressing core UNC values is a good sign for admissions officers. Commitment to community, understanding of one's own identity, and a passion for learning are strong positives. Effective UNC Chapel Hill supplemental essay examples we provided demonstrate some or all of these attributes.
Finally, but just as importantly, admissions officers are looking for academic excellence as well. Without a doubt, UNC is looking for high-achieving students who can excel in their rigorous coursework. As such, they have a GPA minimum of 2.5 just to apply. However, the average unweighted GPA is closer to a 4.0—mostly As with some Bs. Strive to achieve the highest GPA possible to overcome the competitive UNC acceptance rate.
Watch the video below for more insight into what UNC Admission wants to see in your essays this application cycle.
Other UNC Chapel Hill Resources from CollegeAdvisor
Hopefully, reading UNC Chapel Hill essays that worked has helped you better understand how to get into UNC. Ultimately, the process is an incredibly individual one and every student's application will look very different. However, CollegeAdvisor has several resources that can help you write amazing essays like the UNC supplemental essay examples here.
First, check out this guide to getting into UNC. It examines the UNC application in further detail and provides tips on making yourself stand out on the application. Wondering what SAT scores you'll need? Curious about when to apply? This guide will outline all of those details so you feel prepared and confident throughout the process.
If you want to read more about the UNC supplemental essay topics, this article discusses each prompt in depth. With this resource, you'll gain a deeper understanding of what the prompts want, how to approach them, and potential topics. This resource also provides insights into how to respond to the five fill-in-the-blank questions. If you're trying to hone your strategy for the UNC essays, this article is a great resource.
UNC is one of the top schools in North Carolina. Take a look at our map of other best colleges in North Carolina, below!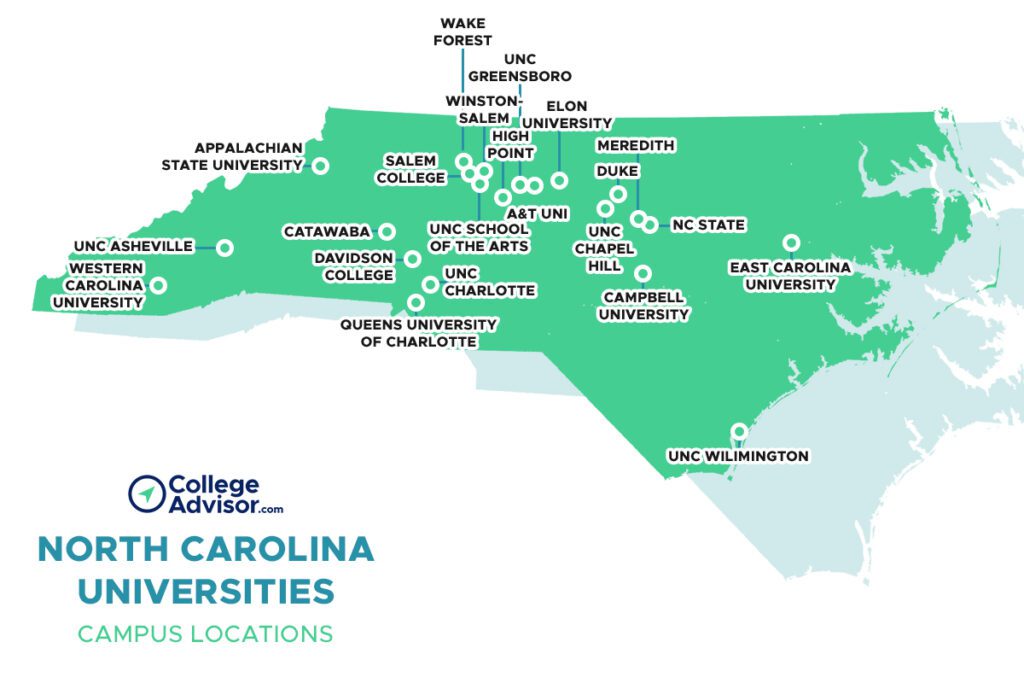 Finally, for more examples of successful college essays for other schools, read our article on the best college essays. You'll begin to see the breadth of types of essays that exist as well as the similarities between successful ones. We also have resources about writing a strong personal statement, essential for any school that takes the Common App.
UNC Supplemental Essay Examples- Final Thoughts
In this article, we dove deep into UNC supplemental essay examples. We looked at what makes these UNC supplemental essay examples strong responses to the prompts. In addition to specific strengths, we offered more general advice for writing effective UNC essays.
Additionally, it's important to put in the time and thought as the students who wrote these UNC supplemental examples did. Ultimately, your UNC essay can only be written by you—individuality and authenticity are crucial to supplemental essays. Nevertheless, these UNC essay examples may offer inspiration for your own unique, compelling responses.
Identifying strong essays
Our UNC Chapel Hill supplemental essay examples show there are as many similarities among strong essays as there are differences. The UNC Chapel Hill supplemental essay examples, while specific to UNC, are in many ways similar to many successful college essays. As such, you might choose to use parts of your UNC essays for other schools on your college list. This can be very helpful when trying to meet tight application deadlines.
Undoubtedly, getting into UNC is an ambitious goal. UNC Chapel Hill is not only one of the best schools in the state of North Carolina but in the nation. At CollegeAdvisor, we have the expertise, resources, and commitment to help you accomplish your dreams and get the education you deserve. Looking for individual support in the UNC Chapel Hill application process? You can take advantage of CollegeAdvisor's one-on-one application support by scheduling a consultation today.
---

Senior advisor, Courtney Ng wrote this article. Looking for more admissions support? Click here to schedule a free meeting with one of our Admissions Specialists. During your meeting, our team will discuss your profile and help you find targeted ways to increase your admissions odds at top schools. We'll also answer any questions and discuss how CollegeAdvisor.com can support you in the college application process.