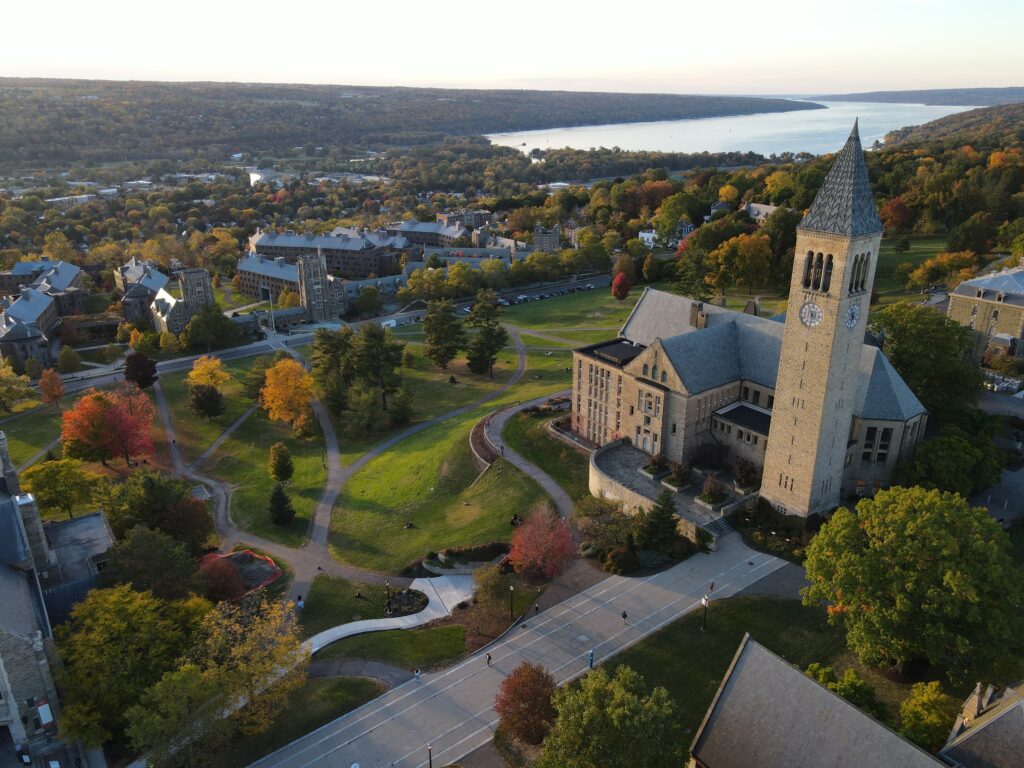 For many prospective Cornell applicants, it can be intimidating to consider spending several years in a small, rural town. When it comes to student life at Cornell, students often have a few questions. What is there to do at Cornell? It's not near a big city, will I get bored? What is there to do other than study? Are there a lot of options for extracurricular opportunities?
These students may be pleasantly surprised to hear that Cornell has a vibrant student life on campus. The town of Ithaca may be small, but it is charming, one-of-a-kind, and a place that I grew to love and call home over the course of four years. There are many pieces of student life that come together and create the Cornell experience: housing and dining, on campus activities, part-time jobs, traditions, and exploring Ithaca.
This informational essay was written by Meaghan Gee, Cornell '19. If you want to get help writing your Cornell application essays from Meaghan or other CollegeAdvisor.com Admissions Experts, register with CollegeAdvisor.com today.
Housing and Dining
All first year students are guaranteed on-campus housing, most of which are located on "North Campus," which allows for a close residential community. There are ten different dorms that first years can be placed in, all which are coed with the exception of one. North Campus also is home to three dining halls, a resource center specifically for first-year students, two fitness centers, and athletic fields.
First year students also have the option to live in nine different Program Houses that celebrate special interests or cultural backgrounds. These houses are made up of a mix of first years, transfers, and upper-level students.
After sophomore year, students are no longer guaranteed on campus housing, but there are still plenty of options available. For example, there are additional residence halls on West campus, which is located at the base of the university's famous Libe Slope. West campus has a dining hall in each of its dormitories along with its own fitness center. There are four other residence halls located in Collegetown and South Campus that are also great options.
Cornell offers an alternative living experience in the form of Co-op housing, which are university-owned, self-governed communities.
Besides the dining halls scattered throughout campus, campus food options include cafes, coffee shops, and food courts. For example, you can stop by Bus Stop Bagels on the way to class for a bagel and coffee, or head to Mac's to grab a salad or flat bread as you catch up with friends.
Fun fact: Cornell has its own dairy bar that sells Cornell-produced dairy items. The Cornell Dairy Bar is famous for its delicious ice cream and chocolate milk. There is even a class that students can take to create a new Cornell Dairy ice cream flavor!
On Campus Involvement
Cornell's motto "Any person… any study" can also be applied to the university's extracurricular activity offerings in the form of "Any person… any club." There are over 1,400 student-run organizations, with the ability to start a new one if you want.
The current organizations at Cornell include dance teams, a cappella groups, pre-professional clubs, cultural organizations, project teams, religion-based organizations, major-specific clubs, honors societies, social justice groups, special interest clubs and many, many more (including a cheese tasting and chocolate tasting club!).
Students also run some of the biggest traditions on campus, like Convocation, Slope Day (see Traditions section), and the Cornell Concert Commission.
If you're interested in Greek life, there are 60 sororities and fraternities that you can join, including social, pre-professional, and community service Greek organizations. For those who are interested in athletics, Cornell has a Division I sports program along with organized intramural and club sports. Whether you played a sport in high school or want to try out a new sport with friends, there is a team for you.
If you're interested in getting a job on campus, there are plenty of options. You can join one of the many renowned research programs or even do an individual research project with a professor. There are also job opportunities at the several libraries on campus, the different resource centers, and at the dining halls.
I personally enjoyed working at the ILR School's Office of Career Services, the Cornell Store, and the International Programs Department during my time on campus. Getting an on campus job is a great way to fulfill your financial aid requirements or earn some extra cash. For me, it was also a great way to meet new people, make friends, and learn some new skills.
Cornell Traditions
Cornell certainly has some unique traditions that students look forward to every year. The most famous is by far Slope Day. Each year, the Slope Day Board (which is run by students) holds a survey to see what musical artists students would like to see perform at the end of each spring semester. Past performers include Steve Aoki, Kendrick Lamar, and Neon Trees. Everyone looks forward to this huge concert that marks the end of classes. It gives students the opportunity to unwind and have fun before finals begin.
Another fun tradition is Dragon Day. Every March, the first year students in the Architecture, Art, and Planning (AAP) program build a dragon and have a parade across campus in outrageous costumes. The Engineering students create a phoenix to symbolically challenge the AAP students. It's always interesting to walk past the parade between classes.
Cornell is a huge ice hockey school. The varsity ice hockey team is one of the best in the league, and it's always fun to watch a game, whether or not you're into ice hockey. Throughout the game, you'll hear several different chants led by students and alumni. One notable tradition is during the Harvard vs. Cornell game, Cornell students will throw fish down at the ice.
Exploring Ithaca
When you and your friends want a change of scenery, it's easy to reach downtown Ithaca, the beautiful nature that surrounds the town, and even New York City.
In downtown Ithaca, you'll find many restaurants, stores, and even a movie theater. Additionally, every year, the town of Ithaca holds themed festivals such as Apple Fest (all the apple themed food you can think of!), Ice Fest (think ice carving competitions, and hot chocolate), and Chilifest (self-explanatory). Both on and off campus, you'll be able to enjoy the gorges, water falls, and hiking trails around Ithaca.
Despite popular belief, Ithaca isn't necessarily in the "middle of nowhere." It's only a four hour drive or bus ride to NYC, with buses leaving frequently throughout the day, a two hour drive to Buffalo and Rochester, and a five hour drive to nearby Canada, where many students frequent on break. After you've graduated from Cornell and left Ithaca, you'll look back and wish you had spent more time exploring the area!
---

This informational essay was written by Meaghan Gee, Cornell '19. If you want to get help writing your Cornell application essays from Meaghan or other CollegeAdvisor.com Admissions Experts, register with CollegeAdvisor.com today.