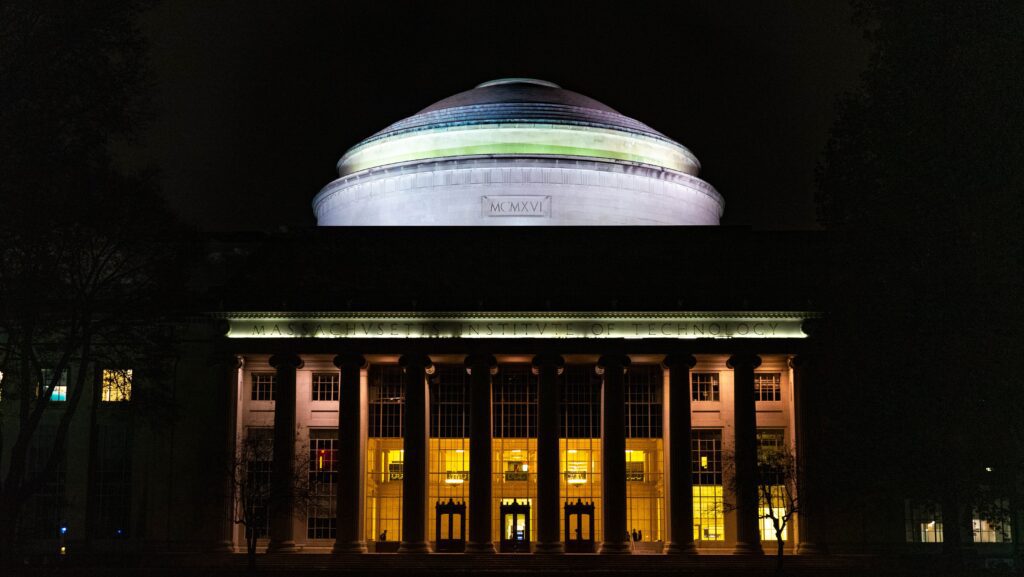 Not sure how to approach the MIT essay prompts? With tips from an Ivy League graduate, CollegeAdvisor.com's guide to the MIT essay questions will show you exactly how to write engaging MIT essays and maximize your chances of admission. For more CollegeAdvisor.com resources on MIT, click here. Want help crafting your MIT essays? Create your free account or schedule a free consultation by calling (844) 505-4682.
MIT Essay Guide Quick Facts:
MIT has an acceptance rate of 4%—U.S. News ranks MIT as a highly competitive school.
We recommend answering all MIT essays comprehensively and thoughtfully.
Does MIT require supplemental essays?
Yes. In addition to the Common App personal statement, there are MIT essay questions. Most of these MIT essays have 250-word requirements, but one of the MIT essays is limited to just 100 words.
Need tips on writing your Common App essay? Check out our blog article.
How many supplemental essays does MIT require?
There are five total MIT essays: one MIT essay with a 100-word maximum, one MIT essay with a 250-word maximum, and three MIT essay prompts that are required to fall between 200 and 250 words. You'll want to pay careful attention to word count when writing your MIT essays; it is likely admissions officers will be checking for your attention to detail in these MIT essay prompts.
What essays do you need to write for MIT?
All five MIT essay questions mentioned above are required—no shortcuts or optional MIT essay prompts here! You'll find the MIT essay examples below.
What does MIT look for in essays?
This guide will break down exactly how to respond to each of the MIT essays. If you want to do additional research for the MIT essays (and you should!), we recommend that you visit the MIT website and observe the language they use when describing the type of student that they're looking for. When you respond to the MIT essay prompts, keep this language in mind. How do you fit in with what they're looking for in a student? These MIT essay questions are the place in your application to make that even clearer.
Of course, you will want to avoid any grammatical errors that could weaken your MIT essays. You should also strive for clarity of tone and phrasing in all of your MIT essay questions. Use all of your standard exemplary essay-writing practices! Read on for some MIT essay examples to guide your writing.
Does MIT have a main essay?
This is a great question, but no—none of the MIT essays are really the "main" essay you should focus on. We recommend paying equal attention to each of the five MIT essay prompts; just because they vary in length does not make one more or less important than another!
MIT Supplemental Essays – Question 1
Describe the world you come from; for example, your family, clubs, school, community, city, or town. How has that world shaped your dreams and aspirations? (250 words or fewer)
How do you write an MIT essay?
By breaking down each of the MIT essay examples, this guide will explain how to write an MIT essay.
This first MIT essay is the classic "Tell us more about yourself" college essay question. MIT wants to learn what made you you. With this MIT essay, you should think first about your dreams and aspirations. Maybe you want to be a veterinarian; maybe you want to be an engineer.
Once you know how you want to answer the second half of this question, it will provide direction for the first half. Why do you want to be a veterinarian or an engineer? For instance, maybe your community has felt the increasing effects of climate change, which has made you passionate about environmental engineering.
The best way to answer this prompt is to be specific. Pick one aspect that has been influential in your youth, give a brief anecdote explaining it, and then turn to the how. For instance, you won't want to use up too many words describing each and every detail of your school's journalism club. Instead, succinctly paint a picture that provides insight into why journalism has become so important to you and what you feel you can do with the skills you have learned from it.
MIT Essay Draft Key Questions:
Do you use concise and descriptive words to depict your world?
Do you focus on the why and not just the what?
Does your response teach the reader something new about you?
MIT Supplemental Essays – Question 2
We know you lead a busy life, full of activities, many of which are required of you. Tell us about something you do simply for the pleasure of it. (200–250 words)
This MIT essay just asks what you do for fun! Don't think your answer has to be scholarly; you don't have to say that you read textbooks about quantum mechanics in this MIT essay for them to admit you. In all of the MIT essay questions, MIT wants you to be honest. This is a chance to discuss something you haven't talked about in your other MIT essay questions or the rest of your application.
Out of all the MIT essay examples, this is the hobby question—maybe you're an amateur magician, or you make short nature documentaries, or you love fishing. No matter what it is, MIT wants to hear about it. You would do best here to use descriptive language to briefly describe your activity of choice. Then, explain why it means so much to you. Why do you enjoy it? Maybe it's the rush of knowing you have succeeded in bamboozling your friends and family with a difficult card trick it took weeks to master. Maybe capturing a snail's slow journey across a beach reminds you to have patience and perseverance.
Any example like the ones above is great as—just make sure to talk about something you do purely for enjoyment. Most of the MIT essay questions do not ask you to talk about something that sparks joy for you. In this MIT essay, be sure to demonstrate how much you genuinely love the activity you discuss.
MIT Essay Draft Key Questions:
Does your draft clearly communicate your chosen activity?
Do you articulate why your chosen activity matters to you and how it has influenced your growth and identity?
Does your supplement provide information not present in the rest of your application?
MIT Supplemental Essays – Question 3
At MIT, we bring people together to better the lives of others. MIT students work to improve their communities in different ways, from tackling the world's biggest challenges to being a good friend. Describe one way in which you have contributed to your community, whether in your family, the classroom, your neighborhood, etc. (200–250 words)
This MIT essay asks you to demonstrate your willingness to help others. The answer to this prompt does not have to be extreme; it can be as simple as watching, cooking for, and cleaning up after your younger siblings while your parents both work full-time, tutoring a friend who's struggling in calculus, or starting a food pantry at your local library. The scale of the contribution is not as important as the heart behind it.
You can spend the first half of the essay discussing the activity, and then you should turn to an analysis of why or how it has an impact. It doesn't have to be big; MIT isn't expecting you to have saved hundreds of lives. Even an action that seems small can have a big impact—it's your job to showcase this. And remember that a community can be anything; you just have to define what community means to you in the context of this MIT essay.
MIT Essay Draft Key Questions:
Do you talk about a specific action you've done to improve your community?
Does your essay focus on how the action was impactful, rather than just describing it?
Do you address how you grew from this experience?
MIT Supplemental Essays – Question 4
Tell us about a significant challenge you've faced or something that didn't go according to plan that you feel comfortable sharing. How did you manage the situation? (200-250 words)
Here, MIT asks how you manage failure. They want to see that one, or two, or however many setbacks will not prevent you from overcoming a challenge or an obstacle. For this essay, choose a time when you faced a challenge, then mention why the challenge was particularly important to you. Try to find an original example; a sports injury or getting a C on a test can sometimes seem cliché.
Try to pick something a little more outside the box. Think of a challenge that not many other people applying to MIT have likely faced. If you're struggling to come up with an interesting challenge, try to put a unique spin on how you overcame the challenge.
Whatever you write, make it specific to you. You also want to make sure not to focus too much on describing the challenge itself. Rather, MIT wants to know how the challenge pushed you to grow as an individual. You should try to demonstrate what you learned from the experience. You can also be honest about how scary or frustrating the situation was at first. The important thing is to end with the confidence and knowledge you gained from an ability to adapt and be flexible.
MIT Essay Draft Key Questions:
Do you explain why this challenge was so important to you?
Does your draft demonstrate how you solved or addressed the challenge?
Do you reflect on the impact of overcoming this challenge?
MIT Supplemental Essays – Question 5
Pick what field of study at MIT appeals to you the most right now, and tell us more about why this field of study appeals to you. (100 words or fewer)
This is MIT's combination version of the "Why us?" and the "What do you want to study?" questions. It requires you to name a field of study, rather than discuss the college as a whole, but you'll still want to make your answer MIT-specific. Start by looking through all of the undergraduate programs MIT offers. Once you list your desired major, jump straight into the why.
This is the shortest MIT essay you'll write, so concision is paramount. This is the space to show off your expert investigation and analytical skills: name-drop courses and professors and analyze why they would benefit your academic growth. You can also allude to your previous academic track record and how an MIT education would build on your past intellectual experiences.
MIT Essay Draft Key Questions:
Did you pick a major that MIT definitely offers?
Do you connect the specifics of this major directly to your own academic passions?
Does your response supplement and/or complicate the other aspects of your application, with special regard to academic preferences?
MIT Supplemental Essays – Final Thoughts
The MIT essay prompts can seem daunting, but don't let that discourage you from applying. The MIT essays are a great opportunity to demonstrate who you are for admissions officers reading your application. We hope the above MIT essay examples helped to jumpstart your thinking! These MIT essays can boost your application if you have a lower than average SAT score or GPA.
Use this guide as a step-by-step aid when approaching the MIT essay prompts, and start earlier than you think you should. You may believe it will be easy to answer the MIT essay prompts quickly, but it is always better to have more time to draft than less. Don't be afraid to ask for revisions from someone; it's helpful to have another set of eyes checking your MIT essays for grammatical errors, tone, and clarity. Good luck!
---

This essay guide on MIT was written by Laura Frustaci, '21. For more CollegeAdvisor.com resources on MIT, click here. Want help crafting your MIT essays? Create your free account or schedule a free consultation by calling (844) 505-4682.