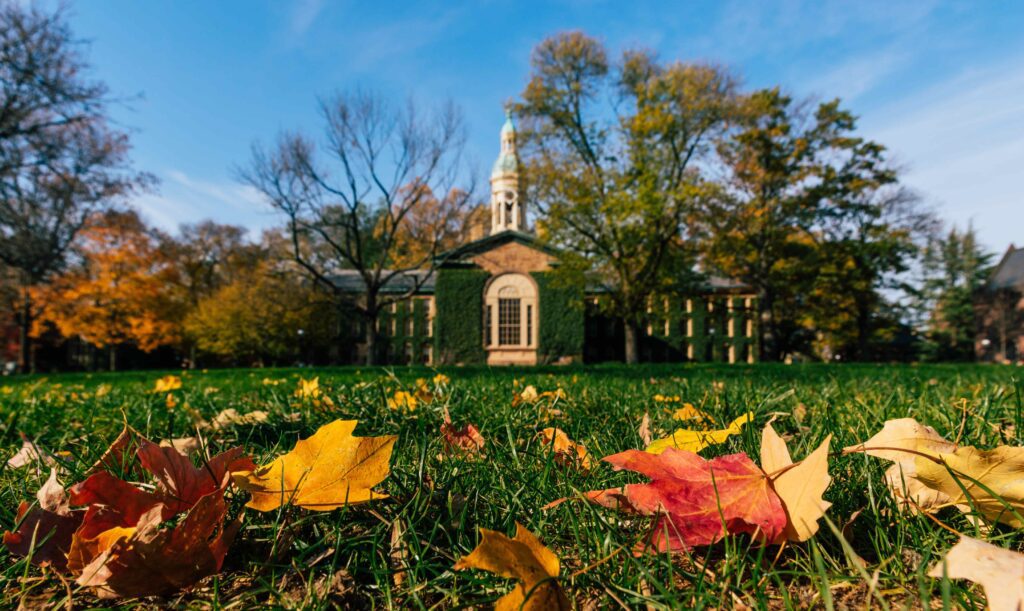 Ivy League Essay Examples
Ivy League colleges like Harvard, Yale, and Princeton are notoriously competitive. By reading Ivy League essay examples, students can prepare for the application process.
The best sample Ivy League essays highlight their writers' strengths, allowing them to stand out in a highly qualified applicant pool. After all, Harvard's acceptance rate is just 4%, and thousands of applicants have the same grades and scores. In order to ace your Ivy League application, you'll need to write nuanced, exploratory, introspective essays.
In this article, we'll go over some Ivy League essay examples. We'll show you some sample Ivy League essays and explain the strengths of Ivy League essays that worked. After reading this guide to Ivy League essay examples, you should feel more confident about writing essays like these college essay examples for Ivy League schools.
Read on in our Ivy League essay examples guide to discover:
What is the Ivy League?
What do Ivy League schools look for in essays?
How to use these Ivy League essay examples
Specific Ivy League essay examples for Harvard, Brown, Cornell, Yale, Dartmouth, and Princeton
The importance of college essays to Ivy League admissions
What Ivy League schools look for in essays
How Ivy League schools evaluate essays
More Ivy League resources from CollegeAdvisor
Our top five tips for standout essays
Before we dive into our Ivy League essay examples, let's zoom out: what is the Ivy League?
What is the Ivy League?
Before digging into Ivy League essay examples, let's review what the "Ivy League" actually is.
The Ivy League is a collection of prestigious northeastern colleges: Princeton, Harvard, Yale, UPenn, Dartmouth, Brown, Cornell, and Columbia. Originally grouped based on an athletic conference, the prestige of the Ivy League has overtaken its athletic reputation. 
Many students wish to attend Ivy League schools based on the name recognition they will get in the job market. Of course, a world-class education from stellar faculty and lifelong alumni connections is another draw. 
Since Ivy League schools receive thousands of incredible applications, it's crucial to do everything you can to differentiate yourself. One of the best ways to do that is through your college essays.
To understand how our Ivy League essay examples became Ivy League essays that worked, let's learn what Ivy League schools look for.
What do Ivy League schools look for in essays?
Through these Ivy League essay examples, you'll better understand how to write essays that impress Ivy League admissions officers. But what exactly do Ivy League schools look for in these essays?
Like any good college essay, your Ivy League essays should tell your story. Unlike test scores, GPA, or even recommendations, essays allow you to talk directly to the admissions committee and tell them who you are. In these Ivy League essay examples, you'll notice that the authors highlight their personal lives, experiences, fears, and perspectives.
You'll also notice that these Ivy League essay examples are written beautifully. They employ structurally sound storytelling, perfect grammar and spelling, and rhetorical devices like imagery, metaphor, and simile. We hope you've been paying attention in English class!
No school will give you direct guidance on what you should write, because only you can answer that question. But some schools like Harvard often release essays that worked to help inspire your own writing.
Before we share some college essay examples for Ivy League schools, let's briefly talk about how you should use these Ivy League essay examples in your own admissions journey. 
Using these Ivy Leagues Essay Examples
How can you best use these Ivy League essay examples in order to write stellar essays? Though you can't copy these ideas verbatim, these college essay examples for Ivy League schools should help inspire your own writing process.
In these Ivy League essay examples, real students have put the big ideas of storytelling and personal voice into practice. You'll be able to see the difference in writing styles between the Common App essay and supplemental essays. In other words, a "personal statement" that you'll submit to every school,  versus short-answer questions that ask you to reflect on school-specific prompts. 
As you read these Ivy League essay examples, keep in mind that these examples are from past application cycles. This means these college essay examples for Ivy League schools won't necessarily line up with this year's prompts. After reading our Ivy League essay examples, check the schools' websites for updated prompts before you start brainstorming.
Harvard Essay Examples
For the first of our Ivy League essay examples, let's take a look at some Harvard essay examples. The Harvard application historically includes an optional supplemental essay that is almost completely open-ended. You can find past Harvard essay examples here, and you'll notice that there are some specified prompts. As stated above, make sure to check Harvard's website for the updated Harvard application questions.
Now, let's kick off our Ivy League college essay examples with one of many successful Harvard essay examples.
Harvard Extended Essay Example
At about eight o' clock in the evening, our family steps outside. The cold air brushes our faces as I push myself up to a standing position from my wheelchair. Before standing, I have already turned on my best K-pop playlist on my phone, consisting of songs from my favorite group, BTS.
As I try to maintain my balance with my hands on the black, metal walker, I sing along to the rapping of Rap Monster, BTS's leader, having memorized all the lyrics. Finally, when I feel ready, I take my first step, using my hip to pull my right leg forward. My bright green shoes that have been with me for the past four years drag along the dark asphalt, causing the forming holes in the front of the shoes to grow even bigger.
Asked about my day, I tell my parents about the idea that my Physics teacher presented to us in class comparing the spine to an electrical cord. Excitedly, I start to talk about the nervous system and the developments that are being made in relation to the field of neuro-regeneration, especially the potentials of regenerating neural connections by electrically stimulating the spine.
Talking and laughing, we finally reach the bottom of the neighborhood and turn to go back up to the house. The upward incline proves to be difficult to overcome, stealing my breath. But holding a competition with my sister to see who can remember the most lyrics to our favorite songs, I forget that I'm even tired.
While walking, my mom gets a call from my grandmother. Asking to talk to me, I can hear the excitement overflowing in her voice when I tell her that I will be applying to colleges this year. She says, "So finally, you're going to Harvard." My ninety-year old grandmother living in Korea believes that Harvard is the only college in the United States.
Finally, we arrive back at our house, with sweat running down my body. As I sit down, I feel relief quickly rush down my arms.
I exercise approximately two hours daily, riding a stationary bike, standing, or walking with my walker. In the few months after my injury, I despised exercising, seeing it only as a mere grasp towards empty goals. However, discovering research about new developments in neuroregeneration, and new growing ideas such as neuroplasticity, my therapy started to become not a continuous reach at impossible goals but a way to keep my legs healthy for possible ones.
While continuing to exercise, I aspire to contribute to the research being done in the field of neuroregeneration and to reach a deeper understanding of the functions of the nervous system so that one day, everyone can hold hope despite neurological damage. Through my therapy and experiences, I have learned that even a small amount of knowledge has the potential to drastically alter one's view of their surroundings, and the amazing possibilities for future exploration offers abounding excitement.
Why this essay worked
Like other Harvard essay examples, this essay provides the Harvard admissions committee with a deeper look into the writer's perspective and personality. This author chose a theme not uncommon among Harvard essay examples: overcoming adversity. Many colleges provide an opportunity in their supplements for students to reflect on instances where they have overcome adversity. Harvard essay examples like these provide a unique view into a student's values and accomplishments.
From other parts of this student's Harvard application, you might not know that they are recovering from an injury. Through their essay, this author shows the Harvard admissions committee a part of themselves that heavily influences their daily life. Additionally, they highlight how it has shaped them into the person they are today.
Structurally, this essay follows a tried and true outline for strong essays: start with an anecdote to draw the reader into your world. Then as you continue, zoom out to reflect on how the anecdote represents your values or goals. This student concluded by tying their personal experiences to their future academic goals. Finally, they emphasize the power of learning to inspire hope. You'll encounter this structure in other Harvard essay examples, and other Ivy League essay examples in general.
Next in our collection of college essay examples for Ivy League schools, we'll move to some Brown essay examples.
Brown Essay Examples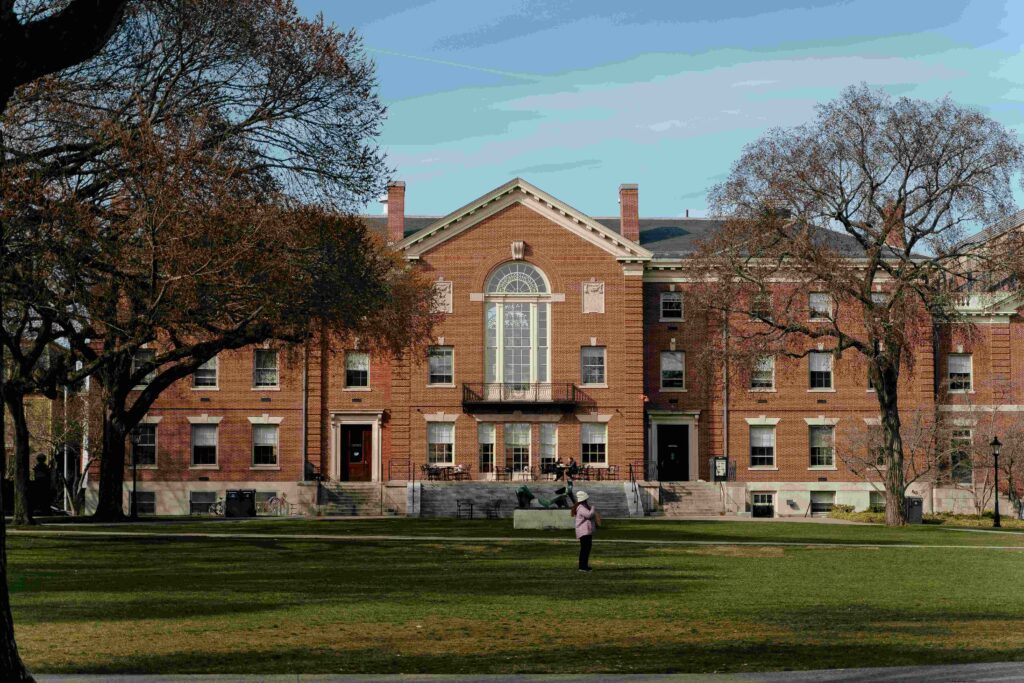 For our Brown essay example, we'll cover another common supplemental prompt: Why are you pursuing your intended major? If you want to read more Brown essay examples to prepare for your Brown application, check out our Brown-specific guide.
Brown Essay Examples
Why are you drawn to the area(s) of study you indicated in our Member Section, earlier in this application? If you are "undecided" or not sure which Brown concentrations match your interests, consider describing more generally the academic topics or modes of thought that engage you currently. (150 word limit)
---
To many, mathematics is little more than calculating how much flour Mrs. Smith needs to bake her famous apple pie. I felt this same way until I got to calculus. There, I was examining the fundamentals of change, infinity, and nothingness daily.
During one discussion with my teacher, he expressed his belief that the Fibonacci sequence was a proportion of divine handiwork. I'd never considered any application of mathematics outside of hard sciences. As I sat at my kitchen table that night calculating the instantaneous velocity at time t, I understood that mathematics, despite a well-defined set of laws, contains the philosophical ambiguity I find so stimulating.
Though finding the volume of a sphere may not fit the traditional idea of aesthetics, it serves the same purpose — as a study of structure and order. This intersection between mathematics and philosophy is one I hope to continue to explore.
Why this essay worked
In other Brown essay examples and other college essay examples for Ivy League schools, word count can enormously influence an essay. In just 150 words, the author had to explain not one but two intended areas of study and make an impact.
For some students, a low word count can actually be a blessing. It forces you to pick out only the most important and evocative sentences. In this essay, the student tells us a full story with only a few sentences. Short word counts are an exercise in clarity.
With some prompts, you have a bit more wiggle room, but a straightforward question like this requires a straightforward answer. This can be tricky to do without sacrificing detail and structure. The authors of successful  Brown example essays answer the question clearly without compromising on form.
In this essay, the author explains why they want to study math and philosophy, and their interest in their intersection. The student also uses good storytelling tactics, like putting the reader into their shoes by using anecdotes to communicate. Phrases like "During one discussion with my teacher," and "As I sat at my kitchen table that night" pull us into these scenes alongside the writer.
In strong Brown essay examples, the author sets forth a strong example answer to the "why major" question. For a breakdown of the other prompts on the Brown application, read our guide to Brown's supplemental essays.
Now, let's move on to the next of our college essay examples for Ivy League schools: Cornell essay examples.
Cornell Arts and Sciences: Why us essay examples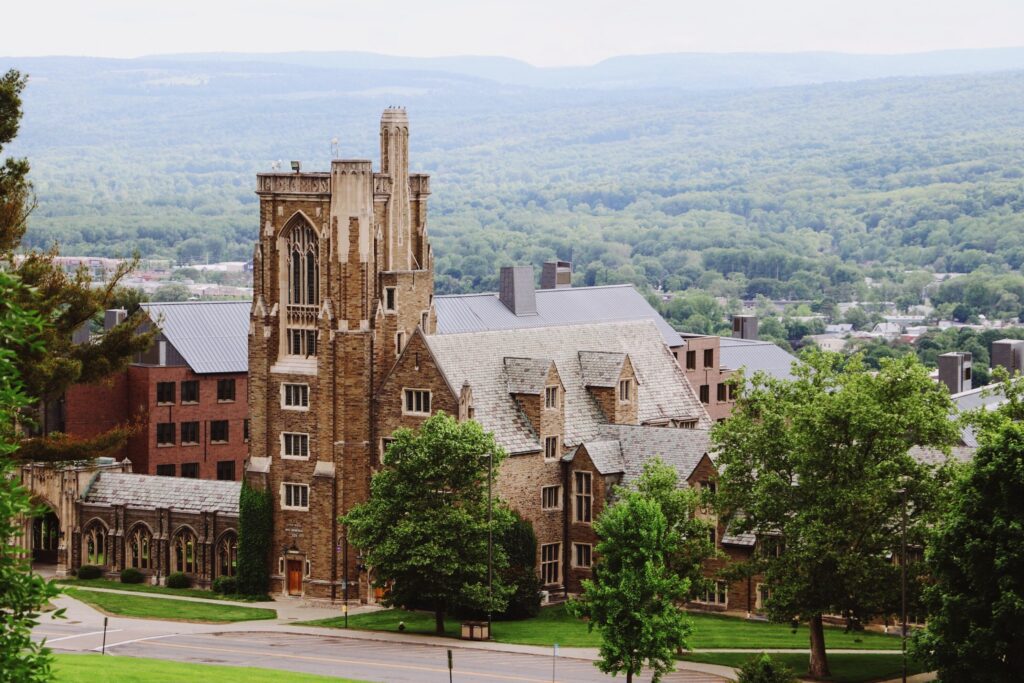 Continuing with college essay examples for Ivy Leagues, we'll go over some Cornell essay examples– specifically some "why Cornell" essay examples. "Why school" questions are very common, and these "why Cornell" essay examples can provide guidance when you're writing your own. While reading these Cornell essay examples, ask yourself: why is Cornell the best fit for this student to pursue their interests?
Why Cornell Essay Example
Describe two or three of your current intellectual interests and why they are exciting to you. Why will Cornell's College of Arts and Sciences be the right environment in which to pursue your interests? (Please limit your response to 650 words.)
---
My happiness can be graphed on quadrants with two axes of biology and psychology. The closer to the origin in the center, the happier I am.
The day before winter break, my AP Biology teacher wrote me the most adorable greeting card; as a dual-enrolled student completing a special curriculum and serving as her assistant grading piles of paperwork, it wasn't special treatment at all! But what made my day was the bacteriophage. The top of the card included a little cartoon, "a dreidle with spider legs" one friend dryly commented. I ran around showing it to all who cared to listen. I was tickled by my teacher's representation of a dangerous virus that hijacks a bacteria's ability to reproduce itself.
Moreover, I loved the card because it shows that my biology teacher understands my joy in learning about unusual diseases. My current personal fascination is kuru — caused by prions, mysterious misfolded proteins that produce degenerating nervous tissue and end in certain death. Scary, I know. Kuru folds into its realm fascinating symptoms, crazy laughter and slowing movement. It is also anthropologically significant: given that it was historically respectful to consume one's relatives in parts of Papua New Guinea, the gender practices of this ritual adversely affected women and children. It is that nexus of biology and culture that fascinates me.
Magazine subscriptions became my gateway to my eventual academic study of psychology. Reader's Digest, with its articles on happiness (diminishing marginal utility!) and the dangers of energy drinks (poor teenage brains!), evolved into an obsession: hours at the library flipping through Psychology Today. Between those glossy covers were hours of entertainment: stories of narcissists and psychopaths, of test-taking mindsets between pessimism and optimism, giving me a view beyond the you-like-pink-so-you-must-be-bubbly world of American Girl. That interest survives in my free time reading and my choice of an eventual major.
Taking AP Psychology allowed me to bring my private reading into classroom discussion. I loved talking about the ethics and design of psychological studies. I had read about the Asch conformity tests, had seen the videos of the experiment. When my teacher set up the experiment with three classmates as subjects and the rest of us as confederates, two subjects did not conform; I still wonder why our ratio of nonconformity was lower than Asch had found. Could it be a trait of the magnet population and experience or the fact that we weren't great liars?
Cornell's Biology and Society major combines interdisciplinary studies from the sciences and humanities. In viewing biological concerns from a sociocultural perspective, it connects my love of disease and psychology and addresses a subset I find to be necessary – the ethical aspects.
In particular, neuroethics appeals to me in speaking to child abuse; having encountered situations of reportable child abuse multiple times during my work with Teen Line, a crisis hotline at which I volunteer, I am particularly interested to learn more about the aftermath. What happens after I've called Child Protective Services? Those of us at Teen Line never know the end result. Would the child be placed in foster care or with a relative? Would the child, whose life began in endangerment, thrive in a loving environment? We never know.
But what I can learn is how abuse has affected the child neurologically, how it may manifest in adulthood, and perhaps even what can be done to counter it. The idea that abnormal reactions derive from social contexts can be expanded by studying biochemistry; research about the lack of a neurotransmitter uptake or the presence of potential genetic markers may explain the seeming irrationality behind mental disorders and may, hopefully, lessen the social stigma.
Why this essay worked
In this example of our "why Cornell" essay examples, the student illustrates why a niche major at Cornell is a perfect fit for them. Although many colleges would have Psychology or Biology majors, "Biology and Society" is a specific major unique to Cornell. This essay makes clear that the student's passions lie at the intersection of biology and society. In doing so, they show that Cornell is the only college that could allow them to pursue their passion.
Out of other "why Cornell" essay examples you might explore, this essay in particular showcases a more conversational and casual writing style. The fun parentheticals and quirky turns of phrase like "you-like-pink-so-you-must-be-bubbly" better convey this author's personality than a more formal style. Reading various "why Cornell" essay examples will show that strong essays don't require a particular style. On the contrary, what's most important is that you represent who you are.
Word limit and content
Since this essay has a 650-word limit, the writer had a lot of room to go into the specifics of their passion. This works well for this student, letting them show not only their personal interest in these topics, but also their specific knowledge of psychological and biological concepts.
Now that you've read two college essay examples for Ivy League schools that focus on similar topics, let's think. How do the Cornell essay examples and the Brown essay examples show different ways of talking about the same topic? If you were the writer of this Cornell essay, how would you adapt it to the 150-word limit for Brown? When you're working on your own Brown application or Cornell application, these are some of the essay-writing challenges you'll face. 
For our next college essay examples for Ivy League schools, we'll cover some Yale essay examples.
Yale Essay Examples
Yale Essay Example
Please reflect on something you would like us to know about you that we might not learn from the rest of your application, or on something about which you would like to say more. You may write about anything—from personal experiences or goals to interests or intellectual pursuits. (Please answer in 500 words or fewer).
---
"She's in the hospital."
I sputtered into the receiver, speechless at my grandmother's words. The previous week, she explained that my mother had been acting strangely. At first, I wasn't concerned. I didn't consider putting plasticware in the toaster oven or raving about hackers online a cause for alarm. But her behavior only escalated from there.
One night, at the height of Florida summer, my grandmother awoke covered in sweat to find the air conditioning had been turned off. When asked, my mother confessed, insisting that the circulated air had been poisoned by some spiteful coworkers. The following day, she was found slumped over the edge of a balcony, seconds from taking the leap.
Despite all of this, I couldn't believe that there could be anything wrong with my mother. I couldn't believe it when I got a call shortly afterward informing me of her diagnosis: schizoaffective disorder.
In the days following the news, I felt a growing darkness within me. While my mother endured emergency evaluations at the local hospital, I was consumed by self-pity and anger. I couldn't decide who to blame — the doctors who diagnosed her or the heavens who allowed the woman that raised me to disappear. I was shaken at the loss of the woman who tangoed with me in the kitchen and cheered me on at recitals.
My world had lost any semblance of sense within a few weeks; the rug had been pulled out from underneath me. But I began to see that this event wasn't the terror that it seemed to be. I had to accept change. Fate hadn't wronged me. My mother's diagnosis, though painful, was just another happening, another day, and another moment, not something I could expect the earth to atone for.
My mother reading to me every night as a young child is a miracle. All of those days spent swaddled in a comforter watching television together are a miracle. And while these things didn't last forever, they also will never fade. No matter what my mother's mental state is, my memories with her will remain timeless. I can tenderly recall her patience as she cleaned the spilled milk off of the kitchen floor, or the gentle humming in my ear as she rocked me to sleep. It is these memories that will live on forever, not the illness befalling her.
One loss doesn't destroy all of the beauty that's been had, and I know that I'll never lose the tenderness of my life's small miracles. I refuse to believe that the radiance of my world will ever be lost because one aspect of it doesn't go as planned. I will never escape change or circumstance, but I know that they are nothing to fear.
Why this essay worked
As we've noted for other college essay examples for Ivy League schools, essays can tell something new in your story. This essay focuses on sharing a part of the student's identity that the admissions committee wouldn't otherwise know. In this one of our Yale essay examples, the student recounts struggling with their mother's diagnosis of schizoaffective disorder. 
The above example of our Yale essay examples is a very moving and well-written piece. We are dropped into the moment the writer gets a call from their grandmother about their mother's hospitalization. From there, the student backtracks to give the reader more detail. 
Many strong Yale essay examples, and college essay examples for Ivy Leagues in general, involve self-reflection and vulnerability. This essay is a beautiful example of this. The second half of this essay is spent reflecting on the myriad ways this diagnosis affected the author's perspective. While it first inspired hurt and anger, it then changed the way they view the world.
Writing about personal growth or change is a common topic for college applications. Though this is a beautiful story showing the student's gratitude and maturity, remember that not all Ivy League essays that worked are like this. Indeed, many applicants may not wish to write about personally traumatic events—you are not obligated to write your trauma. Any story that tells the admissions committee more about you, especially one that demonstrates change growth, is a great start.
Next, we're going to look at some Dartmouth essay examples and key points of "why Dartmouth" essays that worked. If you want more example essays for Dartmouth, read our complete guide.
Dartmouth Essay Examples
Why Dartmouth essay that worked
What attracts you to Dartmouth? (100 words)
---
I always had a keen interest in numbers, probability, and finance. Early on, I could quickly calculate sales tax, analyze probabilities, and visualize complex mathematical models. After taking AP classes in economics and statistics, I became intrigued with mathematical representations for economic markets and statistical models.
This sparked my desire to pursue an actuarial career to utilize my talents in quantitative reasoning. The Major in Mathematical Data Science will provide me the skills to apply abstract mathematical and statistical theories to the concrete world. I will also have the opportunity to stimulate my academic intrigue through an intensive research project. 
Why this essay worked
This one of our Dartmouth essay examples is one of the "why Dartmouth" essays that worked. A key feature of "why school" essays is mentioning specific facts about the school in question. In this case, this writer shows the Dartmouth admissions committee that they have done their research and care about Dartmouth.
Like many "why Dartmouth" essays that worked, this essay focuses mostly on academic goals—sensible, given the very low word limit. We learn a lot about the writer's academic interests quickly and concisely. Then, we see what they would do at Dartmouth specifically to pursue these goals.
The next of our Dartmouth essay examples is more broad, and gives the writer more room to get creative–pun intended!
Dartmouth Essay Example
Talk about a creative moment in your life. (300 words)
---
Music has always been a big part of my life. Early on, my musical inclination was engendered in me through my family. My father was an accomplished "Timbalero" in his high school salsa band. While my mother still plays her extensive library of 80's arena rock albums during long car rides.
My family's love for music is even more pronounced during family gatherings; salsa music rumbles the floor and vibrant dancing fills the living room. Surrounded by various types of music made it second nature for me to learn an instrument. Ever since I picked up the guitar in the second grade, I have been surrounded by creative impulses that have driven me to write my own songs. Melodies constantly play in my head and are not silenced until I release them through the strings of my guitar. However, my greatest piece of music drew inspiration from the children's TV show Adventure Time, a light-hearted show about a boy and his dog seeking adventure.
One silent episode where two characters trek a post-apocalyptic landscape prompted me to pick up my guitar and play what came to my head. In sixth grade, this story was the most tragic and complex that I was ever exposed to. Naturally, I had to create something that mimicked its artistry. My efforts would materialize into my song titled, "Remains." It begins with an exchange of ominous chords that mirrors the depravity of the scenery depicted in that episode. Then, the guitars lift out of their sluggish state and usher in a series of chords that float between tones of desolation and hope.
Finally, the song culminates with an epic power-rock portion before returning to the desolate chords that started the song. Hence, my most intricate piece of music would be inspired by a children's TV show.
Why this essay worked
In the second of our Dartmouth essay examples, the student uses descriptive imagery to walk us through one of their creative passions: music. The "creative moment in their life" was being inspired by a children's TV show to create their "most intricate piece of music." Ivy League essays that worked directly answer the prompt while highlighting unique traits of the writer.
But first, we learn about why the student loves music in the first place. Music is in their blood and is a big part of their upbringing and culture. Remember, other components of your Dartmouth application can only show so much. Essays give the Dartmouth admissions committee a window into your personality and values that the Dartmouth application wouldn't otherwise show. This student weaves in scenes from their upbringing into an essay about creativity, and uses vivid images to do so.
Moving from the Dartmouth admissions committee to Princeton admissions, let's continue with our college essay examples for Ivy League schools. Namely, let's read Princeton essay examples.
Princeton Essay Examples
In the next group of Ivy League essays that worked, we'll feature more college essay examples for Ivy League schools. These Princeton essay examples are varied, including a classic "why major" prompt, as well as an extracurricular activities essay example. For more sample Ivy League essays from Princeton, check out this guide.
Princeton Essay Example
If you are interested in pursuing a B.S.E. (Bachelor of Science in Engineering) degree, please write a 300-500 word essay describing why you are interested in studying engineering, any experiences in or exposure to engineering you have had, and how you think the programs in engineering offered at Princeton suit your particular interests. (independent work, community, junior papers, senior thesis, incredibly easy to change course of study)
---
"Some of you may wonder 'When will I ever use derivatives in real life?' Welcome to when." My physics teacher described engineering as the "when" math and physics were applied to real problems. That is what is so attractive about engineering; it gives me the ability to apply intriguing concepts to fascinating projects
During the Chain Reaction Contraption competition, my team and I created a Rube Goldberg machine to complete a certain task. I found a love for the hands-on, creative portion of mechanical engineering. The ability to step away from the calculator and notebook and get my hands dirty is the most enjoyable aspect of this profession. I also enjoyed how engineering combines creative freedom and mathematical certainty. In creation of each step, I could design whatever I desired and had a large degree of flexibility. Afterwards, I would complete the calculations and see how math and physics concepts applied to a real-life problem. Finally, I would build the step, getting to experience a "hands-on" area of engineering. While I participated in other engineering activities in high school, this experience solidified my passion for engineering.
However, other engineering activities also provided important experiences that contributed to my desire to pursue engineering. In my engineering design class, I enjoyed using computer programs like Autodesk Inventor and AutoCAD to create my designs. In FTC Robotics, I discovered that in addition to building the robot, I also loved the programming aspect.
Reflecting on these experiences with engineering, particularly mechanical engineering, I am certain engineering is the best path for me. As sure as I am about pursuing engineering, I am even more certain Princeton Engineering is the best fit for me.
One thing I appreciate about Princeton is the emphasis placed on independent work. I learn best through independent learning, and Princeton already has this area built into its curriculum. Through Junior papers and the Senior thesis, I will be able to conduct original research or undertake a significant engineering project. My favorite classes in high school are those that culminated in independent final projects. The process of thinking through ideas and finding the best solution provides an outlet for my curiosity and allows me to immerse myself in a subject.
However, while I am an independent worker and learner, I also enjoy working in groups and being part of a strong community. Every undergraduate student at Princeton I have spoke to, mentions how supportive and tight-knot the Princeton community is. Students consistently bring out the best in one another and push those around them to reach their goals. Coming from a hometown with this kind of atmosphere, Princeton's community would feel comfortable.
Lastly, Princeton's strong Hispanic community would also provide another source of support and social connection for me. In my school, I do not have a large Hispanic base. As a result, this ethnic community attracts me to Princeton because I would love to be apart of a group with individuals like myself.
Why this essay worked
The first of our Princeton essay examples is for a specialized program, the Bachelor of Science in Engineering. With 500 words to work with, this writer was able to go into detail. In addition to their interest in engineering, they outlined the engineering experience they already have and how it motivates them to keep learning. 
Remember, especially for schools without a "why school?" essay, you should explain both your interest in the subject and in the institution. The Princeton admissions team will be looking to make sure that you have done your research on the school's offerings.
Like other sample Ivy League essays, this essay mentions aspects of Princeton's learning environment that the writer would benefit from. Typical of successful Ivy League essay examples, the writer doesn't just praise Princeton's engineering program—they highlight specifics of the program, like independent research opportunities and community values. 
For the next one of our college essays that worked, you'll read a brief essay on a student's summer vacations.
Another Princeton Essay Example
Please tell us how you have spent the last two summers (or vacations between school years), including any jobs you have held. (About 150 words)
---
Cross-country and marching band dominated my daily schedule. Cross-country practices were six days weekly, all summer. Marching Band consisted of two band camp weeks with six to ten hours daily.
For work, I worked about 15 hours weekly at Scally's Driving Range one summer and Panda Express the next.
Prior to Junior year, I went to programs to explore possible career interests: Medical Career Seminar, where I learned about the medical field, shadowed doctors, and volunteered at hospitals, and Washington Week, where I met with congressmen, FBI agents, and visited sites in D.C.
Before Senior year, I was accepted to University of Michigan's Summer College Engineering Exposure Program (SCEEP) and MIT Online Science, Technology, Engineering Community (MOSTEC). In SCEEP, my team solved a design challenge and presented the solution to university staff. In MOSTEC, I took Neuroscience and Science Writing and presented my Neuroscience project during conference week at MIT.
Why this essay worked
As with some of our other Ivy League college essay examples, this student used very few words to great effect. They answered the question thoroughly and with detail while getting all of their main points across. It's easy to see that they were very busy with a wide range of activities.
With such a small space for answers and so much information to convey, it's okay not to include anecdotes or flowery language. However, for applicants who did the same thing for both summers, this space could include more descriptions and anecdotes about that experience. This way, they could tell more of a story rather than just listing information. Use the space according to your experiences and the story you wish to tell.
Our next example of college essays that worked is also quite short and is about a popular topic: extracurriculars. 
Princeton Extracurricular Activity Essay Example
Please briefly elaborate on one of your extracurricular activities or work experiences that was particularly meaningful to you. (About 150 words)
---
Gasping for air, I do not dare to move as the last chord resonates through the parking lot where the marching band rehearses. Check and adjust. Did I make my final spot, or am I off, possibly costing the band points if I'm off in a show? Standby. Bringing my flute down, I relax and glance around me, ensuring my section had adjusted as well.
Reflecting on my last four years in the organization, I am grateful for the experience. Marching band combined two favorite pastimes, athleticism and music, and introduced me to my closest friends and role models.
Ten hour rehearsals at band camp and returning home from a band competition in Canton, Ohio at 3 a.m. after a 6 a.m. departure the previous day seemed more like pleasure than work. In marching band, exhaustion is nonexistent and passion is enduring.
Why this essay worked
In Ivy League college essay examples about only one extracurricular or activity, you have space to go into more detail. This student used an anecdote in the first paragraph to show the reader how much marching band means to them.
In the third of our Princeton college essays that worked, this student did a lot of "showing, not telling." Instead of simply saying they are nervous when they finish a piece, they describe how it feels. Gasping for air, hearing the chord resonate, questioning whether they had gotten it right—these vivid details are crucial. This puts the members of the Princeton admissions team in the place of the student as they read the essay.
For our next Ivy League essay example, we'll read another long-form, Common App-style essay.
This Princeton essay example comes from the prompts listed below:
Princeton Essay Prompts
In addition to the essay you have written for the Common Application, please write an essay of about 500 words (no more than 650 words and no fewer than 250 words). Using one of the themes below as a starting point, write about a person, event, or experience that helped you define one of your values or in some way changed how you approach the world. Please do not repeat, in full or in part, the essay you wrote for the Common Application.
1. Tell us about a person who has influenced you in a significant way.
2."One of the great challenges of our time is that the disparities we face today have more complex causes and point less straightforwardly to solutions." Omar Wasow, assistant professor of politics, Princeton University. This quote is taken from Professor Wasow's January 2014 speech at the Martin Luther King Day celebration at Princeton University.
3. "Culture is what presents us with the kinds of valuable things that can fill a life. And insofar as we can recognize the value in those things and make them part of our lives, our lives are meaningful." Gideon Rosen, Stuart Professor of Philosophy and chair, Department of Philosophy, Princeton University.
4. Using a favorite quotation from an essay or book you have read in the last three years as a starting point, tell us about an event or experience that helped you define one of your values or changed how you approach the world. Please write the quotation, title and author at the beginning of your essay.
Princeton Essay Example
Sitting around the table at Denny's, the waitress asks my grandfather about our family's heritage. He smiles, knowing he won't be giving the simple answer expected. He explains he is a Spaniard and his wife is German. My other grandfather and my parents are Venezuelan. That grandfather's wife is from Martinique. My brothers and I are American and the only ones who live in their home country.
For the last few generations, my ancestors have rarely resided in the same country into adulthood. As a result, their unique experiences have created open-minded individuals with widespread impact.
In contrast to the mobility of my ancestors, I live in a stagnant town, in which many live in the same place where they grew up. The lack of exposure to different people and experiences means much of my community is afraid of change and resistant to new ideas.
Witnessing two different lifestyles from my family and community, I know I want to live my family's lifestyle. As an individual, I hope to embrace change and always be growing in my understanding of the world. Rather than confining myself to preconceived notions, I aspire to take part in my family's culture and allow my experiences to shape my beliefs and perspectives.
My family's culture of open-mindedness has inspired me to bring the idea of encouraging change and progress to society through technology. Using my talents, I will contribute to the advancement of society and bring a new perspective to the field while respecting other viewpoints. Lack of progress creates an aversion to change and the inability to improve lives. Because I have seen these effects of stagnancy on a community and its individuals, I wish to help create a world that is constantly changing – for the better.
Why this essay worked
In some college essays that worked, the writer focuses on culture, its impact on their life, and what it means to them. This writer takes a unique view on "culture": not just heritage, but an overall attitude of open-mindedness and receptiveness to change.  
Open-mindedness, intellectual curiosity, and diversity are strong essay topics commonly seen in college essays that worked. This is because they enable applicants to provide their own perspective on a core value of the institution.
Now that we're finished with the Princeton essays, we've reached the end of our analysis of sample Ivy League essays. Before we conclude the guide, we'll give some final tips on college essays that worked and how to write your own!
How important are college essays in the Ivy League?
Now that we've read strong Ivy League college essay examples, you might wonder: how important are college essays in the Ivy League?
College essays are an incredibly important part of your application. Most colleges look at applications "holistically," which means that they are taking every part of your application into account. In other words, your grades, test scores, extracurriculars, letters of recommendation, and essays are all important. For Ivy League schools, you could argue that essays are even more important than for other universities. Since Ivies get incredibly high numbers of applicants, many of them have the strongest grades and the highest test scores. A stellar essay could distinguish you from other students. 
As seen in these Ivy League essay examples, students who were honest, clear, introspective, and evocative wrote the strongest essays. College essay examples for Ivy League schools cover a wide range of subjects, and for good reason. There are endless topics that could serve as the foundation for Ivy League essay examples that worked.
What else do Ivy League schools look for in essays?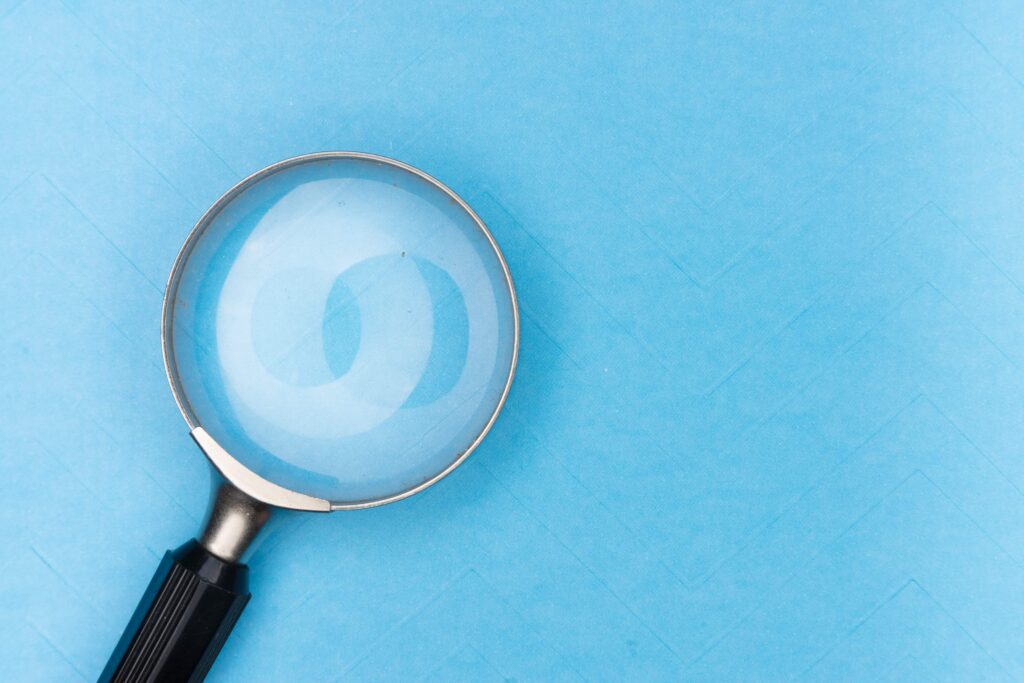 These Ivy League essay examples should have given you a peek into what Ivy League schools are looking for in essays. From reading these essays, what stands out to you the most? Is it the vulnerability shown by students? The artful language? The nuanced weaving together of anecdotes, personal reflection, and goals for the future? As demonstrated by these Ivy League essay examples, Ivy League schools are looking for a combination of these factors.
How do Ivy League schools evaluate essays?
Sure, these Ivy League essay examples have provided a roadmap for how to write a great essay for your Harvard application. But how can you be sure that the admissions committee will see the merit of your work?
Ivy League schools review applications holistically, so they evaluate essays along with other materials to understand who you are. Just like your grades, the essay shows a part of your personality and your background. Ideally, your essays will have given the admissions committee a deeper look into several aspects of you. If written thoughtfully, essays should enhance your status as an applicant and highlight your potential in and out of the classroom.
More Ivy League Resources from CollegeAdvisor
If after reading this guide on Ivy League essay examples you're looking for more resources on how to optimize your chances with Ivy League schools, check out our other guides!
For general advice on acing Ivy League applications, check out this article. If you're still wondering how Ivy League schools evaluate essays within the application, read this article on Harvard's rating system. We also have many webinars about Ivy League schools, like this one comparing different Ivies.
Ivy League Essay Examples – 5 Tips for Standout Essays
Before you submit that Yale or Dartmouth application, let's go over 5 tips for standout essays. The Ivy League college essay examples that we have gone over exemplify these goals. Try and apply these tips from college essays that worked into your own writing!
5 Tips for writing Ivy League essays
1. Stay true to your voice
The admissions committee wants to get to know you. Don't just write what you think they want to hear or a narrative if it isn't genuine.
2. Tell us something we don't know
You should use your essays as a way to show the admissions officers something they can't see elsewhere in your application. 
3. Show, don't tell
Work anecdotes and strong imagery into your writing to make the reader feel as if they're along for the ride with you. Remember, however, that very short essays may not have room for narrative writing.
4. Answer the question
Different questions need different answers, and the word count can drastically change the structure of your essay. Include detail, but be concise—there's no need to include flowery sentences that don't add new information. Focus on addressing the prompt.
5. Use correct spelling and grammar
Reading the essay out loud will help you catch any grammar mistakes or typos while editing. Don't be afraid to ask a parent or counselor to read the essay over for you.
If you want more tips on essay writing, check out these videos from CollegeBoard, and these brainstorming tips. And if you missed UPenn in this lineup, check out our article going over some UPenn essay examples!
Ivy League Essay Examples – Final Thoughts
Now that you've read these sample Ivy League essays, we hope that you feel more prepared to take on writing your own Ivy League application essays. Remember, every one of these Ivy League essay examples began with a student staring at a blank page. 
We believe that you can write an essay that will impress Brown or Harvard admissions. Now, go write!
---

This essay examples article was written by advisor, Rachel Kahn. Looking for more admissions support? Click here to schedule a free meeting with one of our Admissions Specialists. During your meeting, our team will discuss your profile and help you find targeted ways to increase your admissions odds at top schools. We'll also answer any questions and discuss how CollegeAdvisor.com can support you in the college application process.