Stanford majors – Introduction
If you feel overwhelmed looking at college major list after college major list, know that you're not alone. Many of the top schools in the country are home to the best college majors, like the Stanford majors. Knowing which one you want to study before you've even taken your first college class can be difficult. Especially when applying to a prestigious school like Stanford, which is known for having many different valuable degree programs.
Though not binding, Stanford Admissions encourages first-year applicants to identify prospective majors in their Stanford application. Creating a Stanford college major list can help you identify what Stanford-specific programs excite you. This is valuable not only to get you started thinking about what you might like to study. It can also help you articulate in your essays for the Stanford admissions team why Stanford is right for you.
Many of the best college majors can be found at Stanford University. There are so many Stanford University majors to choose from. It can be difficult to know which category or department of majors or minors you might be interested in.
Diving deeper into Stanford majors
No matter which Stanford majors draw your interest, Stanford academics will provide a top-tier education. Stanford ranks among the top ten universities on US News, Forbes, and the Wall Street Journal's lists of the best universities in the country. Stanford is ranked #3 by US News, #3 by Forbes, and #2 by the Wall Street Journal.
In this guide, we'll look at the best Stanford University majors. This includes the most popular Stanford majors and some of the lesser-known Stanford majors and minors. Then, we'll discuss Stanford enrollment numbers, and how Stanford compares to other prestigious schools, like those in the Ivy League.
How many majors does Stanford offer?
There are 145 Stanford majors and minors for undergraduates to choose from. According to Stanford admissions, students can pursue three types of Stanford University majors. These include a Bachelor of Arts (B.A.), a Bachelor of Sciences (B.S.), and a Bachelor of Arts and Sciences (B.A.S.). The type of degree you receive will depend on your major and the curriculum you are required to take.
Students can earn their undergraduate Stanford majors in the School of Humanities and Sciences, Engineering, or Sustainability. Each of these schools has its own college major list where students can explore the many offered Stanford minors and majors.
If you look at any Stanford University majors list, you'll find the best college majors in multiple disciplines. Many Stanford majors can also be integrated into your curriculum as a minor. Thus, you can explore several different subjects during your time in school. Some examples include ethics in society; feminist, gender, and sexuality studies; and international relations.
Most popular Stanford University majors
If you're not sure which Stanford majors you are interested in, our popular Stanford University majors list is a good place to start. We can't say for sure why these Stanford majors are so popular. However, you can guess that the skills students gain and the opportunities they provide post-graduation make them all desirable majors. As you explore these majors, be sure to keep in mind that required courses may be more difficult to enroll in due to their popularity and high demand.
According to US News' most popular Stanford University majors list, the most popular Stanford majors cover a variety of subjects. These include mathematics and statistics, social, physical, and biological sciences, engineering, psychology, and area, ethnic, cultural, gender, and group studies.
More specifically, we can look at Stanford enrollment to see which Stanford majors were most popular in recent years.
The top five Stanford University majors by enrollment in Fall 2022 were:
Symbolic Systems
Looking all the way back to 1955, economics has been one of the most popular Stanford University majors decade after decade. Other top Stanford majors from the last seventy years include political science, psychology, and English.
Let's explore what Stanford majors the school is best known for, along with some lesser-known Stanford University majors and minors.
What Is Stanford best known for academically?
As home to some of the best college majors, it's no wonder why Stanford academics is so highly regarded. According to Stanford's undergraduate academics page, students can expect to pursue their college majors in rigorous classes taught by one of their 2,288 faculty members. Their 5:1 student-to-faculty ratio means students can expect a high level of interaction with their professors, no matter which Stanford majors and minors they choose to pursue.
Stanford is known for preparing students for the best college majors in the liberal arts as well as in the social and life sciences. Of all US schools, some notable rankings for Stanford University majors are:
In the US, Stanford University majors are:
#1 in Computer Science
#3 in English
#2 in Engineering
#5 in History
Additionally, Stanford is known for supporting student research. As a major research university, Stanford provides students with the resources they need to pursue a rigorous, hands-on education in the best college majors. Students pursuing one of the many Stanford University majors in both STEM and humanities fields can find opportunities to begin research projects as early as their first year.
Exploring lesser-known Stanford majors and minors 
If you look at any Stanford University majors list, you'll likely see the same popular college majors topping them. However, that doesn't mean you should limit yourself to only exploring Stanford majors with the highest Stanford enrollment. Lesser-known Stanford minors and majors can provide valuable opportunities to explore a specific concentration that will prepare students for careers after college.
One major you may not find on a typical college major list is architectural design. In this Stanford major, students integrate architecture and engineering, exploring elective courses including sustainability and energy conservation. Other Stanford majors you may not know about include urban studies and management science and engineering.
Certain Stanford minors give students the flexibility to design their own curriculum around specific interests. The digital humanities minor bridges STEM and humanities fields, asking students to select five elective courses and one of three core courses to satisfy the minor requirements.
When searching the Stanford University majors list, remember that certain areas of study can be pursued under several distinct college majors. For example, students interested in public health can pursue a range of Stanford University majors besides just public health, including public policy, economics, sociology, or anthropology.
Stanford majors: how do they compare to Ivy League schools?
Many of the best college majors at other Ivy League schools are also Stanford majors. Some of the best college majors across all eight Ivy League schools include computer science, economics, and political science.
Stanford University majors are highly regarded. US News ranks Stanford #3 in national universities overall, tied with both Harvard and Yale. As stated above, some of the top-rated Stanford University majors include psychology, political science, economics, and English.
Students pursuing Stanford University majors can expect similar class sizes and faculty-to-student ratios as they would at other Ivy League schools. Stanford's undergraduate college enrollment is 7,645, which is similar in size to Brown, Columbia, and Harvard. These schools all have a comparable student-to-faculty ratio; Brown and Columbia are 6:1, Harvard is 7:1, and Stanford is 5:1.
If you are considering completing multiple Stanford majors and minors, you may have an easier time doing so because of Stanford's quarter system. Instead of breaking up the school year into two halves, the quarter system breaks it up into three. This allows students to select new courses more often, which can help students complete non-overlapping Stanford majors and minors requirements.
Stanford majors can choose to integrate their studies with research opportunities, as well as prepare themselves for graduate school applications. This includes planning for business school, law school, and medical school.
As you can see, there are many reasons why Stanford University majors are as valuable as the best college majors at Ivy League schools. Keep these similarities in mind as you build both your college and college major list, and you'll be sure to find the school with the right fit for you.
Can I double major at Stanford?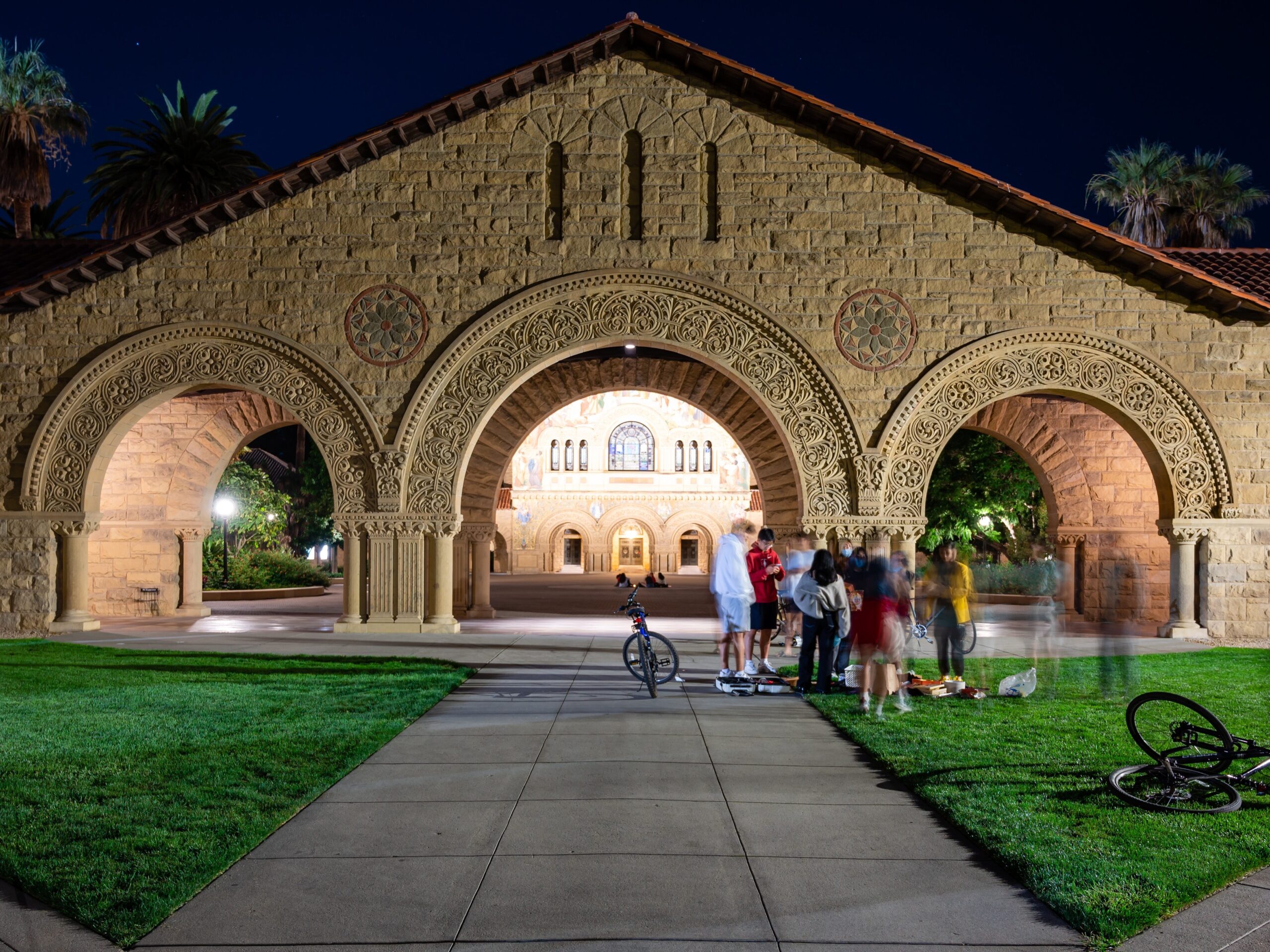 If you just can't narrow down your college major list and are hoping to pursue multiple Stanford University majors, you're in luck. You can pursue multiple Stanford majors, or a "double major" at Stanford. However, you must declare your second major and complete all required courses. If you want to complete a true double major at Stanford, you cannot double-count courses for each of your majors.
Similarly, required courses taken for Stanford minors cannot double-count for both Stanford majors and minors. This means that any one course cannot count for both your major and minor requirements unless that course constitutes introductory skill requirements as outlined by the university.
There are three different ways you can "double major" at Stanford.
Students can pursue:
Double majors
Secondary majors
Double majors
A double major means that students will receive only one degree, with both majors listed on their diploma. This means students will receive a single bachelor's degree, which will either be a B.A. (if both majors are in a B.A. field); a B.S. (when both majors are in a B.S. field), or a B.A.S. (if one major is in a B.A. field and one is in a B.S. field). Students must complete all required courses without overlap.
Secondary majors
A secondary major means students will receive only one degree with only one major listed on their diploma. This means students will receive only one bachelor's degree, and their transcript will note that the required courses for the secondary major have been completed. This method of "double majoring" allows students to overlap courses for both degrees, limiting the number of courses required for the secondary major.
Dual degrees
A dual degree, also known as a concurrent BA and BS, means students will receive two distinct bachelor's degrees. Unlike a double major, which requires students to complete a minimum of 180 units to graduate, a dual degree requires students to complete 225 units. Students must combine one degree in a B.A. field with one degree in a B.S. field in order to complete a dual degree program.
Completing this number of units may be overwhelming for many students, limiting their opportunity to pursue research opportunities, internships, and extracurriculars. For students interested in pursuing graduate degrees, another option they might be interested in is a Coterminal Degree program. Typically, students begin taking graduate-level courses during their junior or senior year, allowing them to begin a graduate school education while still working on completing their undergraduate degree program.
Stanford majors – Final Thoughts
Overall, Stanford University majors give prospective students considering completing the Stanford application a lot to think about. Especially if you have multiple areas of academic interest, you may find yourself challenged by the prospect of deciding just one of the Stanford University majors to apply under. Remember, while you aren't necessarily committing to the majors you select in your application, still take the time to do your research before completing your application. It is always valuable to take an opportunity to show Stanford Admissions another piece of who you are and what you are interested in.
If you're wondering how to complete the Stanford application or how to build your college major list, CollegeAdvisor.com can help. Our advisers will help guide you through the Stanford application process, all the way from starting your Stanford application to making your Stanford enrollment decision.
Before you start trying to decide which Stanford University majors might be right for you, take some time to get to know the Stanford admissions process and what attending Stanford is like. Then be sure to check our Stanford resources, like our How to Get Into Stanford webinar and guide or our Stanford University Panel, to get a head start on the application process.

This guide to Stanford majors was written by Stefanie Tedards. CollegeAdvisor.com's network of 300+ Admissions Experts (and former admissions officers) includes graduates from top universities. Create your free account or schedule a free advising consultation by calling (844) 576-0953.